While Greece narrowly avoided a run on the banks, Germans have their own problem: a run on museums.
Artists, art collectors, and international auction houses are up in arms over the German government's proposed Culture Protection Act, which could jeopardize the country's place in the international art market, The Wall Street Journal reported.
Proposed by Culture Minister Monika Grütters, the bill would deem any artwork over 50 years old and worth over €150,000 ($164,000)  a "national treasure." Exporting any "treasures" will require approval from the government. She told newspaper Frankfurter Allgemeine Zeitung last week that the German government must "take the responsibility for our national cultural heritage."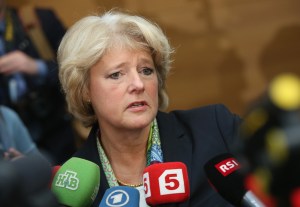 But if the bill, which will come to a vote next month, is approved, it could stymie art transactions, trap artwork in the country, and even allow the government to claim artwork in museums and private collections as its own, critics say.
"No one has the right to tell me what I do with my images," German painter Gerhard Richter told the Dresdener Morgenpost newspaper.
Mr. Richter, who set a record in February with the €41 million euro ($45 million) sale of his Abstraktes Bild at auction at Sotheby's London, plans to remove his artwork from German museums in response to the bill, according to a report from Deutsche Welle.
Georg Baselitz, also a German painter, announced on Sunday that he will remove his artwork from German museums, including Pinakothek der Moderne, Dresden's Albertinum and the Kunstsammlungen Chemnitz, reports Süddeutsche Zeitung.
Over 100 German art dealers, including Michael Haas, Rudolf Zwirner, and Heinrich zu Hohenlohe, signed and sent a letter to Ms. Grütters condemning the bill, the Journal reported.
If the law passes, "I will advise all these collectors to send their works abroad," Peter Raue, Berlin-based attorney and art authority, told DW. "It will be a bloodletting for the museums and the art scene."