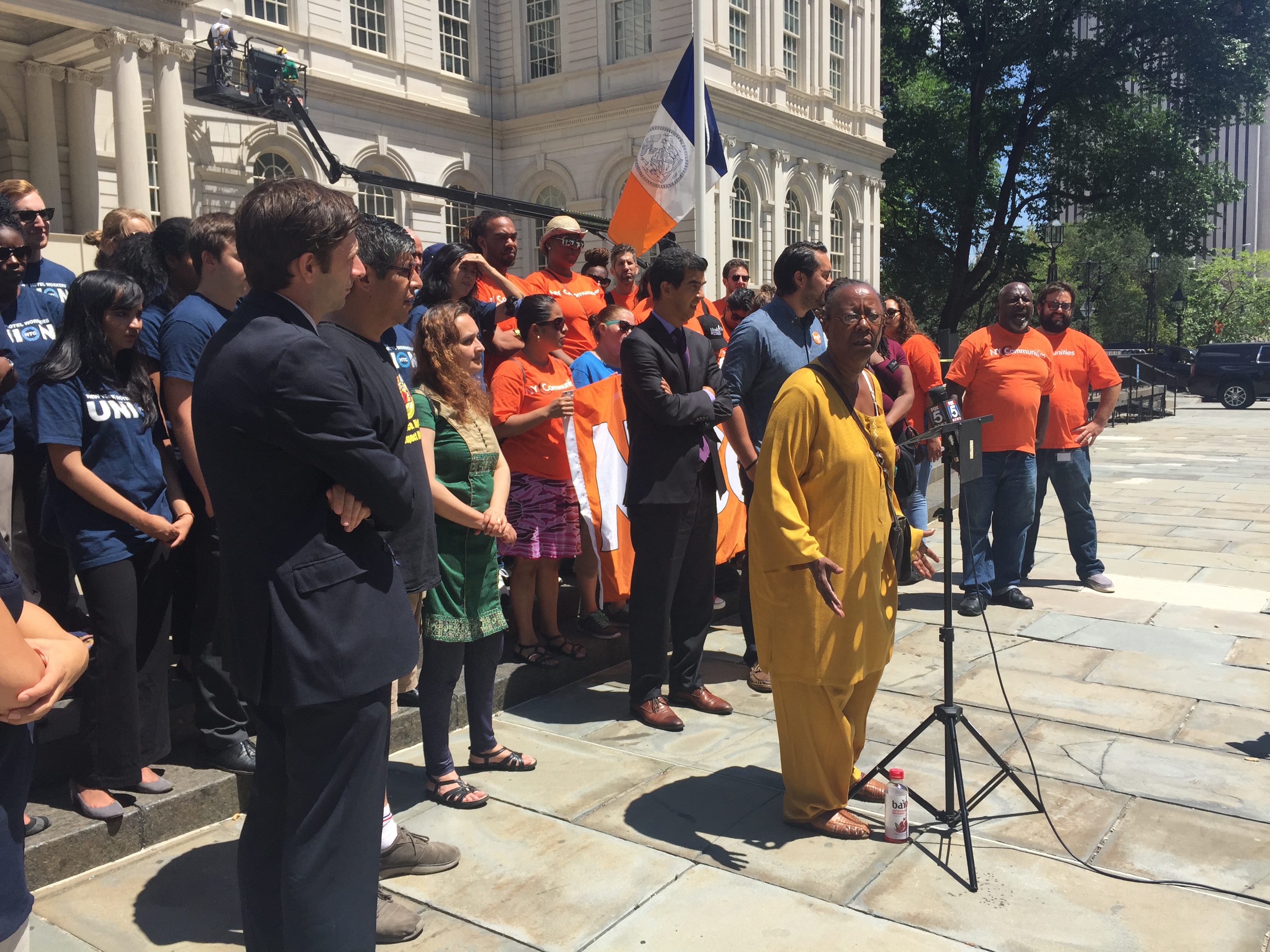 After Uber blasted New York City's airwaves with ads deeming it a "five-borough" service, those looking to cap the e-hail company's growth are arguing the company encourages drivers to stick to Manhattan and "Yuppie Brooklyn" and pushing back against the narrative that the company uplifts minority neighborhoods.
"It is a shame and it is unfair that they are spending millions of dollars on TV, running ads everywhere they can to give a false message about who Uber is and who it serves," Jonathan Westin, the executive director of New York Communities for Change, said during a rally outside City Hall today, seizing on an Uber driver promotion that encouraged picking up fares in Manhattan but expired in January.
But Uber argues statistics tell a different story: it has said many fewer Uber cars are on the road in Manhattan's busiest district during rush hour than Mr. de Blasio has sought to portray, and says its business outside Manhattan, which makes up a third of its rides, is growing the fastest.
The back-and-forth is just the latest in an epic war of words between Uber and its allies and Mayor Bill de Blasio and his allies, like New York Communities for Change—all leading up to a vote expected tomorrow on legislation aimed at capping the cab app's growth for a year.
The package of bills call for a study of the company's impact on congestion and pollution in Manhattan—though in recent days Mr. de Blasio and others have pounced on other reasons to further regulate the company. Uber, meanwhile, has said Mr. de Blasio's desire to slow its growth is rooted in allegiances to yellow cab medallion owners, who have donated handsomely to him.
City Hall and its allies pounced on an Uber memo from late last year that promised driver-partners a guaranteed $5,000 in income a month—with the stipulation that those drivers spend most of their time in the "core service area:" Manhattan below 110th Street and a swath of Brooklyn from Gowanus to Greenpoint. (Not included is Coney Island, which is featured in Uber's ubiquitous TV ad as one destination where a driver brought someone who normally has a hard time getting cabs).
"It takes some serious duplicity to run millions of dollars in ads talking about a five borough city, while pushing and paying drivers to spend all their time in lower Manhattan and a small fraction of Brooklyn," de Blasio spokesman Wiley Norvell said.
But Uber said that the seven-month-old incentive to stay in Manhattan was a limited-time promotion that ran from October 1 to December 31 of 2014, intended to help deal with an uptick of demand in Manhattan and part of Brooklyn around the holidays.
"Last time I checked, Hell's Kitchen to East Harlem was not Lower Manhattan, and Park Slope to Greenpoint was not just a small section of Brooklyn. This was a short-term incentive to handle increased rider-demand that we've seen in those areas. It is no longer in effect and during that time riders were still able to get reliable rides in the outer boroughs," an Uber spokesman said.
The company said the outer-boroughs are the fastest-growing regions for the app, and that nearly a third of all trips are in the outer-boroughs (which means, as City Hall has noted, more than 70 percent of all trips are in Manhattan). It also noted that more recent promotions encourage drivers to hit up outer boroughs—including one from this month offering a $15 reward for each trip starting in Staten Island.
None of that dissuaded activists outside City Hall from railing against the idea the notion that Uber was trying to lift up minorities in outer-boroughs who were seeking transportation or work through the company—two narratives Uber has hit hard in its advertising and public response to the proposed cap.
"Uber don't care nothing about black people," Bertha Lewis, a liberal activist who is president of the Black Institute and founding member of the Working Families Party, said at the rally. "If they did, when they first came here they would not have directed the drivers to only be able to make money in midtown Manhattan."
She went on to assail Uber for acting as if it was helping minorities by employing them.
"You can't claim that you love black people and people of color because you wanna give them job on your Uber plantation," she said. "This city is 65 percent minority! C'mon, you're not doing some affirmative action thing. Let's tell 'em the truth."
That puts Ms. Lewis at odd with other prominent black leaders, Brooklyn Borough President Eric Adams and Bronx Assemblyman Michael Blake, who yesterday argued that capping Uber would have a negative impact on New Yorkers of color who are better served by the cab service and count on it for work. Gov. Andrew Cuomo and Bronx Borough President Ruben Diaz also got in on the fight today, urging more deliberation before any cap is voted on.
Uber did not provide statistics showing its trips broken down by borough or geographic region, beyond saying nearly a third were in outer-boroughs.
The company did, however, blast out statistics about how many cars it has on the roads of Manhattan's "Central Business District" on a given day, as an argument against the mayor's assertion that e-hails are causing congestion.
On average, Uber's data shows 1,733 Uber cars south of 59th Street over a 24-hour period, and 1,904 Uber cars south of 59th from 7 a.m. to 7 p.m., covering the cities rush hour. Uber argued yellow taxis cause more traffic, with 13,400 yellow cabs making 90 percent of their trips in Manhattan, operating nearly 24/7.
"For months, we have provided the de Blasio administration with data that shows this exact same trend, yet apparently the Mayor's approach was to hide this data from the public and blame Manhattan's congestion on Uber even when his own facts show the exact opposite," Uber general manager Josh Mohrer said.
While activists today assailed Uber for sticking to Manhattan, during their rally they didn't blame the yellow cab industry for so thoroughly ignoring Upper Manhattan and the outer boroughs that green cabs were launched to serve those areas. Mr. Westin said the difference was that Uber has presented itself as a five-borough option.
"For Uber to paint themselves as anything different from these industries is actually wrong. They're the same people. Their interest is money, and that's what they're out for—not for some greater calling of serving low-income communities," he said. "And I think it's the same for the yellow cab industry and the green cab industry."
This story has been updated to correct Ms. Lewis is no longer a co-chair of the Working Families Party, but was a founding member.