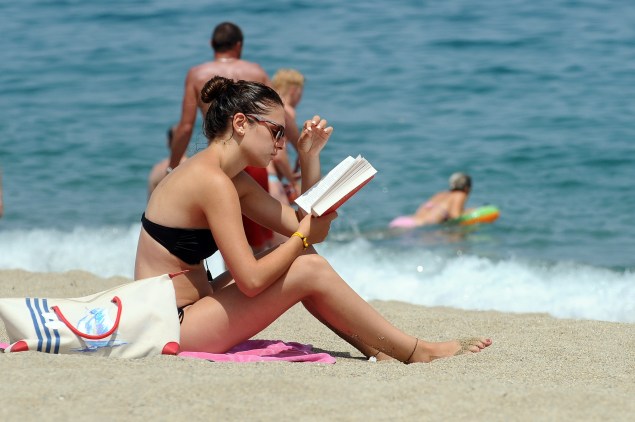 I'm going away to the North Carolina coast next week, and, like many ambitious vacationers, I plan to do a lot of reading. There's a random assortment of books I'm bringing with me, including a depressing history of Native Americans I'll see if I can slog through, as well as David Hajdu's biography of Billy Strayhorn, a forthcoming monograph on Robert Frost and a few periodicals I've been meaning to get to but haven't had time to crack open, like the latest issue of The Baffler, which looks promising.
But there's one place I know I won't be doing any reading, and that place is the beach. For quite some time now, it's struck me as one of the worst possible environments one could attempt to get reading done.
There are, first of all, the practical concerns. While it's supposed to be relaxing, I have always found beach reading to be an annoyance—an overly strenuous act. The sun, for instance, is simply too bright; squinting your way through a book is never worthwhile. Even if you have an umbrella, you have to worry about the pages being blown every which way by the unruly wind. (Don't get me started on newspapers—particularly broadsheets—at the beach.)
What's more, if you don't have a chair, then you have to lie down or sit in an awkward position, and your arms get tired propping up the book, or at least mine do. (I should add here that I don't really like reading in bed—for the same reason—though maybe that's because I've never had a proper headboard.) And if you've got a Kindle or an iPad or whatever e-reader you like to carry, you have to worry about sand infiltrating an expensive machine.
My feelings may, of course, be amplified by the fact that I don't like the beach that much—it's too sandy—but I get the sense, based on what I've gleaned through the years, that I'm not alone here.
There are, too, the more personal and perhaps philosophical reasons for my beach reading allergy, which most writers will probably understand. Since I began reading in earnest—late in high school, I'd say—I have viewed it as a kind of intellectual work, which is not to imply that I don't enjoy it. Far from it. But if you are trying to absorb and learn from and have a critical mind toward a book or an article or a poem or whatever piece of text you deem worthy of your attention—which is my goal—then that will involve intense focus.
And in that sense, reading seems antithetical to the ideal beach experience, in which, I think, the beachgoer wants to achieve a kind of Zen-like melding with his or her surroundings.
That's why I've always preferred reading at desks or kitchen tables or in not-too-comfortable chairs, so the experience of relaxation won't distract me from the experience of reading. If that sounds monk-like, perhaps it is. But reading at the beach seems to me like listening to music while writing, the possibility of which I have never quite understood, though it appears that some people do it. I've only ever been able to do one thing or the other, but never both at the same time. I either tune out the music, in which case it becomes an unnecessary distraction, or succumb to it, in which case my fingers stop typing. The same thinking applies to the beach, which is why the term "beach read" feels like an oxymoronic one.
The anxious, overly serious completist in me sees vacation as a time to cheat my reading schedule—to get ahead of it—and imbibe more words than I would during a normal work week. Perhaps that's not the best way to go about relaxation, but it does put me at ease—at this point in my life, at least—to know my mind is at work. (Where will I be reading on vacation, you might be asking? Well, in the air-conditioned condo we've rented out, for one.)
I'm probably doing it wrong, though. If I were truly trying to have a Zen-like vacation, I'm pretty sure I wouldn't take any books at all. I think it was Alain de Botton who once tweeted that the best thing a writer could do for himself on vacation would be to take a break from reading and writing altogether. But I can't remember for sure if he said it, because he blocked me on Twitter.
I'll try not to think about that while I'm not reading on the beach.