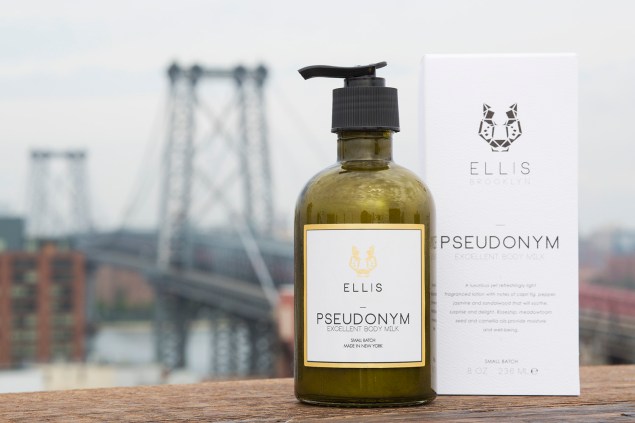 With her new scented body line Ellis Brooklyn, Bee Shapiro is paying attention to the details. The line of scented lotions is paraben-free and phthalate-free, and the name comes from Ms. Shapiro's daughter, who is called Ellis, after Emily Bronte's pen name. The brand may be in its infancy, but it certainly stands out.
"[This is for someone] who believes that scent elevates their lives," Ms. Shapiro said.
Ms. Shapiro covers beauty for The New York Times and has bylines in Vanity Fair and Glamour, but she didn't start out in beauty writing, or even in the beauty industry, at all. Ms. Shapiro began her career as a hedge fund attorney who made her way to to the Times' beauty beat through a series of fortuitous openings. The idea for Ellis Brooklyn, she said, came about when she got pregnant. She'd been writing vigorously but feared should couldn't keep it up with a baby on the way.
"I got pregnant and I was like, 'Oh my God, what am I gonna do?' I can't continue writing 95 stories a year being pregnant and having awful morning sickness," she said.
That's when the idea for beginning her own brand really began to take shape, with body care as the brand's focus.
"[Scented lotion] is the thing that you use on your body the most," she said. "Everyone focuses on skin care—hot new face creams or hot new scents—and then the scented lotions are forgotten [and seen as an] ancillary product."
In May, after a year and a half of work on the line, Ms. Shapiro released Ellis Brooklyn's flagship body milk scents: "Pseudonym," a blend of jasmine, pepper and sandalwood, and "Verb," which fuses mandarin, bergamot, basil and musk. If those names sound familiar, they should: Ms. Shapiro chose the most harmonious names related to writing and storytelling, her other passions.
Ellis Brooklyn is still a tiny outfit—"Everyone's freelance except for me," Ms. Shapiro said—but her connections have helped it ascend quickly, and her team is almost entirely comprised of women. Ms. Shapiro's French perfumer has also done work for Chloé and Byredo. Brooklyn outpost Shen Beauty is currently Ellis Brooklyn's only retailer, with an exclusive scent landing at Net-A-Porter in the fall. In mid-July, the Brooklyn-based brand is going west, where shoppers will be able to find the products at San Francisco's Ayla Beauty.
With so much expansion coming quickly, Ms. Shapiro highlighted the company's cornerstone: her personal touch.
"I think it's one thing to have something be really expensive," she said, "[but] it's another thing to have something be a bit pricier that's a splurge, but is so thoughtful and well made that it improves your life."