"There was music in the cafes at night and revolution in the air." – Bob Dylan
SPRINGFIELD – The last time people in New Jersey screamed the name "Bernie" in unison was when Yankees slickster Bernie Williams used to pull injury rehab ball with the Trenton Thunder, that Yankees farm club on the river. But tonight, all around New Jersey – including here in this roadside comedy club turned campaign organizing venue – the "Bernie" chant rose for the Vermont Senator running for the 2016 Democratic nomination for president.
"I'm fed up," Timothy Gill of Maplewood told PolitickerNJ.
Sanders appeared onscreen at around 7:35 p.m., sounding hard progressive bullet points: single payer healthcare, an end to Citizens United, justice for poor people living in fear of law enforcement, and an end to corporate welfare.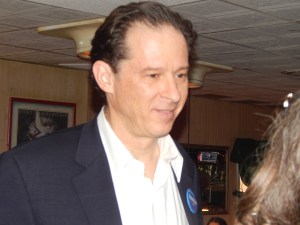 "No, it is not right that corporations in some cases pay nothing at all in federal taxes," said the candidate. "We have to reduce… the decline of the middle class. There is something wrong when millions of people have to work two or three jobs with no healthcare. Enough is enough."
Lead organizer Dave Robinson said 100,000 Sanders backers nationwide simultaneously participated tonight in Sanders' campaign event in 3,500 rooms. Multiple events occurred around New Jersey, including one in Montclair and one in Collingwood attended by PolitickerNJ reporter J.T. Aregood.
Scotty's Restaurant in Robinson's hometown of Springfield was packed long before the scheduled start time of Sanders' webcast speech as a welcoming Robinson moved about the room with a box of bumper stickers at $5 a pop. They sold fast.
"I've never put a bumper sticker on my car before," a woman told the organizer, grabbing for the goods.
A martial arts instructor who owns an insurance business, Robinson, with a grin, told PolitickerNJ, "It's all about self-defense."
The local Democratic district leader backed Sanders for president as soon as the Vermont senator announced his candidacy. "He's been consistent throughout his career," said Robinson. "He's not a weathervane politician, he's a signpost politician. This is a man who was arrested for opposing segregation."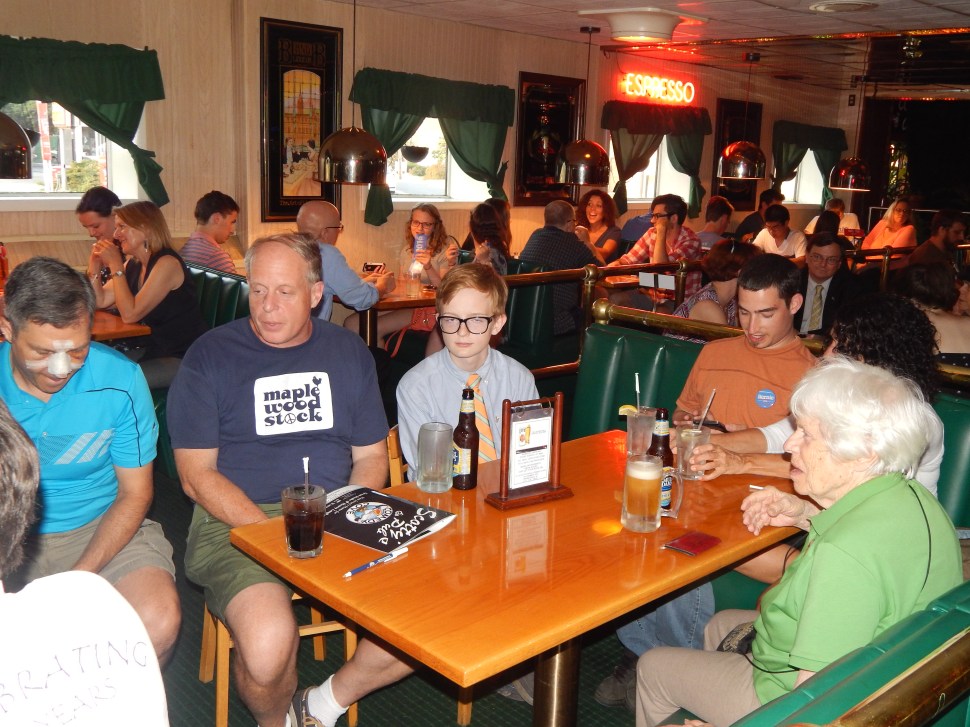 There was considerable enthusiasm in the room for Sanders in the lead up to the senator's short address. Robinson had originally scheduled the event at a smaller event, figuring he might get 12 people. A hundred and twenty-five supporters responded, including his son Henry and friend Ian.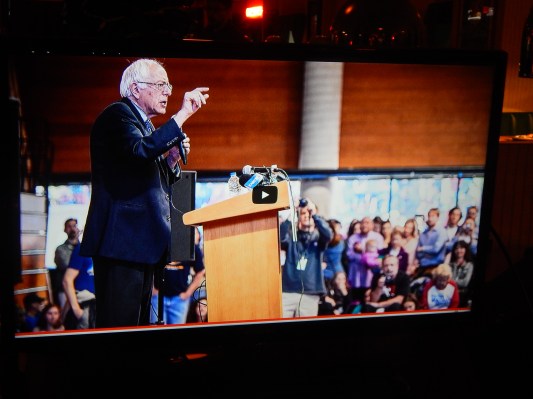 "I get Bernie Sanders' emails every month," said Renee Morris of Newark. "He's a different voice and a lot of what he believes in I believe in. We've done it the traditional way over and over. Even with Obama he was still the traditional establishment guy. I think Bernie will be a different flavor.
"It's okay to give everybody a chance," she added. "It's not fair to give some people more opportunity than others."
PolitickerNJ asked Morris if she was surprised by the turnout tonight at Scotty's Restaurant.
"I thought he wasn't very well known," she said. "I'm very surprised because it's very early. More and more people will be coming to Bernie from Hillary. I never really liked Hillary. Her silence doesn't offend me. It's Hillary Clinton. My attitude is 'Who cares?' I didn't like the way she ran against Obama. I don't feel she can relate to the people. Not that she hasn't done good but I'm just not a fan."
It was clearly a progressive crowd. PolitickerNJ overheard one woman fed up with establishment politicians, including U.S. Senator Cory Booker (D-NJ). "I don't want anymore Cory Booker emails," she griped.
"I know the drill already," said P.J. Martin of Springfield. "As far as what he said he's on point. As far as a political revolution, I don't know if that's the right slogan, but we do need change, that's for sure."
Robinson prevailed on people to knock on doors, register voters and, as they departed energized after an hour at Scotty's, continue to stay connected.
"The key," he said, "is getting your friends registered."
People's Organization for Progress Chairman Larry Hamm on Saturday at his rally against police brutality framed the same core political agenda as Sanders but stopped short, when PolitickerNJ asked him, if he plans to endorse the Vermonter for president.
For more Bernie Sanders coverage from PolitickerNJ reporter JT Aregood in South Jersey, go here.