As America approaches the 4th of July with new warnings of terror attacks and news of another round of church bombings from those who still hold dear the flag of the confederacy, let's consider instead the story of a college student who stood in Washington in August 1963 and cheered when Dr. Martin Luther King, Jr. told the world he had a dream.
You won't hear this on Morning Joe, read about it in the New York Times, or watch panels of pundits discuss this when they meet the press or face the nation on Sunday morning, but the name of that college student who witnessed one of the greatest men who ever lived give one of the most important speeches in the history of freedom was:
Bernie Sanders!
It is usually said, often incorrectly, that when men and women are young they have great dreams for themselves and their country but when they get older they shed those dreams and become conservative defenders of the status quo they once deplored.
At a time when so many voters feel partisan politics has become an ocean of crap, Bernie Sanders is an island of idealism.
There are many who have proven this thesis wrong, such as Edward Kennedy, who began his career side by side with Jack and Bobby and remained true to the dream until the day he died, and in between brought a Democratic National Convention to its feet when he proclaimed that "The works goes on, the cause endures, the hope still lives, and the dream shall never die."
Most political commentators do not know or care about this but it is true, and revealing, and important that when Bernie Sanders was a college student he travelled to the Mall in Washington and stood with the crowd in rapt attention as Martin Luther King rallied the conscience of the world with the timeless words and enduring aspirations of his "I Have A Dream" speech.
And most politicians and insiders and lobbyists do not give a damn about this but it is equally true, and equally revealing, and equally important that from the moment in 1963 when the wide eyes of young Bernie Sanders witnessed those wise words of Martin Luther King, the Senator from Vermont, God Bless him, has not changed a whit!
And that is why so many young people, and others not so young, believe that Mr. Sanders is the most inspiring public figure in American politics today.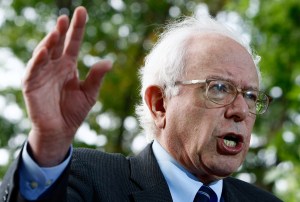 And that is why his support has surged and he has become the surprise early star in the 2016 campaign.
And that is why even the most cynical pundits, when they journey to television studios to tell us what we are supposed to think, are forced or inspired to admit that American politics has entered "the summer of Sanders."
At a time when so many voters feel partisan politics has become an ocean of crap, Bernie Sanders is an island of idealism and hope and principle which is what politics is supposed to be all about.
Bernie Sanders is the man who is forever young and that is the secret recipe for the summer of Sanders and the surge of support for the Sanders campaign. The young man who heard King say that our prospects should be determined by the content of our character and not the color of our skin is now the candidate for president who calls for true economic equality and backs it up with programs, policies, and actions and not merely words, promises, and talking points.
It is Sanders—and Sanders alone in the presidential campaign—who says that every young person should have the right to a good education and backs it up by proposing free tuition at public universities paid for by a tax on Wall Street speculators.
Some say Mr. Sanders on education is Marxism but what should we call it when there are billionaires and millionaires who never pay taxes while there are moms and dads and sons and daughters who are crushed by the burdens of student debt, while others cannot even afford to walk through the door of a college classroom?
Some say Mr. Sanders wants to offer young people something for nothing, but what do we call it when many of the financial barons who caused the great crash made great fortunes from their business failures, and were rewarded rich bonuses for their lousy deeds, and then hired the most expensive lobbyists to protect their most luxurious perks while factories closed and workers lost jobs?
Isn't the least we can offer our young people who will inherit the imperfections of the world their elders will leave them an education for all young people who are qualified by the content of their character, the quality of their minds, and their desire to study, learn, and someday leave their children a better nation and better world?
It is Mr. Sanders who says that good health care should be a right for all Americans, and backs it up by calling for a Medicare for All plan to create a single- payer healthcare system that is widespread among democracies throughout the world and long overdue in America.
It is Mr. Sanders who condemns the corruptions that caused the last great financial crash but backs it up by offering a true plan to break up the big banks that remain too powerful to change and too big to fail after all of the platitudes, promises and talking points offered by others whose words say change but whose actions mean business-as-usual.
These policies and others proposed by Mr. Sanders are important, and even vital, but far larger than policies is the notion that America can always be better, and the notion that politics should be about leaders who want to make the nation better and not merely feather their nests, massage their vanity or satisfy their lust for power.
This mission is the essence and core and spirit of the Bernie Sanders campaign and those who support him. Mr. Sanders retains every drop of idealism and spirit that led him as a young man to come to the mall in Washington. If I could offer one piece of advice to Hillary Clinton—and I have a hunch she may read these words—it is that she remember, relive and revive the spirit of the young woman she once was, which is no less important than the vast experience she now has.
The great gift of Bernie Sanders to the presidential campaign of 2016 is that he is a man who is forever young in an America that should always be forever young. I have a dream, and hope you do too. It is that the next president, whomever he or she may be, bring to the Oval Office the spirit of the incomparably brilliant Bob Dylan, who wrote:
"Forever Young"
May God bless and keep you always
May your wishes all come true
May you always do for others
And let others do for you
May you build a ladder to the stars
And climb on every rung
May you stay forever young
Forever young, forever young
May you stay forever young.
May you grow up to be righteous
May you grow up to be true
May you always know the truth
And see the lights surrounding you
May you always be courageous
Stand upright and be strong
May you stay forever young
Forever young, forever young
May you stay forever young.
May your hands always be busy
May your feet always be swift
May you have a strong foundation
When the winds of changes shift
May your heart always be joyful
And may your song always be sung
May you stay forever young
Forever young, forever young
May you stay forever young."
SEE ALSO: Berniemania! Why Is Socialist Senator Bernie Sanders So Popular?