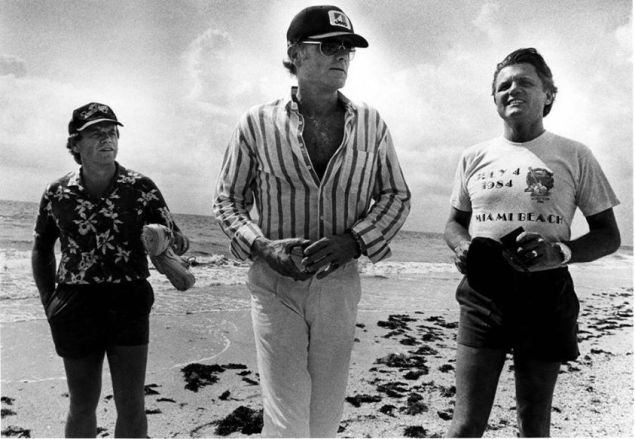 Of course when you interview Mike Love and Bruce Johnston of the Beach Boys you're going to have to ask them if they've seen Love and Mercy.
LOVE: No, I have not.
JOHNSTON: Who has time?
LOVE: We are going to end up doing about 165 shows this year.
JOHNSTON: I'm hoping I can see it on the airplane.
LOVE: Well, I think anytime they spell your name right it's good for business, isn't that what they say? Yes, there's a lot of emotion about it, a lot of talk about it, but it's a story of an aspect of Brian's life—maybe not the most joyful one, or the most fun part of his life, but nonetheless… it's about an aspect of his life.
With that out of the way, let's talk about the Beach Boys.
Mike Love and Bruce Johnston shouldn't have to spend their whole freaking lives apologizing for not being Brian Wilson.
You say to-MAY-toe; I say tuh-MAH-toe. You say Car-uh-BEE-en; I say Cuh-RIB-be-in. You, swept away on a trail of Alex Chilton-flavored pixie dust by the legend of wronged Brian Wilson and a belief in the ultimate superiority of all flawed geniuses to any other type of artists, say that Mike Love is a douche; I say that he has kept alive the legacy of one of America's greatest bands and the vision of one of our greatest artists, and he has done this cheerfully, energetically—even with a little grace—and he's done it in the face of a lot of obstructions, a pile of untimely deaths, and a plethora of know-it-all music critics.
"Everything you read is not based on fact," Love comments. "I know what I did—and if I was brash, or outspoken sometimes, and someone without a sense of humor pins me with having a certain personality type that's derogatory or even defamatory—well, I know what I did, what I wrote, what I've done with the group, what I've done with Brian."
I like Mike Love. There, I said it. He seems very damn genuine, with an honest love for the songs and voices of Brian and Carl Wilson. He also has a very real and endearing commitment to environmentalism and transcendental meditation, and it's hard not to like someone who starts singing virtually every time a Beach Boys title is mentioned. Bruce Johnston, who has been in the Beach Boys for 51 years, is also eminently likable, a true gearhead who talks about the bands' evolving recording techniques with childlike joy.
Now back to our story.
Beginning in February 1964, the very soul of American electric pop was hijacked by the idea of Beatles. When the Beatles arrived, a luscious and diverse vein of American musical DNA was largely discarded by a generation of young bands who were seduced by the plugged-in Tin Pan Alley/Brill Building traditionalism of the Beatles.
READ ALSO: Is Pop Music Any Better Off After 15 Seasons of 'American Idol'
Circa 1966, one thing stood in the way of the near-complete obliteration of this American imprint on rock/pop. This was the Beach Boys. Their masterpiece, Pet Sounds, had seamlessly blended the smooth splendor of mid-century vocal pop with quirky yet empathic mod-culture-inflected compositions that referenced a gorgeous American tradition that the Beatles had eradicated. Jesus, that's a helluva sentence. Pet Sounds proved that a pop group could make an album-length piece comparable with the greatest long-form works of Bernstein, Copland, Ives, and Rodgers and Hammerstein.
The architect of Pet Sounds was Brian Wilson, a 24-year-old man who chose to withdraw into the studio to best serve his muse and his band.
"Why should the guy who is writing and producing be wasting away in Fargo, North Dakota, when he could be in the studio?" states Bruce Johnston, who replaced Wilson on the road. "Why would the man with ability to connect those dots be sitting in a motel in Atlanta when he could be in the studio? I never thought anything was strange about that. Think about his job—he writes the melodies, he has Mike co-write the lyrics with Gary Usher and a few other people, he starts arranging what the track's gonna be, and in the studio he's making the track come alive. He's learning from the engineer, Chuck Britz, about EQ's and other stuff like that, because he's not learning anything over at Capitol, because they were breathing on him too hard. So he's got three, four, five things to do at once! And then, what's kind of just natural and a gift becomes a required thing to deliver, from the label. So everybody put the pressure on him."
Pet Sounds marked the brilliant dawn of a new era for American pop, one that acknowledged the tumbling, misty, mesa-scraped and marsh-filled miles of American song while creating something startling and new. The next part of that story was supposed to be SMiLE.
SMiLE, which aspired to assemble an extraordinary mofungo of American folk tics, treasures, shadows, fears, and emerging technologies into a shockingly new yet completely user-friendly cantata, could have been the work that set the standard for an inventive and progressive American music.
And it's time to stop blaming Mike Love for the collapse of SMiLE.
A strong manager, a strong A&R man, even a determined engineer could have saved SMiLE. It was so revolutionary in concept and execution that it needed an extremely patient and determined hand to bring it all together, to act as the pragmatic facilitator for Brian Wilson's revolutionary vision (in fact, it took nearly three decades—and the dedicated, persistent and kind discipline of Darian Sahanaja—for SMiLE to be completed). Which leads to the second key point in the defenestration of SMiLE: Composed of fragments of art, folk, melody and ambience that needed to be assembled into an intricate, operatic-like framework, SMiLE essentially anticipated the kind of production that only digital and automated recording/mixing made practical; failing that, only a carefully notated score could have led to the album's completion. The technology for the former wouldn't exist for another 25 years, and the discipline for the latter was never summoned.
After the collapse of SMiLE, the Beach Boys kept going. Deal with it. Fuck, celebrate it.
SMiLE didn't collapse because Mike Love didn't like Van Dyke Park's lyrics.
"There's zero animosity between myself and Van Dyke," Love calmly states. "At least not from my side, and I don't think from his, either. I think he's a fantastic, brilliant musician and a brilliant lyricist in a different way than I," Love continues. "Because I like it when songs go to No. 1, or Top 10 (laughs). That's my crass commercialism showing!"
"By the way," Johnston chimes in, "he plays a 100-year-old accordion on 'Kokomo.' "
"That certainly gives a lie to this idea that we don't like Van Dyke," adds Love. "I like Van Dyke. Van Dyke is a modern-day Lewis Carroll, in my estimation. He's brilliant and he's talented and he's gifted and that stuff, but see, Mike Love, see, he likes to write a lyric after thinking about how the tenses fit in, and 'Is it just going to appeal to the moment in time, or is it going to appeal to all generations?' I try to communicate something, I look at lyrics as a way to communicate. Like 'Good Vibrations'—the track was really strange, I mean different, strange, unique, weird, but in a good way, but still, what are people going to think about it in Omaha, that kind of thing? So, I thought, everybody understands boy-girl, and I'm picking up good vibrations, she's giving me the excitations, so that's my contribution to that record."
[youtube https://www.youtube.com/watch?v=Pp9P0mOXfOM&w=560&h=315]
Not only did the collapse of SMiLE halt an important thread in the development of American pop, but it also significantly obstructed our ability to think clearly about the Beach Boys, whose career must be seen as inclusive of Pet Sounds/SMiLE, not exclusive of it. Many see the Beach Boys' post-SMiLE work as secondary apologia for The Life of (Not Having) Brian. But between 1967 and 1973, the largely Brian-less Beach Boys produced some of their most endearing work: Friends, Sunflower, Surf's Up, 20/20, and Holland are each essential albums, and each echo the Americana-rooted progressive folk rock sculpted on Pet Sounds and SMiLE, but with an overlay of the wistful California breezes and acid-age darkness. And Smiley Smile, the almost-whispered reworking of SMiLE, is a treasure; although it is more elegiac than ecstatic, taken entirely on its own it is a sunlight-filled antidote to the prevalent psychedelic memes.
'I like it when songs go to No. 1, or Top 10 (laughs). That's my crass commercialism showing!'—Mike Love
Mike Love—and by extension, Bruce Johnston—shouldn't have to spend his whole freaking life apologizing because he's not Brian Wilson. Mike Love loves the Beach Boys, too, and he's been waving their flag for 54 years. See, we don't beat up Pink Floyd because their certifiable genius, Syd Barrett, only stuck around for an album and a half, do we? The Beach Boys kept on going. Deal with it. Fuck, celebrate it.
This summer there are two versions of Brian Wilson's dream out on the road. I've seen both. On his solo tour, Brian Wilson surrounds himself with a large and gifted band that reproduces his majestic vocal and instrumental landscapes in exacting and vivid glory; but as wonderful as the show is, Brian's actual participation in the proceedings does not seem strictly necessary, and that makes the whole thing a slightly odd endeavor. The Beach Boys (Love, Johnston, guitarists Scott Totten and Jeff Foskett, bassist Brian Eichenberg, keyboardist Tim Bonhomme, and drummer John Cowsill) are a tough and engaged outfit with the feel of a real band, plugged into little amps and playing their freaking hearts out to win over the audience. To tell you the truth, I preferred the Beach Boys.
It's time to stop thinking of the Beach Boys in such black and white terms. The affection between Love and Brian Wilson seems very real, and Love, Johnston, and the Beach Boys are a living memorial to the spirit and friendship at the heart of the group.
"We used to laugh, falling down laughing, and sing," Mike Love remembers, "Brian would come over to my house and sing Everly Brothers songs or doo-wop songs and we'd learn Four Freshmen arrangements. I never remember a time when there wasn't music in our family. The first time I remember him singing, was him singing 'Danny Boy' in my grandmother Wilson's lap. So we go back… we've known each other all our lives, and there's a tremendous amount of love and respect and rapport with each other, to the point where inane humor and 100 percent dedication and devotion to music is what we have in common. So if there's anything that sounds divisive there, well, I have nothing but awe and respect for Brian's musical abilities, and love for him as a person, as a cousin, as a family member. Strip away all the misconceptions and the divisiveness and that's how it is."
Thanks to Bob Giordano and Alec Cumming for their assistance in helping sort out the enormous legacy of the Beach Boys.  
[youtube https://www.youtube.com/watch?v=46IQu0yuJzU&w=560&h=315]