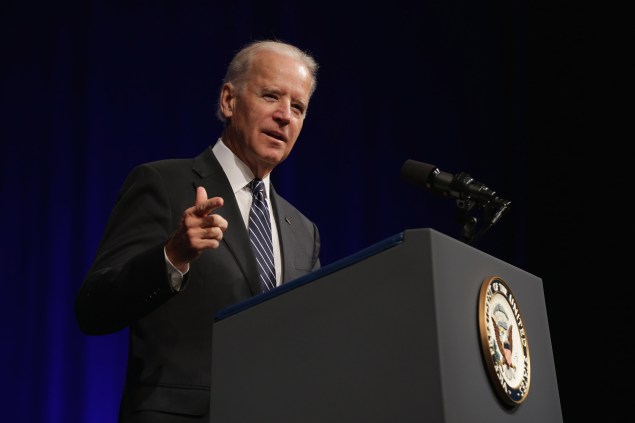 Vice President Joe Biden declared tonight that the Supreme Court's recent ruling in favor of same-sex marriage is the equivalent of the Brown v. Board of Education ruling mandating desegregation of schools—even as he asserted that social changes in the country made the decision "inevitable."
The vice president addressed the group Freedom to Marry at the Wall Street Cipriani in Manhattan after a montage of his supportive past statements about gay marriage—including his unexpected endorsement of it on Meet the Press in May 2012—played over an inspirational musical score on a large projection screen. Mr. Biden praised Freedom to Marry founder Evan Wolfson, one of his former interns, and the years of activism he and other activists had put toward lobbying for gay rights.
"This has been a heroic battle," he said. "You don't owe me or [senior advisor to the president] Valerie [Jarrett] or the president or anybody any thanks. No, no, no, you don't. We owe you. It's hard for me to imagine the sense of accomplishment you must feel."
Mr. Biden said his attitude toward same-sex marriage was formed when he was a teenager riding in the car with his father in his hometown of Wilmington, Del., and the two witnessed a pair of men kissing on the street.
"He said 'Joey, they love each other. It's simple,'" he said, quoting his dad's reaction. "That's what it's been about from the beginning. It's never been that complicated for me."
The vice president said that the nation's attitudes had come to resemble his father's as a result of the advocacy of gay rights groups, and that was part of what caused the court to rule 5-4 in determining that same-sex couples have a Constitutional right to marry.
"In my view, the court's decision was inevitable, because of you! The court had no choice, in my view, based on an accurate reading of the Constitution, but it also had no choice because the social mores of the country support the position you've taken," he said. "If you check the history of the Supreme Court, the country has always been ahead of the court. Always been ahead of the court in every major affirmation or assertion of a basic human right."
The latter statement might not have been true at the time the Supreme Court made its decision in Brown, when public schools throughout the South and even Midwestern cities like Topeka, Kan. were legally segregated. Mr. Biden argued the Obergefell ruling would prove to be just as much of a landmark.
"This decision is as consequential as Brown vs. the Board," he said. "People agreed with you and agreed with me years before this decision was made. But now it's settled. It's settled in law."
The vice president, long seen as an expert on foreign policy, said the decision would also work to improve America's standing in the world.
"This also has a significant foreign policy dimension. Finally, finally, finally, our actions are matching our stated values," he said.
He continued that the administration's next move would be to push for federal laws banning employment discrimination against the LGBT community.
"As you know better than anybody, although this is a gigantic step toward equality, there's still many more steps that we have to take," he said, noting that less than half the states have statutes protecting gays from losing their jobs because of their sexual orientation. "Although the freedom to marry, and for that marriage to be recognized in all 50 states is now the law of the land, there are still 32 states where marriage can be recognized in the morning and you can be fired in the afternoon."
Mr. Biden argued that most Americans also support such protections, and simply don't realize they are not on the books.
"Ordinary Americans realize there's nothing abnormal about this, 'these are people I know, people I love, people I care about,'" he said. "I don't believe the American people—for that matter—the people in those states—I don't believe they even know it's possible that you can be fired because you're gay or lesbian. And I am absolutely confident that when the people, the organizations in this room, and the president and I take this fight to the American people, we will win. Because all we have to do, all we have to do, is let them know what the law allows now."
"This next door is going to be a hell of a lot easier to push open, as long as we expose to average Americans the injustice that continues to exist," he added.