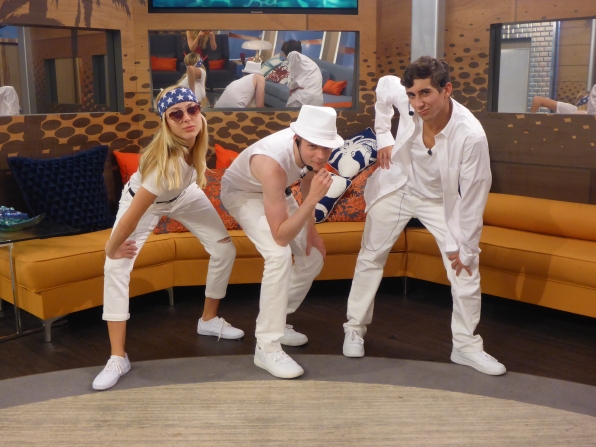 Last night concluded a portion of Big Brother that was very near and dear to my heart. Farewell, sweet beautiful '90s week. Our time together was brief but it meant everything to me. Shout out to Production for putting together that Battle of the Block. I would give a sizable portion of my basketball card collection (including all the Shaqs) to have been on the writing team tasked with the beautiful assignment of punning off grunge bands to name different stations in a Big Brother comp. For example, it's a major oversight that they didn't have a key hidden in a giant Hole that went down far beneath the Big Brother house into where the nuclear fallout creeps from Beneath the Planet of the Apes lived. That would have been good for sure. Although, Screaming Trees was exceptional, I'll give them that.
For losing the Battle of the Block Jason "J-Dog", Johnny "Mac Attack", and Liz "Business" the dethroned HOH, had to perform as the Wackstreet Boys all week. They got the white on white on white outfits which is incredibly impressive because as someone who wore some white track pants in the '90s myself, it is nearly impossible to keep that from getting to be covered in filth. Somehow they looked pretty crisp at the end of the week which is a Small Wonder like a young robot girl you adopt. The Backstreet Boys even tweeted about the group's moves, which is pretty fantastic. The best '90s tweet I ever got was getting Johnathon Schaech to tweet me his "I quit, I quit, I quit Mr. White," line from That Thing You Do which is still a top five moment in my life.

And then a Saved By The Bell themed veto with Steve the host calling a "time-out" making everyone freeze—that was good. All that was missing was Kelly breaking up with Zack while Slater and Jesse sang How Am I Supposed to Live Without You. It wasn't supposed to be this way, not for us. Vanessa won the veto by memorizing the colors as GORPY and then used it to take Jason down.
Shelli and Clay remain the power couple within the house. In order to maintain their games, they finally had to ditch their alliance to Audrey who has been making waves since week 1. Everyone in the house agreed that Audrey is actually a cool person to spend time with when she wasn't overplaying the game. And it clearly got to be too much for her. She disappeared from the house for five hours right before the veto ceremony, then didn't participate in the actual ceremony, and got penalized a vote for eating regular food when she was a have-not. But something more serious was clearly going on with her because nobody referenced any of this erratic behavior directly to her. If Julie Chen is throwing you softballs in your exit interview, something extra extra is going down. What they didn't show on the live episode was that Audrey revealed to the rest of the house that Austin and Liz are working with Clay and Shelli as well as Vanessa in an alliance. But Audrey's credibility was so shot at that point that nobody believed her. They held a semi-house meeting with everyone except Audrey (who was camped out in the have-not room wrapped in her blanket) and everyone agreed this week was the right time to vote her out. Later on, Shelli made up with Audrey and told her how sorry she was about everything and that she expected Audrey to do great things with her amazing story outside of the house. Audrey's story is definitely inspirational and it was cool to hear more about her from her family. The fact that she hadn't really gone public with her transition and did it on national television is definitely something to respect. And they fit in some nice teachable moments, like when Steve learned that while the correct term is "transgender," Audrey identifies as being female. So there you go.
Back to Clay and Shelli. After watching seasons of Big Brother I know this to be a fact. The only way to truly fall in love in this bankrupt world is to go on Big Brother and make an alliance with your future. Does love exist outside the Big Brother house? Maybe some diluted form of it but in order to find the real stuff, you have to be inside those walls. If you can't kiss the person you love for 86 days because there are so many cameras around then that is true love. Who needs hot and heavy when you have aloof and allied? A guy can dream, can't he?
James showed a whole lot of personality this week. First by eating something called a hot dog sandwich during Shelli and co's Big Brother Broadway performance. And then he started buzzing in blind during the HOH competition. He even got the first question right. In the end, Jackie and Vanessa won HOHs. I've been saying for a couple weeks now that Jackie has to show me something. Her nominations should be interesting.
I've really come around on Meg this week. Need that New Yorker to represent for us. Johnny Mac continues to kill it in the diary room interviews. I cannot wait to see his reaction to the twin twist, which should come to an end this week if Liz manages to keep herself from being eliminated. Johnny has been playing full-on detective, first looking at the differences in Liz and Julia's teeth and then by judging Liz's HOH letter for not having any specific details or emotion, as if it were written for two people. It should be good quality tv.
Nominations and Battle of the Block Sunday. Veto on Wednesday. Another eviction next Thursday.