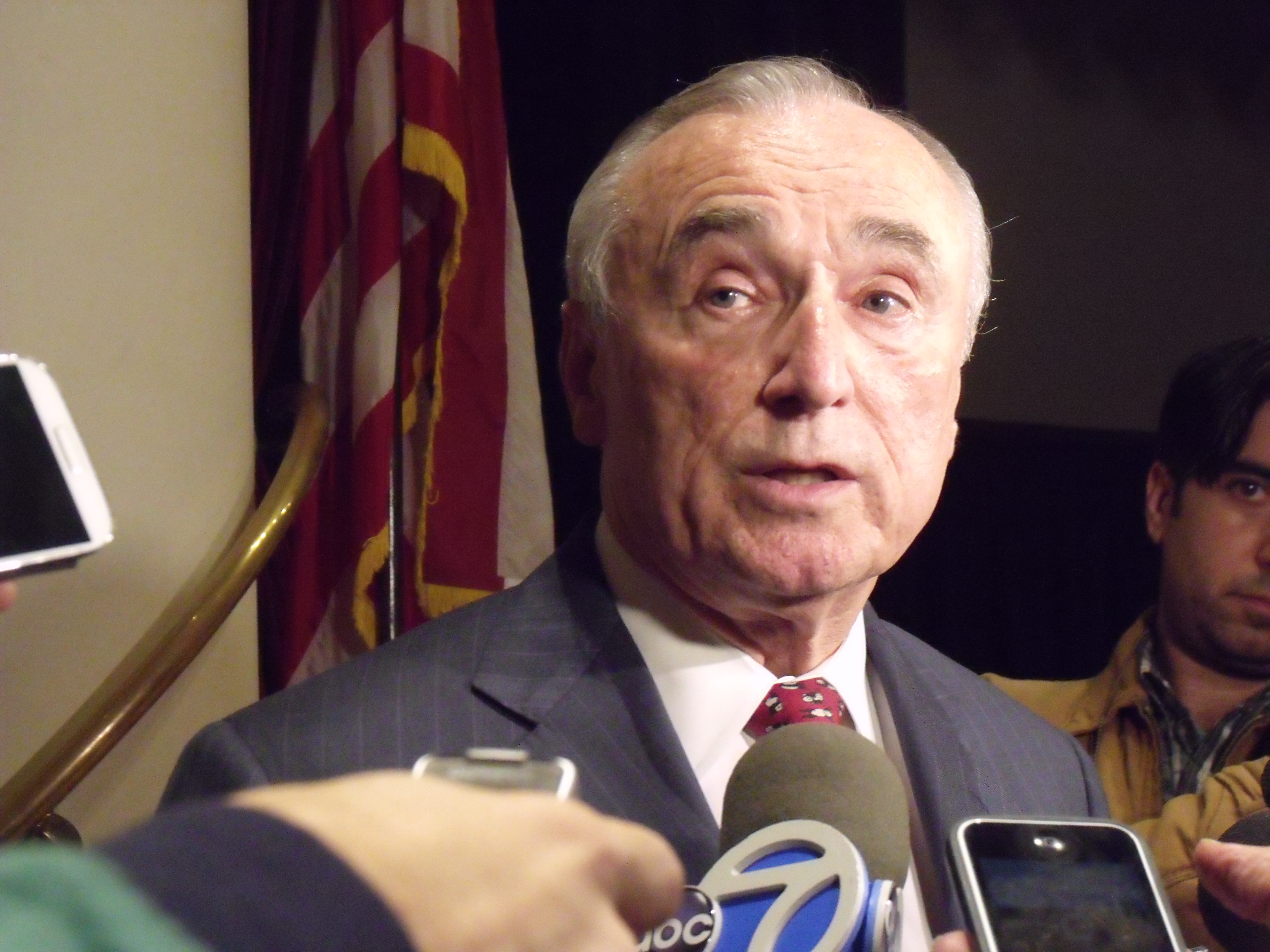 Police Commissioner Bill Bratton again voiced opposition to proposals from the City Council to increase oversight of the NYPD today, saying the attempts at reform aren't needed.
"It's unnecessary. It's overkill," Mr. Bratton told radio host John Gambling on AM 970 this morning.
The commissioner's comments are not much of a surprise—at a City Council hearing last week, Mr. Bratton offered opposition to every one of the nine pieces of legislation being considered, which ranged from basic reporting requirements to measures that would outlaw chokeholds, which are now only banned by department policy, and would require cops to give citizens a business card, remind people they don't have to agree to a search and get then get their written permission to conduct one.
But Mr. Bratton said there is already enough oversight of the department.
"We now have an inspector general we didn't have. We now have a federal monitor we didn't have. We now have five district attorneys who have no problem going after bad cops," Mr. Bratton said.
Plenty of pols criticized former Staten Island District Attorney Daniel Donovan after a grand jury opted not to indict Daniel Pantaleo, the officer who used an apparent chokehold to take down Staten Island man Eric Garner, whom he was trying to arrest for allegedly selling untaxed cigarettes. Garner's death renewed tensions between police and community, spurred protests and is the inspiration for the City Council bill seeking to outlaw the chokehold.
Some elected officials have argued local prosecutors work too closely with police to fairly oversee cases of deaths in police custody, and Gov. Andrew Cuomo recently appointed state Attorney General Eric Schneiderman to act as a special prosecutor in such cases.
But Mr. Bratton said the many new levels of scrutiny over the NYPD—some of which, like the inspector general, came at the direction of the City Council—ought to be given time.
"Let's give some of the current oversight a chance to work, and that's already working," Mr. Bratton said, going on to tout gains made by the Civilian Complaint Review Board in more quickly addressing complaints.
Councilman Rory Lancman, who sponsored the legislation to make chokeholds a misdemeanor, took issue with Mr. Bratton calling the legislation "overkill."
"You know what's 'overkill?' Choking guy to death for griping about being cuffed for selling loose cigs. Literally," Mr. Lancman wrote on Twitter this morning.
While it was not among the proposals that were considered at the recent City Council, Mr. Bratton also took issue with City Council Speaker Melissa Mark-Viverito's proposal to issue tickets instead of making arrests for certain "quality of life" crimes. Ms. Mark-Viverito has not introduced any legislation on the matter, though her office and Mr. Bratton's have been searching for areas of compromise.
On Mr. Gambling's show, the commissioner urged the Council not to take away "quality of life enforcement tools" that allow them to make arrests for fare evasion, public urination or public drinking.
"Then police basically have no real ability to deal with those issues," Mr. Bratton said.