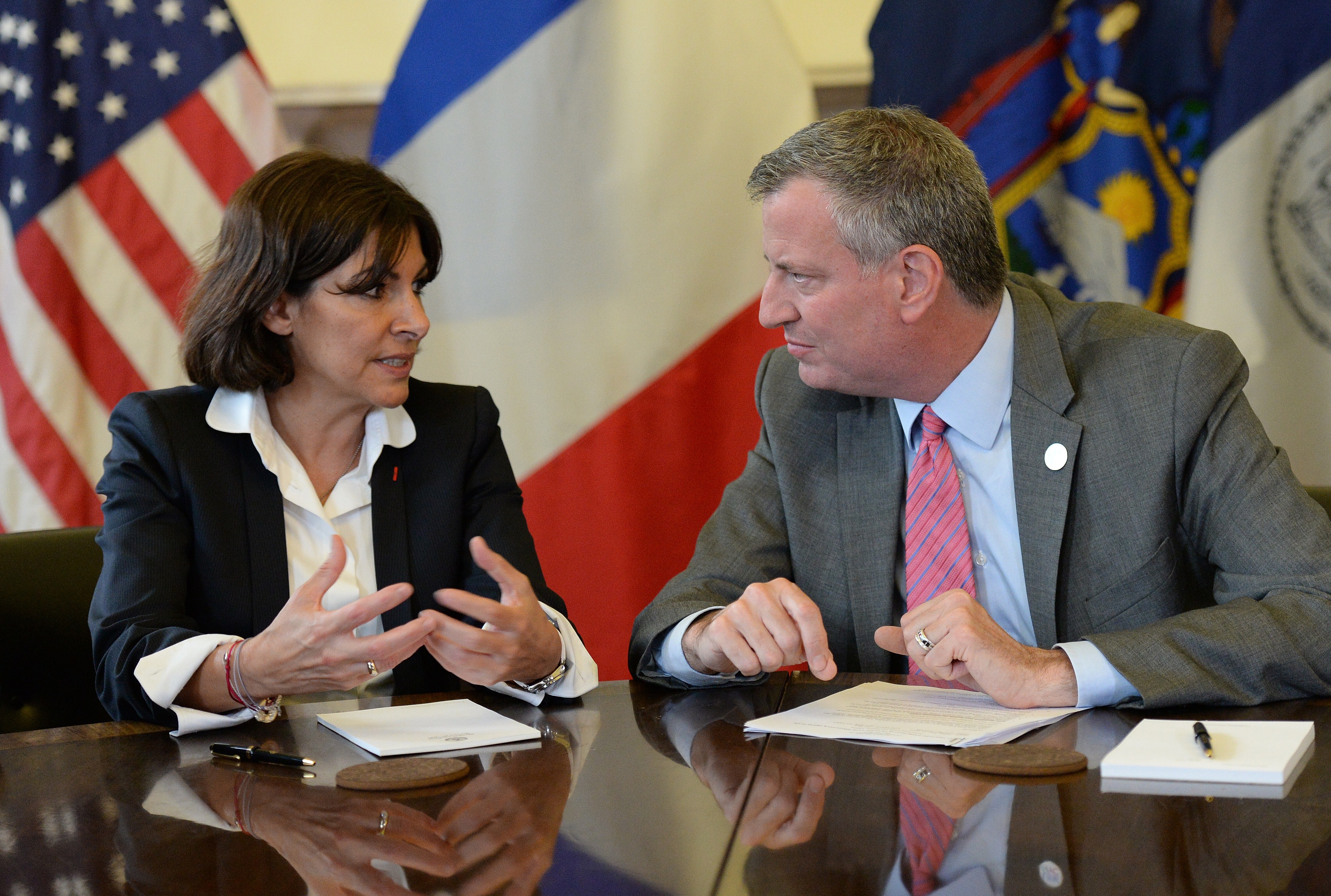 Uber follows Mayor Bill de Blasio–even to the Vatican.
The Democratic mayor, in Italy for a conference on climate change and income inequality, said he spoke with Paris Mayor Anne Hidalgo about grappling with Uber, the ride-sharing behemoth he is trying to regulate in New York.
"She's having a very similar experience," Mr. de Blasio said of Ms. Hidalgo, a socialist who he has bonded with on several occasions, according to a transcript provided by his office. "I think it's clear that as a corporation–as a multi-billion dollar corporation–Uber thinks it can dictate to government."
Mr. de Blasio, who blames Uber for rising congestion, is locked in a bitter battle with the e-hail company over legislation to cap their future growth. In the last week, he has also attacked Uber for its lax workplace protections, portraying the start-up as yet another greedy corporation willing to exploit labor. "I remind them that the government represents the people and the people's larger interests and that is more important than any one company's needs," he said.
The mayor readily noted that the company is battling with regulators throughout Europe. In Spain, Uber was forced to end operations after a judge ruled the company was in violation of local regulations and amounted to unfair competition for taxi drivers. In Paris and London, similar efforts are underway to severely curtail Uber.
This seemed to hearten Mr. de Blasio.
"I think the situation playing out in Paris in a way is very similar to New York City. I think it's playing out in London in a way that's very similar," he said. "And I think, in each case, the people of our cities don't like the notion of those who are particularly wealthy and powerful dictating the terms to a government elected by the people."
"So I think that is not a wise course and ultimately the people will reject it," he added.
A spokesperson for Uber pointed to Democrats, including Brooklyn Borough President Eric Adams, Congresswoman Carolyn Maloney and Comptroller Scott Stringer, who support Uber's growth.
"It is not surprising there is growing opposition to the Mayor's bill because try as they might, Mayor de Blasio can't pretend protecting taxi owners is progressive," said the spokesperson. "The odds have been stacked against us by rushing the bill through the council, but it's getting harder and harder for the Mayor to explain why he's against creating 10,000 jobs and protecting reliable rides in communities outside Manhattan."