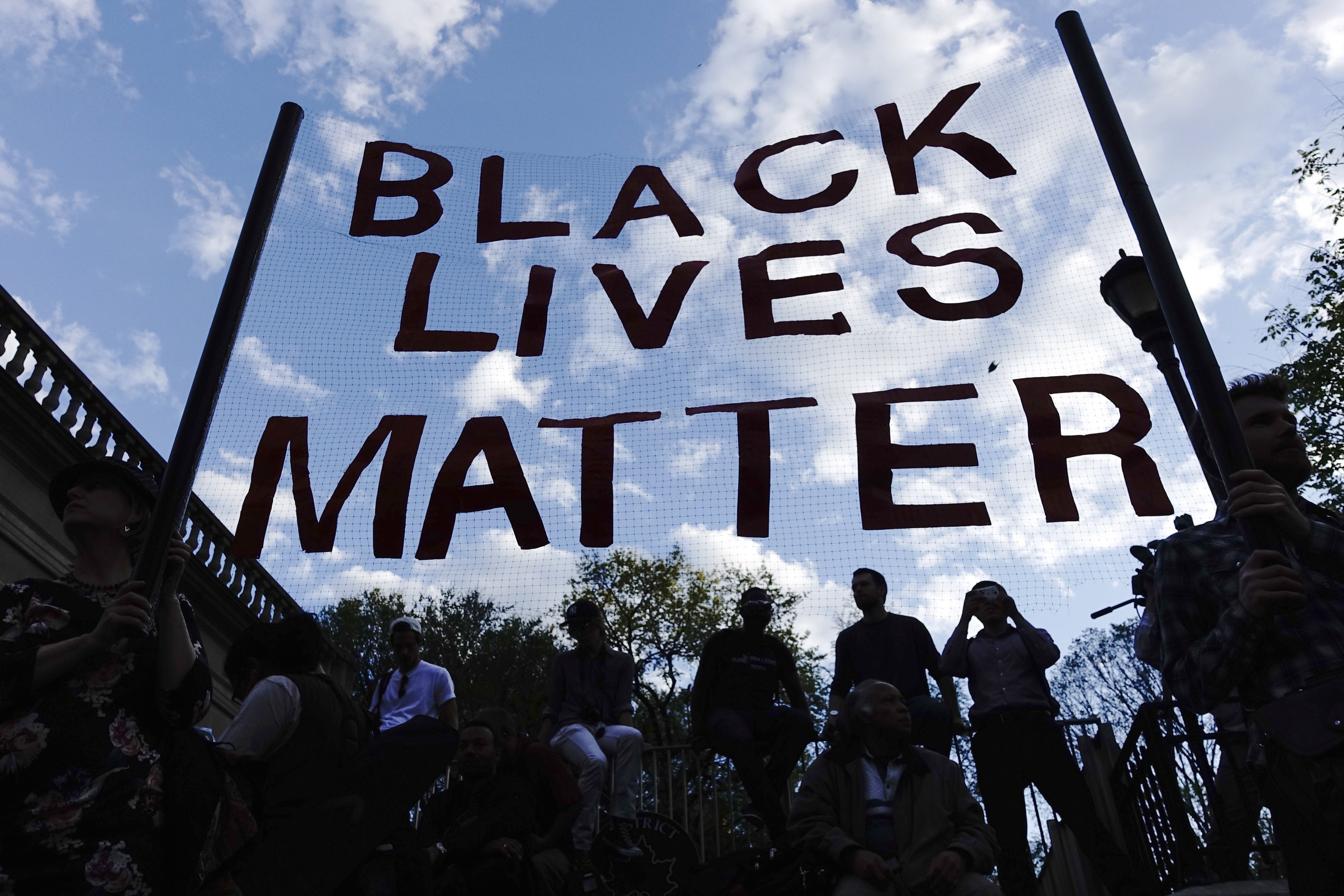 On stage at the progressive Netroots Nation conference this month, former Maryland Gov. Martin O'Malley was beset by protesters asking him to latch on to their rallying cry—that, as the hashtag says, #blacklivesmatter.
Mr. O'Malley agreed: "Black lives matter," he said. But then he said something else: "White lives matter. All lives matter."
The reaction was swift. The protesters—who also didn't react well when Sen. Bernie Sanders sought to shift the conversation to economic inequalities—booed. Mr. O'Malley apologized after the conference.
"I did not mean to be insensitive in any way or communicate that I did not understand the tremendous passion, commitment and feeling and depth of feeling that all of us should be attaching to this issue," he said on a web show called This Week in Blackness.
But just a few days before Mr. O'Malley's comments at the conference in Phoenix, another self-proclaimed progressive made similar remarks that seemed to go mostly unnoticed: Mayor Bill de Blasio. And his didn't come at a conference meant to talk about a wide range of issues or to a wide audience—it came at the memorial for a black man, Eric Garner. A black man killed by a white police officer.
"I want to use a phrase that we did not hear as much in all the discourse, but we should say it because it's evident tonight – all lives matter," Mr. de Blasio began. "And because we are grappling with a challenging past, it's also important to yet again say a phrase that should be self-evident, that should not need to be said. But until we make more progress, we will say it again—black lives matter."
He went on to offer another phrase—one many activists in the Black Lives Matter movement find even more frustrating: "We lost some good young men wearing a uniform to protect us. Also we should say—blue lives matter."
For activists in the Black Lives Matter movement, the sentiment captured by those phrases are obvious: there is no question that in America those lives are important. The point of the #blacklivesmatter hashtag that began the spread of the phrase was that it seemed the lives of black people—Trayvon Martin, Garner, Michael Brown—were not important, or did not matter, in the face of what activists describe as sometimes violent systemic racism.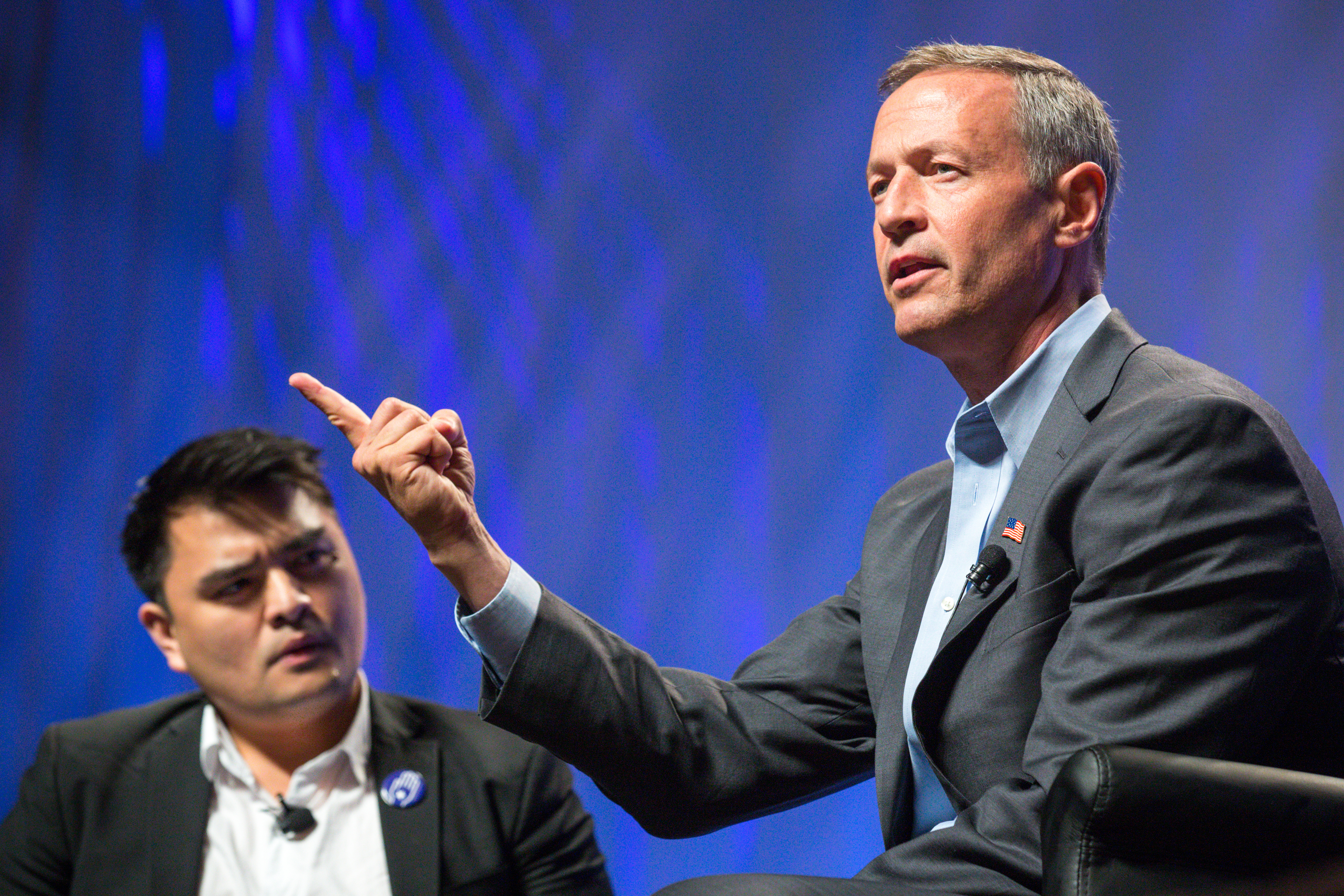 John McWhorter, a Columbia University professor who writes on language and race and says he "straddles the middle" politically, said Mr. O'Malley's response was a matter of him "being a politician."
"People don't think black lives matters as much as other people's—that's what the point of the slogan is supposed to be," Mr. McWhorter said. "And here he comes with his kumbaya moment."
Unlike Mr. O'Malley's comments, there was little immediate reaction to Mr. de Blasio's use of the phrase. Part of that is the platform: while the anniversary of Garner's death was well-covered news, the event was not the same sized stage as a presidential candidate town hall, even if Mr. O'Malley isn't the front-runner. And Mr. O'Malley was not known for bettering relationships between the police and community when he was mayor of Baltimore, a city where race relations are more strained than in New York, which perhaps played into the angry reaction.
Mr. de Blasio ran for office with a huge base of black support and has promised to better relations with police. But this week, Bertha Lewis, a liberal activist, director of the Black Institute and longtime de Blasio ally, told the Observer the mayor was wrong to use the words he did at the memorial.
"You're at someone's memorial because they're dead because they are black. Why must we always be diluted?" she asked. "Blue, white, all, come on. Just deal with black lives. Deal with that, straight up. And it really galls me that all of these white politicians talk that crap. I'm sick of it."
But Ms. Lewis' reaction came only after the Observer asked her about the comments—not in the rapid-fire way Mr. O'Malley found himself shouted down.
Tia Oso, the activist who interrupted Mr. O'Malley's appearance at NetRoots, said in a similar setting she'd react the same way to any politician replacing "black" with "all." In some ways, she said, it enhances the point she and others are trying to make—that it's "so easy to dismiss black people from that struggle."
"As an organizer, I was, number one, generally flabbergasted that people would think that it is an appropriate response, in light of the issue that we're bringing to light about systemic violence against unarmed black people, in particular at the hands of the police," Ms. Oso told the Observer in a telephone interview. "To then say, 'Well, actually blue lives matter, too,' as if there were an equivalency—it's a false equivalency. There aren't bands of people running around gunning down police officers every 28 hours."
Ms. Oso said using the phrase "all lives matter" amounts to "erasure" of what's happening in black communities—and is about appeasing white people, she said, who don't want to feel bad about accusations of racism.
"By saying all lives matter, number one what you're saying is, I'm saying something wrong, I'm going about my movement wrong," she said. "You're trying to correct, and then you're erasing what's actually happening."
Of course, Mr. de Blasio has had a very different year than Mr. O'Malley has. Last July, in the immediate aftermath of Garner's death, Mr. de Blasio offered a personal account of cautioning his own son to be careful in dealing with police, which infuriated police union leaders but heartened police reform activists. The year only became more tumultuous as the mayor was knocked for siding with protesters who closed streets, but the tension exploded with the brutal murder of two police officers in December. Police turned their backs on the mayor, and ever since, there's been a serious effort at healing the rift.
Asked about the thinking that went into Mr. de Blasio's remarks the night of Garner's memorial service, and the decision to use the of-criticized phrases, Mr. de Blasio's office struck again on that note of uniting various view points.
"The mayor values all of the honest perspectives coming from the heartache and suffering resulting from Eric Garner's death. It was important for him to express that," the mayor's press secretary, Karen Hinton, told the Observer. "He also knows the community leaders and Garner family members felt the same way—they want good relations with the police."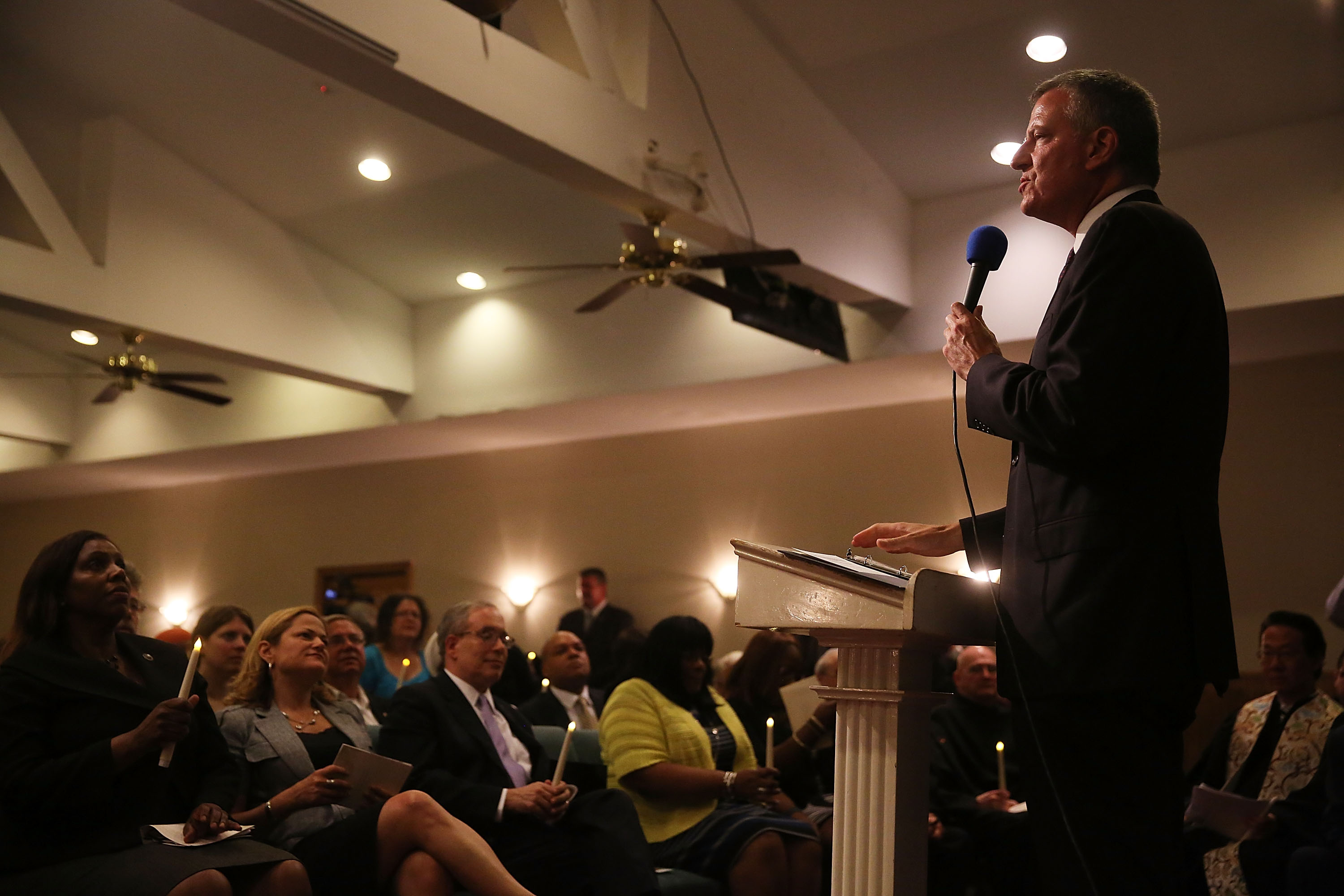 The question of which lives matter seems to have become fraught on both ends of the spectrum. Just as "all lives matter" strikes activists like Ms. Oso in the wrong way, some—even in the middle ground—have grown frustrated with the "black lives matter" phrase, Mr. McWhorter said.
"They're angry that what 'black lives matter' seems to really mean is, 'black lives matter when white people take them away,'" he said, noting the slogan doesn't typically apply to incidents of a black man killing another black man. "It's not only the conservatives who are angry about that. That's why 'black lives matter' isn't going over as well as you'd think."
Mr. de Blasio's comments did not seem to rattle those who appeared with him at the rally, including Rev. Al Sharpton and Garner's family. Ms. Oso, who had no problem shouting down Mr. O'Malley, suspected the circumstances surrounding Mr. de Blasio's remarks—that they were delivered during a memorial service, in a church—were part of why he wasn't met with the same immediate anger.
"People probably felt a certain way, but they ain't going to run up on him, nobody's going to do that," Ms. Oso said. "You definitely don't scream out, 'Oh hell no,' at church."
There may be other reasons—including lowered expectations from those seeking stronger criminal justice reform, a group that was once Mr. de Blasio's base.
"De Blasio has really made it clear that he's doubling down on trying to win over the NYPD, much to the peril of his base. So if I were de Blasio, I'd be more concerned that my base didn't make a stink of it," Fordham University political science professor Christina Greer told the Observer. "For people to ignore to you, to a certain extent, that means they're over you .They're over you, they're over your message. I think a large portion of de Blasio's base realizes he's literally willing to say 'blue lives matter,' which is the antithesis of the black lives matter movement."
Ms. Hinton rejected the notion that the mayor has suffered with his base. Poll numbers show he remains popular with black voters—his approval rating among blacks was 68 percent in a May Quinnipiac Poll, still very high, but down 10 points from a 78 percent approval rating among blacks in January.
"There's too much speculation about quote-unquote base support. No one person speaks for a community. Individuals make up that community. Some people are going to have different views, and they have every right to articulate them," Ms. Hinton said. "The mayor has to consider all views and ultimately make a decision in the best interest of all New Yorkers. That's what mayors do."
But Ms. Lewis said she and others were fed up with the answers Mr. de Blasio, Mr. O'Malley, and Mr. Sanders had given on the issue. She hinted that the next time the mayor runs afoul of the movement, the response may not be so subdued.
"Three leading progressives couldn't deal with it when you said, 'can you just talk about blackness.' And you know what their answer was? No. We have to dilute blackness with white, with blue, with all," Ms. Lewis said. "I'm sick of it, we're all sick of it. You saw it at Netroots Nation and you're gonna see it more and more. And every time one of them says it, if those of us who care about this are around, we're gonna shut 'em down."