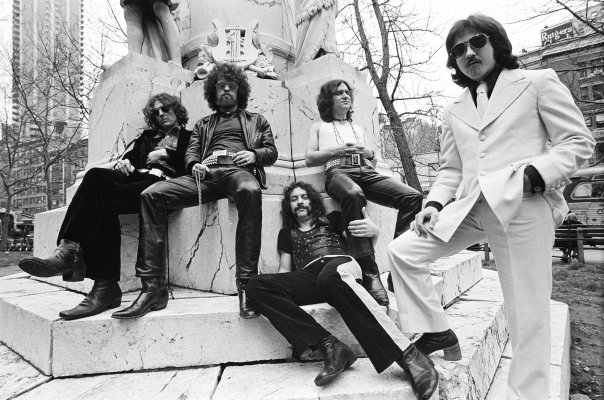 To quote the opening credits of The Tudors, "You think you know a story, but you only know how it ends. To get to the heart of the story, you have to go back to the beginning."
No band ever filled the boots left by The Blue Öyster Cult of '72-'75.
Blue Öyster Cult may be best known for a handful of classic rock chestnuts they spawned between 1976 ("Don't Fear the Reaper") and 1981 ("Burnin' For You"), but by the time "Reaper" was released the most original, incendiary and creative days of the mighty BÖC were already past.
Between 1972 and 1975, Long Island's Blue Öyster Cult were pointed at the stars. They were the great missing link between the MC5 and the Doors, and it seemed they were on track to become one of America's greatest and most innovative hard rock bands.
(Uh-huh. The opening credits of The Tudors. I went there. Yup.)
[youtube https://www.youtube.com/watch?v=63AYootBlZM?list=PL_CGO22fjAZcykWiHL6bBGHdog087ljBo&w=560&h=315]
Starting with their self-titled debut in 1972, BÖC blended college boy smarts and speed-dealer smirk to create an original vocabulary for thinking man's badass rock. On Tyranny and Mutation (1973), and Secret Treaties (1974) BÖC play an astral boogie that sometimes sounds like they've shot the Grateful Dead's all-needles/no-haystack tingle-rock full of speed; other times, they resemble Dr. Feelgood trying to play Pink Floyd's Meddle, and how fucking great does that sound?
The startling sleeves of those first three albums, with their strange, (largely) black-and-white designs that hinted at a cold psychedelia and steely fascism, totally lived up to their promise; the tracks sound like a bad but just manageable LSD trip (assuming the trip took place at the Reich Chancellery on the Wilhelmstrasse, and assuming the Wilhelmstrasse was a long, wide road taking you away from Woodstock as fast as possible). Despite the Joshua Tree-under-the-Milky Way touches (and hints of the Yardbirds, the Move, and a soupcon of Purple and Sabbath), BÖC are mostly pure Needle Park-era NYC, and they play with the desperation of an early '70s street junkie who has just happily sold his girlfriend into prostitution for a Les Paul and a pile of Silhouettes 45s.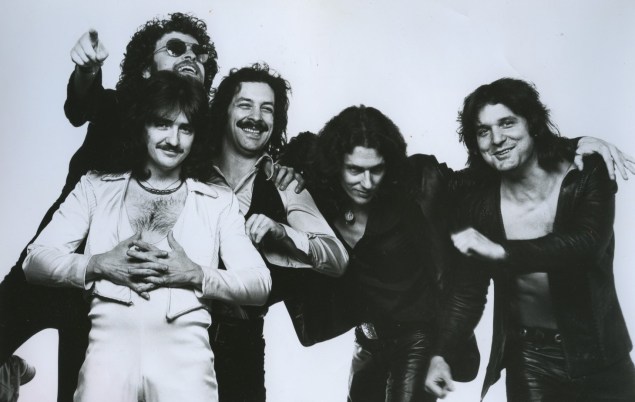 The third Blue Öyster Cult album, 1974's Secret Treaties, is the meisterwerk. Treaties introduced diversity, but not at the cost of the spectral oddness and midnight-in-the-garden-of-leather'n'evil vibe that makes the sound of the BÖC '72-'75 so unique. In addition to the Stooges-meets-Floyd ambience of "Astronomy" and the proto-Pere Ubu herky-jerky of "Dominance and Submission," Treaties also features one of the best rock songs of the era, the hyperbilly boogie "ME 262," which is without any doubt the greatest song ever about the problems of G-force acceleration in jet flight.
This era of BÖC climaxed with the live album On Your Feet or On Your Knees. Imagine the Doors if they were an angry fucking bar-band who replaced Robbie Krieger with a zombie Eddie Cochran, and then imagine that just before the group hit the stage they screened both Clockwork Orange and Triumph of the Will while playing the first MC5 album at extreme volume, and that may give you some idea of the impact of this extraordinary document of BÖC at the height of their power. Riffing, arrogant, knee-on-pavement raw and just a little sloppy and a little too fast, Feet/Knees is one of the 10 best live albums ever made (though could someone please manage a re-release with the crappy and fake crowd noise turned down?).
[youtube https://www.youtube.com/watch?v=HY3NQUoT89k?list=PLLEGRB7-5HunXBEQt6q9s5lfiR3GZ3WGC&w=560&h=315]
Then came 1976's Agents of Fortune. Agents is a goddamn good album—the first side is one of the most memorable and evocative sides of the decade—but something is just, well, off. Agents is more boastful than sinister, more gargantuan than serpentine, and the boogie is almost all gone, replaced with a layered production that sharpens the vocals and overdubs while lessening the desert/planetarium ambience that had made the first three BÖC albums so beautifully peculiar. Still, it's a solid album and it has that song, but unfortunately it's the last Blue Oyster Cult album you need to own.
Agents of Fortune was BÖC's first studio album to crack the top 50, giving the band the idea that they might have a future chasing the dragon of mainstream pop success. This knowledge caused BÖC to fall and fall fast. Instead of finessing the sound that had made them successful in the first place (as, say, Rush did, and as BÖC did—more or less—on Agents of Fortune), BÖC came to the woefully mistaken conclusion that success was best achieved by aping the contemporary mainstream. This was a horrendous decision, and BÖC never found their way back to Eden to finish off the evil apple their first three studio albums had left half-eaten on the lawn.
BÖC are mostly pure Needle Park-era NYC. They play with the desperation of an early '70s street junkie who has just happily sold his girlfriend into prostitution for a Les Paul and a pile of Silhouettes 45s.
Few bright spots emerge from the morass of BÖC's next half-decade: there's "Godzilla" and "Fireworks" from 1977's confused and reverb-soggy Spectres, and 1979's Mirrors features the only great BÖC song recorded after 1977, Allen Lanier's gorgeous, simple and emotionally resonant farewell to Patti Smith, "In Thee." I could probably spend a lot of time explicating BÖC's dramatic fall, but let's just say that by 1983's The Revolution By Night, BÖC's desire to succeed at any cost is so desperate that there's literally nothing left of the once mighty band but a pile of Aldo Nova-ish/Mr. Mister-ish synthy pop songs.
Now, I know there's a lot more to this story: the contributions, as lyricist and muse, of the pre-Horses Patti Smith; the role of Svengali/producer Sandy Pearlman, whose departure after Spectres seems to have left the band hugely adrift; and the tale of 1988's Imaginos, the fascinating and confounding BÖC album that isn't really a BÖC album and which deserves an entire article of its own.
BÖC's rapid defenestration (and the cultural ubiquity of "Reaper") has caused us to overlook the four extraordinary, deeply original spaceboogie albums the band made prior to Agents of Fortune. No band ever filled the boots left by The Blue Öyster Cult of '72-'75. During that span, Blue Öyster Cult dared to blend a dozen incompatible styles yet make the assault absolutely workable, dared to appear to be thinking intensely yet nodding off in their soup at the same time, dared to look at the stars and simultaneously look at motor oil-stained biker chick porno. So, let's celebrate one of America's deepest, greatest and most confounding bands.
[youtube https://www.youtube.com/watch?v=AI5Lxprtxw8?list=PL16932F7155C396BF&w=560&h=315]