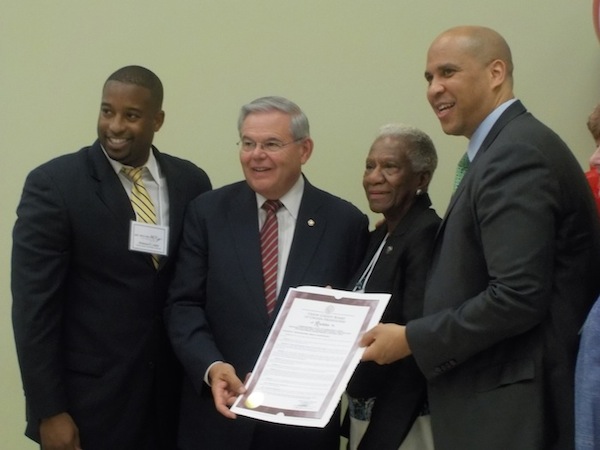 UNION – Tables at the Union Township Senior Center were crowded as U.S. Senators Cory Booker and Robert Menendez took to the floor to make remarks celebrating the 50th anniversary of the Older Americans Act (OAA). The anniversary of the Act coincides with this month's Senate approval to renew the OAA, which is now awaiting House vote.
The OAA Reauthorization (S.192) was introduced in the Senate in January by Senator Alex Lamar (R-TN). For the past five years, the reauthorization has been waffling in the Senate. If approved in the House, the reauthorization will secure the federal government's commitment to helping seniors live independently through commitments to nutrition programs, family caregivers, elder abuse prevention and supportive funding for those entering nursing homes.
"I often think about what we in Washington do for those who made our families, our communities and our country great," said Menendez during his remarks. "The Older Americans Act is an extension of what we built with social security and Medicare. It is about celebration a commitment to those who made our country great."
Senator Booker—who delivered the keynote address at the event—echoed Menendez's statements. While he said that the OAA was "something worth celebrating" the Senator called for more federal funding to support care for the elderly and benefits during retirement. While he believes the OAA reauthorization is a good first step to help secure the future of seniors in the U.S., he believes more needs to be done to ensure that areas like social security are not cut.
"These fundamental ideas that we take care of our own are being challenged," Booker said. "We have fights ahead of us to protect these rights from anyone who wants to make it something it was not meant to be."
According to Booker, the fact that the Act's renewal coincides with the anniversary of the original OAA provides a unique perspective on what commitments are critical for the protection of elderly citizen's benefits.
"We have work to do," he said. "We have to remember what we have done but realize what we have to do. I am one of the few people who believes we need to increase these benefits."
Both Senators invoked family members who benefited from the OAA as a reason for the commitment. For Menendez, it is thoughts of his late mother who suffered from Alzheimer's Disease that encourage his support of the bill. For Booker, it was his grandparents.
"My grandparents were there for me during every stage of my life," Booker said. "You can't pay those people back but you can pay it forward."
State Senator Ray Lesniak (D-20), Union Mayor Manuel Figueiredo, members of the Union County Board of Chosen Freeholders, Assemblywoman Annette Quijano (D-20), Assemblyman Jamel Holley (D-20) and Union County Sheriff Joe Cryan were also there to show their support for the OAA.