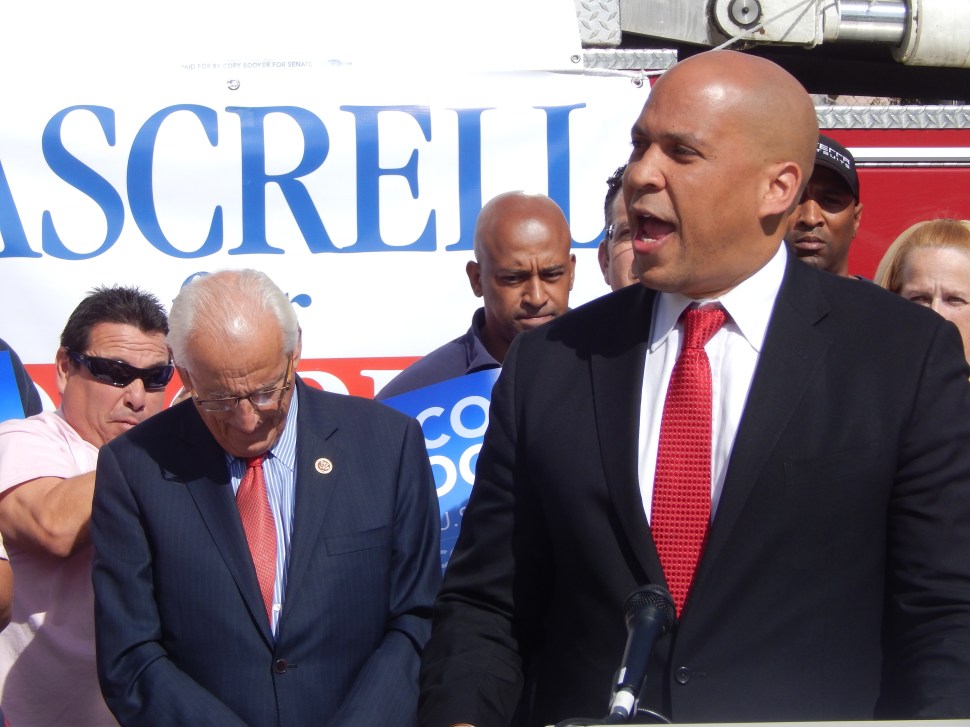 Christie trails in the polls, attacks innocent bystanders, and he's wrong on the issues. But Cory Booker still thinks Chris Christie's "one of the most talented political people out there."

     This week, US Senator Cory Booker called NJ Governor Chris Christie "the most underestimated person in the field" of republicans vying to be their party's next Presidential candidate. It's not atypical for Booker to gush praise upon the Governor. But Booker's recent characterization seems especially obsequious in light of Christie's sinking numbers here in New Jersey. And out in Iowa. And down in South Carolina. And up in New Hampshire. Oh yes, especially up in New Hampshire. Two incidents this week perfectly crystalize why Christie's number are trending down 1) paradoxically, he's either too boorish or not boorish enough and 2) he's increasingly out-of-step on the issues. 
     Christie showed his boorish side by attacking Monmouth University's Patrick Murray, whose polling highlights the Governor's flagging fortunes in the upcoming New Hampshire primary. Christie currently sits abysmally in 8th place. The Governor knows that a less-than-top-tier showing in the Granite State will sink his presidential chances. That's probably why Christie felt compelled to issue ad homonym attacks on Murray, one of the most sympathetic characters in NJ politics, attempting to undermine his credibility by calling him:
"a liberal advocate. I've never paid attention to the Monmouth poll in New Jersey. And by the way, it's the Monmouth University poll, anybody really care? You think nationally people are on the edge of their seat waiting for the Monmouth University poll to come out? I mean, please, stop."  
     OUCH. If Patrick Murray were indeed a liberal advocate he would've shared a dishy quote with a real liberal advocate for this column. (He declined.) To their credit, the Monmouth poll pretty much nailed the last big elections we've had in New Jersey, including Christie's re-election romp over Barbara Buono and Booker's victory over what's-his-name. The polls now show that the harder Christie tries, the less popular he becomes at home and, it would appear, on the trail. And as for that robust segment of GOP voters who find virtue in vulgarity, thanks to Donald Trump, there's a much better option than Chris Christie!
     Style demerits aside, Chris Christie is increasingly wrong on the issues too. He boasts that on his very his first day in the Oval Office, he'd overturn the state laws that legalized recreational marijuana. "If you're getting high (legally) in Colorado today, enjoy it," Christie, said on the stump. "As of January 2017, I will enforce the federal laws." Mind you, that federal law, the cornerstone of America's failed War on Drugs, still operates under the crass assumption that marijuana is more dangerous than crystal meth. And that's Chris Christie's drug policy in a nutshell. 
     Marijuana is currently legal in four states (Colorado, Washington, Alaska, and Oregon) + Washington DC. In each instance, these laws were passed by popular referendum. Now unless the whole "states' rights" thing only applies to Confederate flags and slavery, GOP primary voters hate the Federal Government overturning the will of the people. 
Ohio, Nevada, California, Massachusetts, Maine, and Arizona all have similar legalization measures on the ballot bet
ween now and Election Day 2016. By the time we've chosen our nation's next President, recreational pot could be legal in 10 states!
     It's revealing that Chris Christie has promised to ramp up the drug war on Day One of his presidency. He couldn't be more clear about it: under a President Christie, the refer madness will continue. An additional not-insignificant caveat: 23 states currently allow medical marijuana for sick people. Chris Christie's drug policy would overturn medical marijuana laws in all 23 of those states as well. Which makes it pretty lucky that whole President Christie fantasy's never gonna work out. Do you really think America wants a leader with those priorities?
     When Chris Christie ran for NJ Governor back in 2009, he couldn't shut up about getting the government out of our lives. His subsequent cannabis policy – with rhetoric to match – prove what a bunch of hooey that was. One more reason America's just not that into Chris Christie anymore. Cory Booker apparently being one notable exception. 
Jay Lassiter is a big-mouthed iconoclast from Cherry Hill where he's currently pushing his left-wing agenda. Jay's hobbies include marijuana legalization, brunch, and turning NJ into a liberal valhalla. He recently returned from Ireland where he and fellow YES campaigners passed an historic marriage equality referendum. Follow him on Twitter for Jersey's best Political dish.