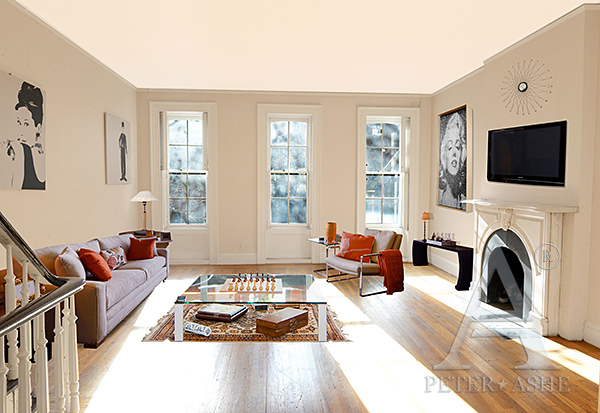 The Upper East Side brownstone featured in the 1961 Truman Capote classic Breakfast at Tiffany's has sold once again.
The townhouse at 169 East 71st Street was used for the exterior shots of the apartment building where Audrey Hepburn's Holly Golightly lived, and the elegant brownstone's ownership history gives the fictional New York social(climber)ite's colorful past a run for its money. Before selling to the still-mysterious Cyprus-based Costalea Holdings Limited, it was the home of disgraced former Merrill Lynch broker Peter E. Bacanovic, whose connection with the Martha Stewart insider trading case landed him with a five-month jail sentence in 2012. It would appear from the listing photos that the current owners have done little to alter the house since, besides decorating to remind guests of the brownstone's past stardom before Mr. Bacanovic lived there: a large photograph of Audrey Hepburn as Holly Golightly adorns a living room wall. Oh, and if Audrey Hepburn isn't quite your cup of tea, there's Charlie Chaplin and Marilyn Monroe is right across the room… We're sensing a bit a theme here.
Costalea Holdings also expected quite a premium for its perfunctory staging. This time around, the brownstone hit the market at $10 million in 2014, before the price was slashed to $8 million. It finally sold for $7.4 million when the deal closed this June, to the inventively-named 169 E. 71st LLC.
Asher Alcobi at Peter Ashe has the listing for the 3,800 square foot home, which is located between Third and Lexington. Mr. Alcobi tells the Observer that the previous owners decided to put it on the market because it was far too small for them and as attempts to redesign didn't pan out, it is still configured as a two-family home.
When asked about the new owners, Mr. Alcobi would only tell us that they "come from a different part of town" but wanted to move to the brownstone for its street, location, size, and potential. The brownstone hasn't been renovated since the early 1990s, but the new owners will likely embark upon a medium to full-scale renovation—he added that with some work, the new owners of the house would be able to flip it for a large profit.
The townhouse was primarily used for exterior shots, so while the new owners won't be living in the same space that served as the backdrop of Holly Golightly's parties, the brownstone does have a few other attributes, including an enclosed greenhouse, a library, and multiple wood-burning fireplaces. And in the event the new owners happen to be die-hard Breakfast at Tiffany's fans, they can take pleasure in the fact that the elegant stoop with its olive-green doors where Audrey Hepburn and George Peppard stood still remains in all its glory.