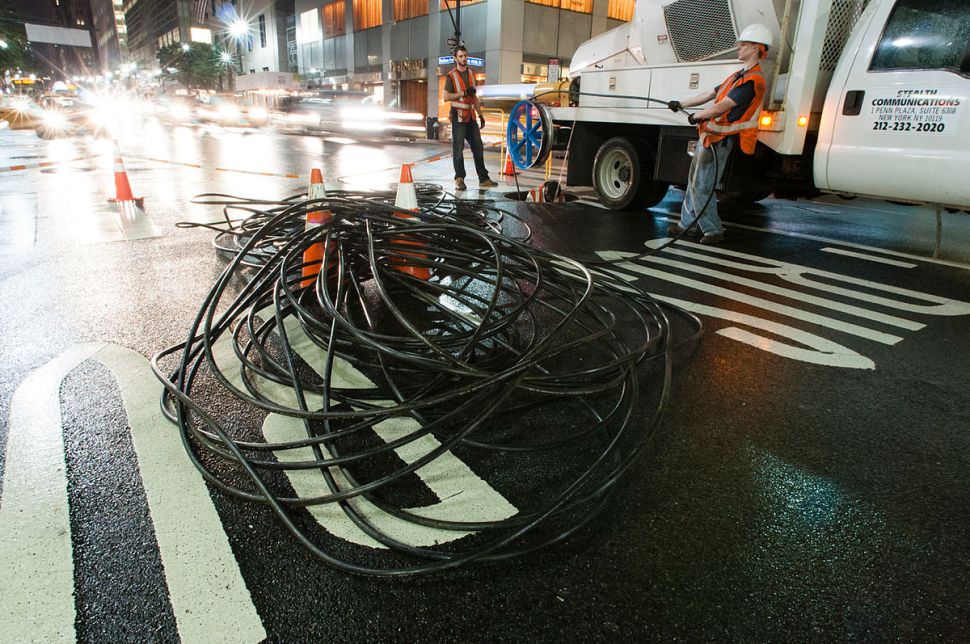 ConnectIBZ was the fund used to launch New York City's first 1GB broadband network, in Sunset Park Brooklyn, as the Commercial Observer previously reported. Today, the New York City Economic Development Corporation announced that $5.3 million will be spent to put high-speed broadband into the Southwest Brooklyn, Long Island City, North Brooklyn and Greenpoint-Williamsburg Industrial Business Zones.
"Connect IBZ provides broadband access to underserved industrial businesses in Brooklyn and Queens, bringing increased opportunities to hundreds of businesses in former Digital Deserts," NYCEDC Interim President Kim Vaccari said in the press release.
Stealth Communications will bring fiber optics to southwest Brooklyn, as will as building an outdoor wireless network in a yet-to-be- determined location, according to the release. Stealth is the same company that brought fiber to The Bowery.
Xchange Telecom will build in Long Island City, North Brooklyn and Greenpoint-Williamsburg zones, providing service from 10 megabits per second to one gigabit, via rooftop-mounted equipment.
Here's the funding breakdown, from the release:
NYCEDC: $1.6 million from the New York State Connect NY Broadband Grant Program
Participating ISPs: $3.75M
Funding will cover the network as well as the cost of buildouts to 500 commercial buildings. Businesses in the areas interested in better access can apply here.
"We are honored to receive support from the City and State — the grant speeds our expansion into Brooklyn and brings down broadband costs for businesses throughout the IBZ," Shrihari Pandit, Managing Member of Stealth Communications, said in the press release.
"We consistently hear from our businesses in the IBZs, particularly those in smaller, older buildings, that access to high speed, reliable, affordable broadband is essential to their future success," Elizabeth Lusskin, President of the Long Island City Partnership, said in the press release.
Check out the speed in your area with the NYC Broadband Map.