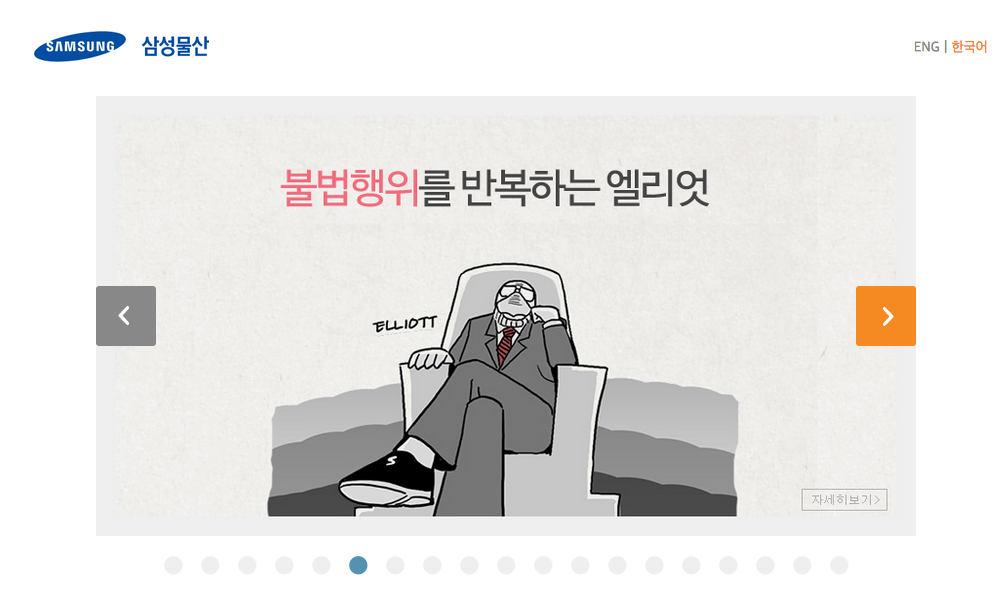 Earlier this week, the Observer reported on a spat that had broken out between a division of the giant Samsung (SSNLF) empire and the American hedge fund Elliott Management. The most newsworthy feature of the dispute involved a series of articles on Korean business sites that pointedly criticized Elliott's CEO Paul Singer and directly attacked him for being Jewish, noting that "Jewish money has long been known to be ruthless and merciless" and claiming "It is a well-known fact that the US government is swayed by Jewish capital."
Even more surprisingly, the official website of Samsung C&T itself created a character called "Vulture Man" to mock Mr. Singer. As first reported by the Observer, Samsung even published a series of cartoons—again, on its official website—depicting Vulture Man viciously exploiting children and poor people. Yes, there were hatchets and machine guns.
Today, the Observer received an email from Kwang Seop Han, the Executive Vice President and Head of Communications at Samsung C&T.
"We write to you with regard to your article published online on July 13 with the title 'Spat Between Samsung and NYC Hedge Fund Takes Nasty Detour Into Jew-Baiting.' Regarding the cartoons referred to in your article, we now understand, however unintentionally, that they can offend. Accordingly, they have all been removed as of 9:05 a.m. Seoul time July 15.

Furthermore, we removed on July 14 all advertising from Media Pen, which has led the way in publishing anti-Semitic views. We categorically denounce anti-Semitism in all its forms, and we are committed to respect for all individuals."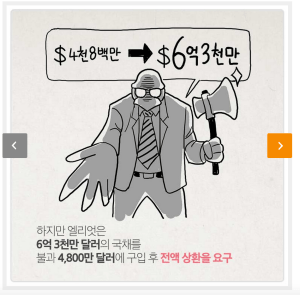 So that's a quick turnaround for a company that had until the Observer's article resisted all calls either to stop advertising on Mediapen, the ringleader site publishing the anti-Semitic articles, or to renounce the images used on its site. This morning, the AP and others picked up the story of the removal and Samsung surely hopes that the matter will quickly disappear.
But it seems there's a little more to it than the "however unintentional" line from Kwang Seop Han would indicate.
As explained in the Observer's original story, the battle between Samsung and Elliott is not just the commonplace gap between the low price an acquirer wants to pay versus the high price a target wants to receive. It's a culture war pitting the traditional Korean business custom of a powerful "chaebol"— family-led conglomerate—against a Western-style demand for transparency and competitive bidding. In this context, the Korean government itself has a strong stake in preserving the status quo, especially with regards to Samsung, the country's most important conglomerate.
And that's where we can shed some additional light.
Until May of this year, just two months ago, the CEO of Mediapen—the blog that's been most aggressively carrying water for the Samsung position and leading the anti-Semitic attacks—was Lee Eui Chun. In May, Mr. Lee was appointed the deputy minister of the Culture, Sports and Tourism, where he serves under Second Vice Minister Kim Jong, and is in charge of media relations, as befitting someone with Mr. Lee's media background.
Before Mediapen, Mr. Lee, had worked for the Hankook Ilbo, a daily newspaper where he mostly covered economy and business (Hankook is simply "Korea" and in this usage refers only to South Korea, so the Ilbo is essentially equivalent to USA Today). He also was an executive at the Dailian, a conservative news site.
As in the US, it is common for the government to hire media professionals to handle their communications needs – recall how Tony Snow left Fox News to become President Bush's spokesman or how the Obama administration hired Time magazine alumni Rick Stengel and Jay Carney. In South Korea, the ministry has only one deputy minister, so that makes Mr. Lee roughly equivalent to an assistant secretary in the US.
Mr. Lee stepped down as CEO of Mediapen to take the job at the Ministry, but sources familiar with the innards of Korean media told the Observer that Mr. Lee and his wife retain a substantial ownership stake in Mediapen. This is difficult to verify because it's a private institution and Mr. Lee is so new to government that any public wealth and holdings disclosures are not yet available. However, given the controversial content on Mediapen and Mr. Lee's high-ranking position in the Korean government, pressure will surely be brought to bear to discover whether he holds any remaining business ties to Mediapen.
Meanwhile, if the Korean government is indeed pulling strings behind the scenes, it looks as though it's not the only one. The US government has started to stir as well. The Observer has exclusively learned that at least two US Congressmen, including Kansas Republican Kevin Yoder, have reached out to the Korean embassy in Washington to register their concerns about American business interests being treated shabbily in Korea.
Mr. Yoder's representatives have not yet responded to the Observer's request for comment, but this story will be updated to reflect his comments and others as we learn more.