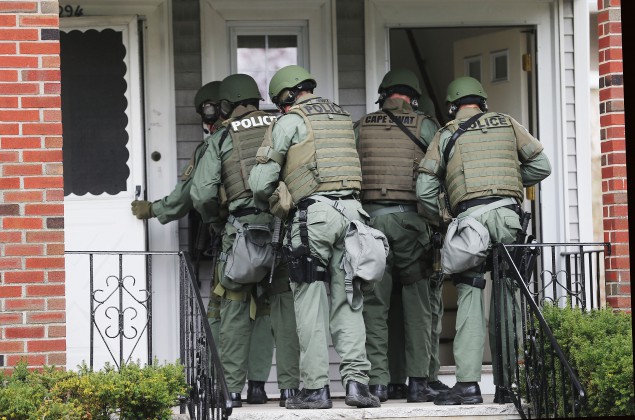 In a compelling blow for liberty, freedom of speech, and the rights of individuals, the Wisconsin Supreme Court today excoriated the district attorney/special prosecutor who ran politically targeted investigations and "military style" pre-dawn raids of innocents' citizens' homes in the so-called "John Doe II" case. The prosecutors' "theory" was that it was a crime for conservative groups to discuss issues with candidates for office—especially Scott Walker. Many law-abiding Wisconsin citizens suffered the fully armed "swat-team" style raids of the their homes, being dragged from their beds in front of their children, handcuffed, arrested, and had their homes searched and property seized as a result of this outrage.
Nothing says it better than the court's decision itself:
"To be clear, this conclusion ends the John Doe investigation because the special prosecutor's legal theory is unsupported in either reason or law.  Consequently, the investigation is closed.  Consistent with our decision and the order entered by Reserve Judge Peterson, we order that the special prosecutor and the district attorneys involved in this investigation must cease all activities related to the investigation, return all property seized in the investigation from any individual or organization, and permanently destroy all copies of information and other materials obtained through the investigation.  All Unnamed Movants are relieved of any duty to cooperate further with the investigation."
The court did not stop there.
"The special prosecutor has disregarded the vital principle that in our nation and our state political speech is a fundamental right and is afforded the highest level of protection. The special prosecutor's theories, rather than "assur[ing] [the] unfettered interchange of ideas for the bringing about of political and social changes desired by the people," Roth, 354 U.S. at 484, instead would assure that such political speech will be investigated with paramilitary-style home invasions conducted in the pre-dawn hours and then prosecuted and punished.  In short, the special prosecutor completely ignores the command that, when seeking to regulate issue advocacy groups, such regulation must be done with "narrow specificity."  Barland II, 751 F.3d at 811 (quotations omitted)."
The court also criticized the arbitrary nature of the decision to launch these proceedings:
The lack of clarity in Ch. 11, which the special prosecutor relies upon, leads us to the unsettling conclusion that it is left to government bureaucrats and/or individual prosecutors to determine how much coordination between campaign committees and independent groups is "too much" coordination. In essence, under his theory, every candidate, in every campaign in which an issue advocacy group participates, would get their own John Doe proceeding and their own special prosecutor to determine the extent of any coordination. This is not, and cannot, be the law in a democracy.
The special prosecutor alleges that the Unnamed Movants engaged in illegally coordinated issue advocacy. However, the basis for his theory has evolved over the course of the various legal challenges to his investigation, and he appears unable to decide just how the Unnamed Movants have broken the law.
¶56 Today, the special prosecutor alleges two theories of illegal coordination: (1) that the coordination between the Unnamed Movants is so extensive that the supposedly independent groups became subcommittees for the candidate's campaign under Wis. Stat. § 11.10(4); and (2) that the coordinated issue advocacy amounts to an in-kind contribution under Wis. Admin. Code § GAB 1.20. The special prosecutor's theories, if adopted as law, would require an individual to surrender his political rights to the government and retain campaign finance attorneys before discussing salient political issues. See Citizens United, 558 U.S. at 324. We find no support for the special prosecutor's theories in Wis. Stat. Ch. 11. Chapter 11's definition of "political purposes," which underlies Wisconsin's campaign finance law, is both overbroad and vague and thus unconstitutionally chills speech because people "'of common intelligence must necessarily guess at [the law's] meaning and differ as to its application.'" Id. (quoting Connally, 269 U.S. at 391).
But wait, there's more—reiterating how fortunate it is that these people could and did fight back, and how sad it is for those who can't.
"Our lengthy discussion of these three cases can be distilled into a few simple, but important, points.  It is utterly clear that the special prosecutor has employed theories of law that do not exist in order to investigate citizens who were wholly innocent of any wrongdoing.   In other words, the special prosecutor was the instigator of a "perfect storm" of wrongs that was visited upon the innocent Unnamed Movants and those who dared to associate with them.  It is fortunate, indeed, for every other citizen of this great State who is interested in the protection of fundamental liberties that the special prosecutor chose as his targets innocent citizens who had both the will and the means to fight the unlimited resources of an unjust prosecution.  Further, these brave individuals played a crucial role in presenting this court with an opportunity to re-endorse its commitment to upholding the fundamental right of each and every citizen to engage in lawful political activity and to do so free from the fear of the tyrannical retribution of arbitrary or capricious governmental prosecution.  Let one point be clear: our conclusion today ends this unconstitutional John Doe investigation."
As our friend Judge Kozinski has repeatedly said, "Judges must put a stop to it." We'll add these judges to our list of those who "get it" and are standing for justice for all.