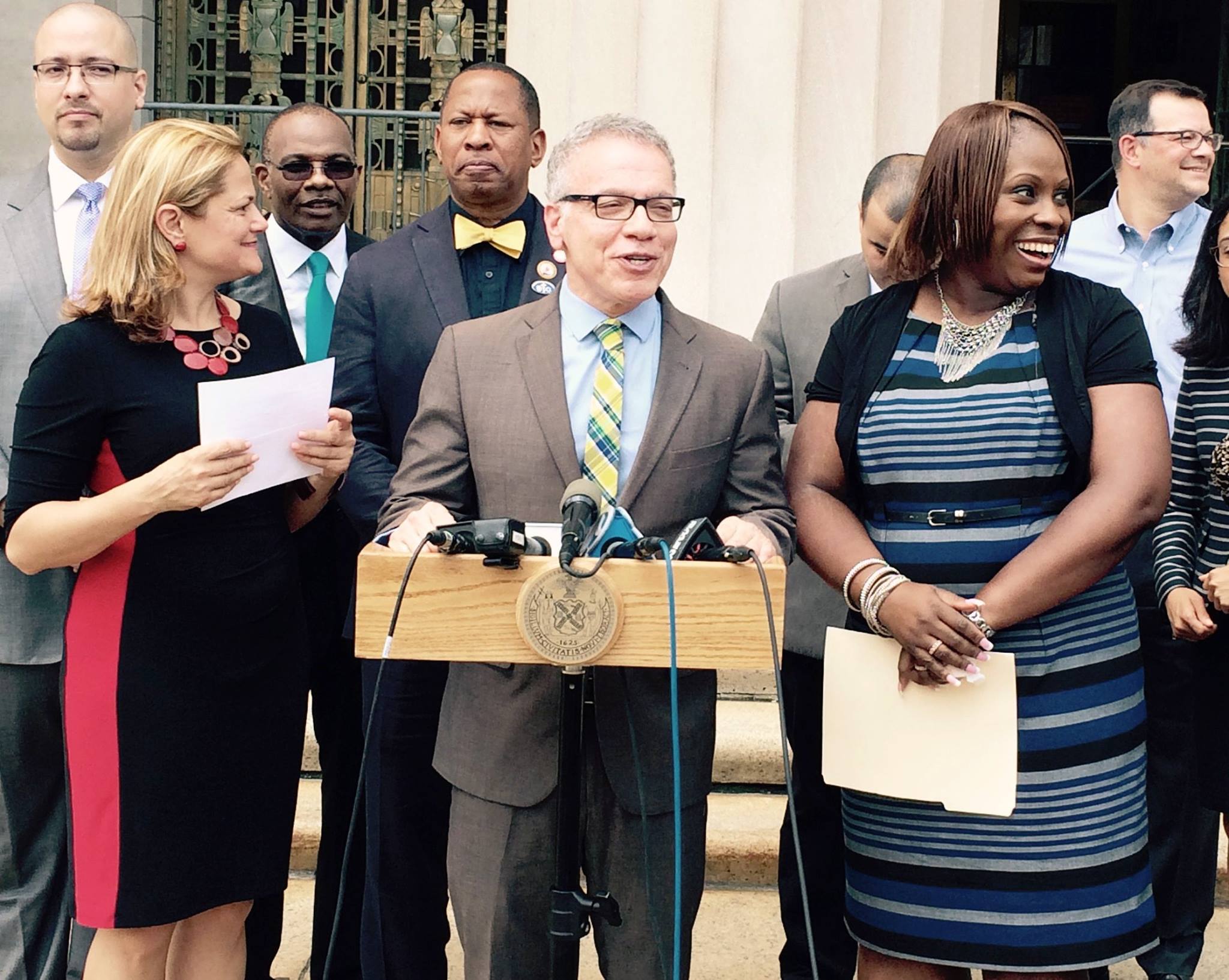 Members of the City Council today met in the Bronx to cheer a hard-fought victory—the addition of nearly 1,300 new police officers to the NYPD's headcount. But at least one Council member said he isn't stopping there.
"I do want you to know, Melissa, that I'll be back next year asking for more cops," Bronx Councilman James Vacca told Council Speaker Melissa Mark-Viverito this morning during a press conference on the new officers.
The new officers included in the city budget this year come after more than a year of pressure from the City Council to boost the department's headcount, which is currently more than 6,000 officers fewer than it was before September 11, 2001. The effort came from an unlikely alliance of moderate Democrats and Republicans who represent parts of the city that police officers call home and where news of more cops is always welcome, like Mr. Vacca, and the Council's dominant Progressive Caucus, which has argued new officers would better the relationships between police and community.
"We are down 6,000, so I do want to say this is a good down payment," Mr. Vacca continued during the press conference in front of the Bronx County Building. "I was one of the Council members last year who first brought up this manpower issue, and I will be back next year."
Others were less willing to look that far ahead.
"It is way too early to even have that conversation," Ms. Mark-Viverito told the Observer when asked about Mr. Vacca's promise. "I appreciate his passion."
When the Council first called for 1,000 new officers more than a year ago, Mayor Bill de Blasio and Police Commissioner Bill Bratton shot the idea down and it was not included in last year's budget. But after renewing the call this year, Mr. Bratton eventually voiced his support for the headcount boost, and despite months of saying the headcount was fine as is, Mr. de Blasio eventually gave in and hired 1,300 more officers.
Hiring the new cops has rankled police reform activists on the left; it's unlikely the Council's progressive wing would get behind adding even more next year. But Mr. Vacca was undeterred.
"I think I'm going to have a lot of support," Mr. Vacca told the Observer after the press conference. "I'm interested in seeing how the police we have hired are spread across the various precincts and various operations."
Mr. Vacca recalled questioning an NYPD narcotics squad at a recent hearing, and learning they have just 1,250 officers today, compared to more than 2,000 officers before September 11.
"With heroin on the rise, and I see that kind of cut in the narcotics division, I know that they need help," Mr. Vacca said. "So I consider the allocation we got this year as a big victory, but i also think that it's a down payment. We have to do more."
The councilman, who represents a district that includes Throggs Neck, Pelham Bay and Morris Park, also said Vision Zero, the traffic safety program, would require more officers for successful enforcement.
"It never was acceptable to me that over the years, even though we had a fiscal crisis, that the police department was allowed to attrit," Mr. Vacca said, referring to the way officers retired at a faster rate than new ones were hired, decreasing the headcount. "And we just kept attriting and never filling, and that's why we're in the position we're at today. I don't want ever in the City of New York to be in a position where we take from one precinct to feed another. That's robbing from Peter to pay Paul."
But his proposal didn't win much favor with Councilwoman Vanessa Gibson, chairwoman of the Public Safety Committee.
"I'm shocked," she told the Observer after the presser. "I don't think we are nowhere near talking about that."
She continued, "What I want to see happen now, with the recently enacted budget, is how we hire, how we attract, how we recruit. I want us to do better in communities of color, with young men and young women, of course. I want us to do better than we have done with this opportunity of 1,300 officers."