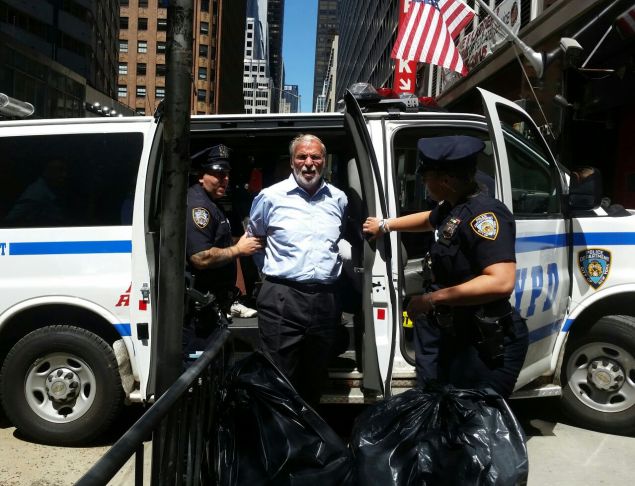 Police arrested and charged Brooklyn Assemblyman Dov Hikind with disorderly conduct after he and other demonstrators obstructed the entrance to Sen. Charles Schumer's Midtown office demanding that the senator commit to opposing the international agreement to drop sanctions against Iran.
Mr. Hikind, an Orthodox Jewish Democrat representing a deeply religious district, chanted "Schumer, be a shomer [Hebrew for guardian]" with the crowd as cops descended and cuffed him. The conservative, often controversial assemblyman recalled the senator frequently reminding audiences that his name meant "protector," and asserted the deal—negotiated in large part by the Obama administration—would lead inevitably to a belligerent nuclear Iran.
"The situation with Iran, this agreement, is a threat not only to our allies in the Middle East but to this country as well," he told the Observer, noting the Islamic theocracy's history of sponsoring terror groups and its anti-American and anti-Israeli rhetoric even as it negotiated to longstanding embargoes in exchange for a decade-long pause in their nuclear development. "Anyone who trusts Iran is out of their mind. This deal is Swiss cheese, it's Swiss cheese. The only question is whether they will have a nuclear, a nuclear bomb soon or a little later."
Mr. Hikind is a longtime critic of Mr. Obama's policies with Israel, and he broke with his party to campaign for 2012 Republican presidential nominee Mitt Romney. He raised the idea that Mr. Schumer's likely ascent to the top Democratic slot in the Senate could potentially deter him from contravening President Barack Obama's foreign policy, but argued that the senator would ultimately not only vote against the agreement, but vote to override Mr. Obama's subsequent veto.
"We know he's going to do the right thing, we know he's not going to let, you know, this being minority leader or majority leader interfere with making the right decision," Mr. Hikind said. "I feel it in my heart. He is the shomer. The shomer, he's the protector. We're just here to give a little extra encouragement to really make sure."
The assemblyman asserted that Mr. Schumer's opposition could lead to the definite defeat of the agreement.
"Schumer is the key player, everyone is waiting for Schumer," he said, ominously hinting at potential consequences for the powerful Democrat should he fail to fight the president. "It will not be good for him. All I can tell you is it would not be good for him."
Mr. Schumer's office told the Observer that the senator had spoken with Mr. Hikind and was open to further conversation. It also said Mr. Schumer was still studying the text of the deal and meeting with policy advisors.
"We spoke yesterday with Assemblyman Hikind and let him know our door is always open for when he wants to have a conversation about this or any other issue," said spokesman Angelo Roefaro. "Senator Schumer has read the agreement and is meeting with experts on both sides to get answers to the many questions he has."
Updated to include comment from Mr. Roefaro.