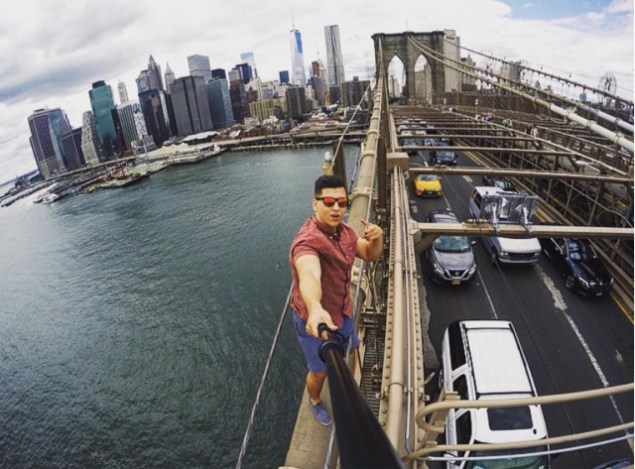 Scaling the Brooklyn Bridge has become a popular pastime—in just the past year, two pranksters have scaled the bridge to take photos, and two German artists replaced the bridge's American flags with white surrender flags to honor the bridge's German engineer.
Tennessee native David Karnauch is the latest culprit—he was in hot water this week for taking a selfie on top of the bridge (annoyingly, using a selfie stick) and posting the photo to Instagram. He claims he didn't know the action was illegal because there wasn't a cop in sight.
Adventure seekers from around the world have always gravitated toward New York City, a mecca filled with interesting infrastructure both above and below ground. These "urbexers" (short for urban explorers) don't let "Do Not Disturb" signs or "Caution" tape get in the way of discovery. As Mr. Karnuach's case shows, the advent of social media has done nothing to curb their enthusiasm either.
But some urbexers believe that the stunts by Mr. Karnauch and other bridge trolls only hurt their cause. Julia Wertz is a well-known cartoonist who also moonlights as an urbexer, exploring abandoned mental hospitals and movie theaters. She told the Observer that while urbexing is a noble pursuit when used to highlight buildings in need of preservation, Instagram posts above busy highways are risky publicity stunts.
"What the tourist on the Brooklyn Bridge did was just stupid, and I don't consider that urban exploring at all," Ms. Wertz said in an email. "Urban exploring is supposed to be about places that are abandoned, and obviously the bridge is not. That stunt only brought negative attention to the hobby, which really should not have been lumped in with his actions anyway."
To his credit, Mr. Karnauch said after the event that he doesn't think anyone else should try to recreate his action. "It's not a smart thing to do," he told NBC.
Maybe he would've had better luck climbing the Williamsburg Bridge- these guys certainly did: