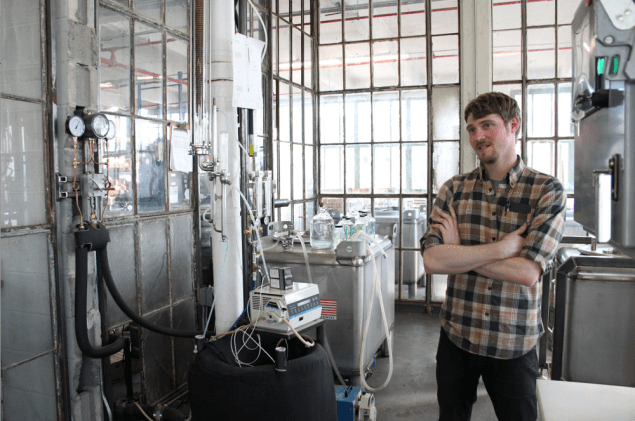 Wondering what that knockdown oomph in your cocktail was last night? If you were at one of the city's more fashionable watering holes, say, The Top Of The Standard, it might well have been Technical Reserve. This magic brew is the highest proof spirit that is chemically possible to manufacture, crafted here in NYC by Industry City Distillery. Tucked away behind steel doors only steps from the Gowanus Expressway, this urban booze producer deemed "experimental" is also making a vodka product so unique and superior in taste, it warrants its own ledge above the Grey Gooses and Ketel Ones of the bars, because that top shelf just doesn't cut it.
Named for the Brooklyn manufacturing district where it has resided since its inception three years ago, Industry City Distillery created an entirely new method of distillation and subsequently, a beautifully smooth vodka best enjoyed straight. Their other product, Technical Reserve, has become the most-wanted secret ingredient in town as it fuels seasonal craft cocktails at swank upscale bars across the city.
You can take delicious flavored smoked salt, put it in Technical Reserve, shake it up for a few minutes and strain it so all of the salt is left behind and the flavor is in your spirit.
What sets ICD apart from the beginning is that the company actually distills its own vodka. Most of the more familiarly named distillers do no more than buy industrial spirits, add some water and send it out in stylized bottles. ICD not only built its own stills—making it the first distillery in the state to do so since prohibition—the brand completes every step itself with machines and techniques developed entirely by them.
"It's all for a purpose. We want to control every aspect of what goes into the product and how it's made," Ronak Parikh, the sales and operations manager of the three-man ICD team, told the Observer.
When distilling vodka, there are the heads and tails (which are removed right away) and the hearts—the desirable portion of the distillate, the substance produced during the initial distillation. Instead of just adding water and bottling those hearts as most big companies do, ICD actually takes 30 cuts of the hearts and engineer Dave Kyrejko personally tastes each one every time to design the perfect blend of vodka, which the company named Industry Standard.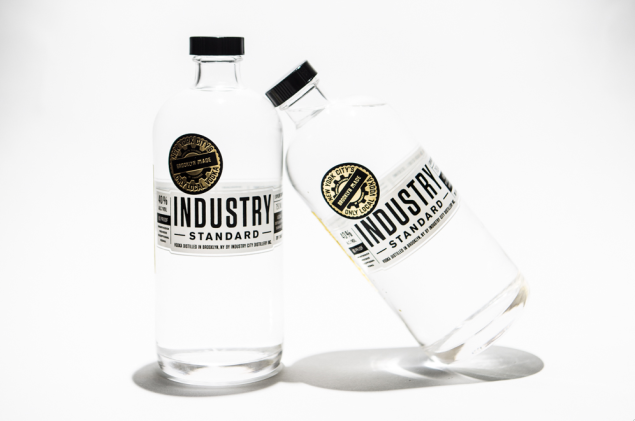 Like how "years aged" often acts as the quality indicator of scotch, "times distilled" functions similarly for vodka. The ICD team challenges the definition of "distilled" used in the alcohol industry, but they claim one could argue they do 130 distillations. Their process, though, is anything but repetitive; they really do it one time—just extremely long, slow and perfect instead.
"We can't actually improve the quality by running it again," Mr. Kyrejko told the Observer. "We would get the same exact result."
Every extra initiative ICD takes is with taste in mind, but all of it is essential to its commitment to sustainability. ICD's Brooklyn distillery is actually three times more energy efficient and six times more water efficient than other distilleries. Their handmade machines are extremely small in size (but still comparable in yield) and even reuse their own waste heat for energy. A significant amount of energy is also saved by running one efficient distillation instead of multiple rounds, and with the price of electricity in NYC, the ICD team doubts they could afford to exist in their Brooklyn home if they operated like the company's rural competitors. ICD breeds its own yeast on site and it's one of few vodka companies to distill from beet sugar. The sugar is completely water soluble and creates no solid waste, unlike the wheat and potatoes used by rural-based companies. Waste is no problem for others, for they can put it to good use as mulch or animal feed on a nearby farm. This obviously isn't a viable option in Sunset Park.
Mr. Parikh assured the Observer that IDC would never create a line of flavored vodkas. However, Technical Reserve is a different product altogether. With a percent alcohol by volume (ABV) of 96.5 (191.2 proof) and absolutely no additives, it is the single purest and highest proof spirit manufactured in the U.S. As the highest stable proof of alcohol chemically possible, it is completely neutral and the perfect tool for home mixologists and professional bartenders to use to create bitters, tinctures and infusions quickly.
"You can take delicious flavored smoked salt, put it in Technical Reserve, shake it up for a few minutes and strain it so all of the salt is left behind and the flavor is in your spirit," Mr. Kyrejko said. "It will create a smoky-flavored concentrate. Add a single drop of it to shitty bourbon, and then you'll have scotch."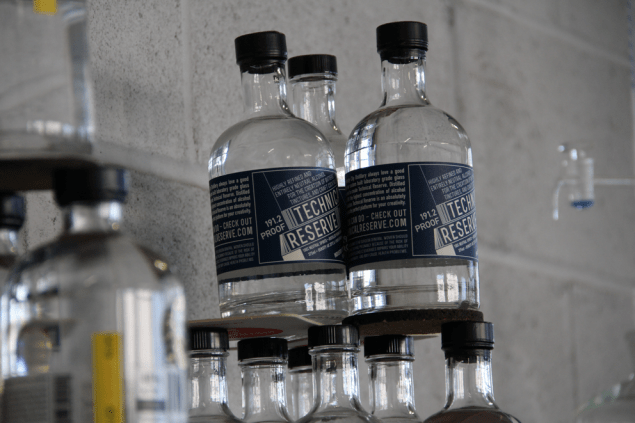 When Mr. Parikh showed us how to make limoncello using sugar, water, lemon zest and the Technical Reserve, it was ready in less than one hour and was noticeably fresher in taste.
Gates Otsuji, regional mixologist at the celebrity hot spot lounge Top of the Standard (formerly known as the Boom Boom Room), is using Technical Reserve to create chocolate cherry espresso bitters and house-infused pineapple vodka. The bitters now take two days to create instead of two months, and infusing with the spirit instead of heat has allowed for pineapple liquor that compliments the lavender and champagne flavors in one of their signature cocktails, rather than overshadowing them.
"It's remarkable to have this kind of tool in your arsenal," he said.
And while this seems like extra work, he assures us this is the easier way. "If I were going to buy a commercially available product, I might have to sample 10 or 15 products or mold the recipe around what's available," Mr. Otsuji said. "But we can control everything about it, and I have more creative control and confidence in everything we put out."
Beverage director Vincent Favella of Five Leaves in Greenpoint says Technical Reserve is the cleanest application he's ever come across for making his bitters. 
"I used to make my own infusions with different oils, but I couldn't find anything higher than 50 percent alcohol," he said. "Then I found them and found out it comes off of their still at 96.5 percent and was like, 'Oh my god. This is exactly what I need.'