Ten editors of the website Bustle crammed into founder and CEO Bryan Goldberg's empty office on a recent Friday afternoon for a weekly meeting. The editors, all women and mostly in their 20s, balanced MacBook Airs on their laps as they took turns talking about what stories had worked in the past week and what they were planning for the coming one. Editor-in-chief Kate Ward ran the meeting from the floor, where she sat cross-legged with a blanket draped casually around her shoulders.
Hillary Clinton's campaign had retweeted a Bustle story ("9 Celeb Hillary Clinton Supporters Who You Had No Idea Were Fans of the Potential Future POTUS") about the candidate, and that was spoken of with great excitement. Other topics discussed enthusiastically: the success of the previous week's Emmy-nomination coverage, The Bachelor, "body positivity," an ongoing project to create a Bustle photo archive ("we were sick of stock photos that weren't diverse and body positive enough," Ms. Ward explained), podcasts, video, the site's new app, The Backstreet Boys… The list went on. Lots of things were awesome and most statements were met with approval. Although Ms. Ward kept the meeting moving at a fairly brisk pace—it ended just 10 minutes behind schedule—and weighed in with authority, her tone was more that of an R.A. in a dorm than that of a prickly editor.
The upbeat mood is a long way from two years ago, when Bustle launched with a thud—setting off a particularly impassioned discussion about women in tech, as the idea for the new website was widely mocked.
When that storm hit in August 2013, Alex Finkel, one of Bustle's first hires, was sitting in the corner of the Williamsburg living room that then served as the company's headquarters, tearfully scrolling past the snarky remarks of journalists she admired, who were attacking the site she had left Condé Nast to help start.
"This was sort of my baby, and to see on Twitter a lot of amazing journalists saying negative things was really hard," Ms. Finkel, who is in charge of recruiting Bustle's college and post-college content providers, recalled for the Observer.  
The social media scorn was a reaction to a particularly tone-deaf column that Bustle founder and consummate bro Bryan Goldberg had written on the tech site PandoDaily, announcing that he had raised $6.5 million to start a website aimed at millennial women. Mr. Goldberg, then 30, had co-founded the sports fan site The Bleacher Report with a single million-dollar investment in 2007; five years later, he and his partners sold the site to Turner Broadcasting for an undisclosed sum believed to be close to $200 million.
Mr. Goldberg's post on PandoDaily was mocked for patronizing his potential readership: "Yes, we believe that a partner-track attorney can be passionate about world affairs and celebrity gossip. On the same day. During the same coffee break. And there is nothing wrong with that. Welcome to the year 2013," he wrote.
Another line from the announcement that particularly rankled the commenters: "My job, as CEO, is to hire the right people. … Knowing the difference between mascara, concealer and eyeliner is not my job."
Well-known journalists, some of whom had started the type of female-focused websites Mr. Goldberg was seemingly unaware or dismissive of, were offended and outraged. Their responses mocked the column, the site concept and Mr. Goldberg himself.
"Congratulations for being the first person to realize that women are interested in foreign news AND makeup tips!" commented Rachel Sklar, a co-founder of TheLi.st, which aims to increase the visibility of women in male-centered industries such as tech.
"You imply that marrying pop culture and fashion with feminism and politics is something new, innovative and uniquely YOURS, which completely glosses over—even erases—the hard work and vision of dozens of (female) editors and writers who have been doing this exact thing for years, myself included," chimed in Jezebel's founding editor, Anna Holmes.
Elizabeth Spiers, founding editor of Gawker and former editor in chief of the Observer, wrote an open letter to Mr. Goldberg called "How Not to Launch a Site for Women."
Mr. Goldberg apologized in a follow-up post, but got in hot water again a month later when, in a New Yorker profile, Mr. Goldberg attributed the post to an "audience problem" and claimed it had been written with investors in mind, rather than the New York media world. The photo accompanying the piece depicted Mr. Goldberg surrounded by women, his computer propped up by a pair of young female legs. It was not, to put it mildly, a great look. More derision followed.
But now, nearly two years later, Bustle is thriving. The site has amassed readers at an enviable rate (30 million unique page views per month) and this past December, the company raised $15.5 million in a Series C round of funding, bringing its total to $27 million. The site has worked with "over 40 major brands" on ad campaigns in the past year, Mr. Goldberg told the Observer. Most of it is native content, but there are display ads as well. Although Bustle doesn't disclose financials, the site is on target to do seven-figure revenue each quarter of the year, according to Mr. Goldberg.
Clearly, millions of millennial women didn't care about (or likely weren't even aware of) what Bustle's founder said or how the chattering classes reacted to the idea of the site. Rather, they've displayed a preference for uplifting emotion over wit, cynicism or complexity. And Bustle's editors, along with Mr. Goldberg, have figured out that an efficient way to tap into those preferences is to essentially host content written by millennial women for their peers.
Bustle's "yes we can, and it's awesome!" tone is a departure from the outrage of Jezebel, the polish of glossy print mags and the sordid "It Could Happen to Me" tales of XoJane. It isn't trying to be hip, like '90s Sassy, sophisticated like New York magazine's "The Cut" or counter-intuitive like Slate's XX blog. Bustle's content is more in line with the feel-good liberalism of sites like Upworthy or HuffPost. And it's working.
Fast forward to summer 2015, two years after launch: 46 full-time editorial staffers, along with employees on the business side, are crammed into Bustle's bright loft near the Flatiron. They take up every available space, intently typing on their laptops while perched on couches and at desks. Large quotations by such unlikely thought leaders as Roxane Gay, Tina Fey and Kanye line the hallways. "Never eat more than you can lift," reads one, attributed to Miss Piggy, on the kitchen wall. "We need to understand that there is no formula for how women should lead their lives," a Hillary Clinton quote proclaims above the newsroom.
Most of Bustle's employees are young women—the company's pitch being that young women know what other young women want to read—and the mood at the office seemed relentlessly cheerful, with good reason. Not only is the site popular, but full-timers receive both salary and equity as compensation, and the workplace culture is nurturing. Many of the employees I spoke to cited things like epic email threads when someone gets a promotion, everyone chiming in to cheerlead, as examples of why they enjoy their jobs. And the enthusiasm is contagious: During my visit, I found myself discussing things like workouts and wedding planning with none of my usual self-mocking eye-rolls.
It's also an attitude that emanates from the site's hundreds of young contributors, who create the vast majority of the site's vast content—about 200 new stories appear daily—and they are not here to create controversy. The army of contributors, interns and part-time writers work in shifts, sending story ideas to one of the 40 editors for feedback. The result is a high volume of content, a strategy not dissimilar to the one that made Bleacher Report a success. One former freelancer recalled that writing for Bustle made her more conscious of being "body positive" and positive in general. "There was definitely a feeling of trying to make sure not to offend anyone," she told the Observer.
The day the Supreme Court announced its same-sex marriage ruling, Bustle was ready with multitudinous and (what else?) enthusiastic stories related to the decision. "The Supreme Court Slipped a Message for the Haters Into Its Historic Gay Marriage Opinion," one headline blared: "The Supreme Court will inevitably have a lotta haters after Friday's same-sex marriage decision. Hey, if everybody loves you, you aren't doing right, amirite?" Carol, Ross' first wife in Friends, showed us that love is love, according to one story. An LGBT plot on Jane the Virgin also showed us that love is love. Ben & Jerry's marriage equality flavor "I Dough, I Dough" is tasty. The president and vice president were probably celebrating, according to a Jill Biden parody Twitter account, and seven fictional gay couples would be really happy, were they not, well, fictional.
Other cultural milestones are also covered extensively. One contributor wrote about how she was nervous that Caitlyn Jenner's reality show would be exploitive and leave her "with a bad taste in her mouth." Thankfully, a promo for the show "wiped away" her worries.
"The truth is, there are millions and millions of women who are not in the scope of New York media and have no idea any of that ever happened and just like the content that we're producing now and just keep coming back to it," explained deputy editor Julie Alvin. "[They] aren't particularly interested in what such and such has to say on Twitter, they just want to know if we're going to write an interesting personal essay on Caitlyn Jenner."
Other successful content on Bustle includes TV recaps, beauty service pieces, posts that juxtapose the reality versus the fiction of social media and, of course, pieces on celebrity. Throughout, the presentation is friendly, welcoming, personal. "Everything at Bustle we want to be smart, informative and fun," Ms. Ward said. "So we want every post to hit one of those three adjectives, or be a combination."
When I asked our own focus group of female Observer interns, all of whom had friends who had written or interned for the site, what they thought of Bustle, they mentioned vaguely knowing something about "the guy who started it" but were hazy on the details. Most said they weren't regular readers of the site, but that it often popped up in their news feeds—and they usually clicked on the link.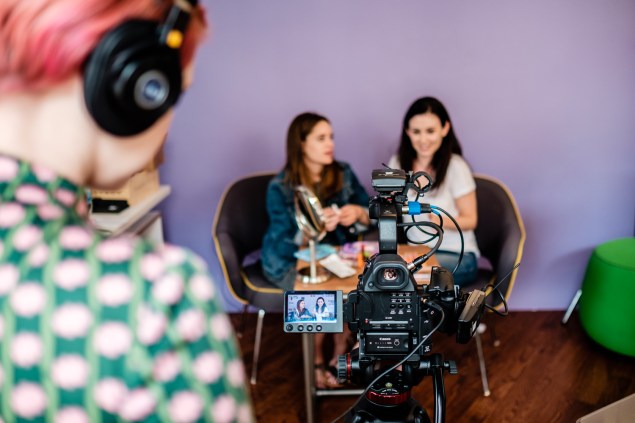 For young writers, Bustle affords the opportunity to be paid (modestly), gain exposure (with built-in traffic) and receive editorial input. Bustle's strategy isn't all that different from the contributor model at many media companies. The trick is finding a steady influx of contributors.
That's where Alex Finkel comes in. She's responsible for recruiting the millennial content providers via career fairs, college internship programs and word of mouth, fielding an average of 200 emails from potential interns and contributors a day.
"My favorite thing ever is talking to young people," Ms. Finkel said on a recent morning. "They're so excited about the industry and the idealism is really refreshing."
Dressed casually in a sundress, flip flops and a messy bedhead, Ms. Finkel looked like she would fit in well on the quad, perhaps an advantage for someone mining colleges for talent, but her somewhat disheveled appearance was belied by her authoritative tone.
"I think the reason why Bryan thought I'd be a good fit for the position is because I had a lot of internships in the past," Ms. Finkel told me. "Through college and after graduation, I had the experience of knowing what young people who wanted to go into media wanted. I think that helped a lot." By the time she joined Bustle, she was 24 and had had about 10 internships, including at The Daily News, Alloy Digital and Time Out New York. Not an unusual number for a motivated journalism major trying to break into media, but notable nonetheless.
Of course, hundreds of young, inexperienced contributors could, in theory, make it easier to execute the unflattering, low-expectations vision some of Bustle's early critics had for the site.
"The only way that [Bustle] will ever work is if you HuffPo the thing and deluge the Internet with a tsunami of mediocre content that is so voluminous that it cannot be ignored, at least by search engines," Ms. Spiers wrote on a Flavorwire response to Mr. Goldberg's inaugural post. "But it does not make for a smart, engaging women's site that gives a female audience what they want in a way that is new and innovative and appealing to advertisers."
But many readers do seem to be getting what they want: political and cultural coverage with an uplifting, feminist slant. Stories bolster the millennial self-perception of themselves as a generation that is aware of being inclusive and diverse, whether or not that is actually the case.
Even some early doubters have been won over. "I always say that criticism on the Internet is just consulting you didn't have to pay for," said Ms. Sklar, a critic-turned-adviser to the site. "So Bustle benefited from a great deal of free consulting from a lot of really smart people who dropped everything to share their insights."
"I think it's to Bryan's credit that instead of reacting angrily to criticism, he recognized that and said 'you are very right, I have a lot to learn from you. So one by one by one, I'm going to try and engage you,'" Ms. Sklar continued.
After Ms. Sklar rejected Mr. Goldberg's overtures for coffee a few months after the launch ("I wasn't ready, and there is only so much time in the day," she explained), he donated to a Feministing Kickstarter and won the reward of a three-hour consulting session with Ms. Sklar.
"I was starting to see the material Bustle was turning out and it was very clear that we were all operating on the same side of a larger issue," Ms. Sklar said.
The happiest person in the happy land of Bustle these days is likely Bryan Goldberg himself. "What I told the investors on day one was that if we hired enough talented editors who could actually figure out what millennial women wanted to read, and we operated at scale, we would find a way to get people to this website," he told the Observer.
"Of course, I would have handled things differently. I've been starting media companies for a decade," he noted. "I'll be doing it for another four decades. I'll have really awesome moments, I'll have moments that I'd do differently. Fifty years is a long time, I'll have higher highs and lower lows."
The comment may have a certain bluster and self-aggrandizing quality that's in keeping with Mr. Goldberg's image, but in person, he comes across as considerably more likeable than the coverage of him had led me to believe. He is part self-deprecating bro—I ran into him at a Tribeca Barnes & Noble at a reading for a HelloGiggles book (he's an investor, he explained) and he told me it was his first book party, a rare admission in New York—and part willfully naive. (In The New Yorker, he was depicted as a dude who had just discovered girl things, like kale and veggie burgers.) Whether genuine or manufactured, the act works and is almost endearing.
As for the launch, well, Mr. Goldberg seems to have learned his lesson. At any rate, he now has an in-house publicist