Following New Jersey US Representative Scott Garrett's (R-5) refusal to hold a fundraiser for a GOP group that allows gay candidates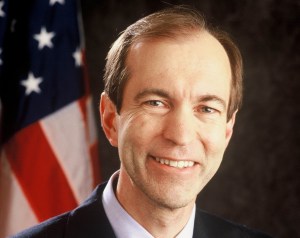 and calls for Franklin Township School Board President Ed Potosnak to step down following his pro-LGBT remarks during a high school commencement speech, state Republicans are continuing to maintain a cautious stance on the issue of gay rights.
The request for Potosnak's resignation was levied by Board Member Pat Stanley. Potosnak declined, with the support of others on the board.
Somerset County Democratic Committee Chair Peg Schaffer described both incidents as "outrageous and small-minded."
"It's amazing to me that at this state of our societal progress that somebody from Washington and somebody serving the public office of the school board in Franklin believe that we should be back in the dark ages," said Schaffer.
When asked whether US Representative Leonard Lance (R-7) might come forward to comment on the issue, Schaffer thought it was unlikely. A supporter of legislation offering employment and hate crime protections to gays, lesbians and transgender citizens, Lance has been notably silent on both Garrett's remarks and the attempted ousting of Potosnak.
"I'm sorry that Leonard has moved so far to the right. I'm actually disappointed, and I think he should stand up and he should demand a retraction from Garrett, should be suggesting that if Garrett can't represent the entire electorate then he should think about stepping down," said Schaffer.
National Executive Director of the Log Cabin Republicans Gregory T. Angelo weighed in, saying  "[U.S. Rep.] Garrett's comments were out-of-touch and hypocritical, but Democrats in New Jersey are really sending themselves on a fool's errand if they think they're going to paint Congressman Lance with the same brush. Garrett has already been hung out to dry by GOP leaders in Congress — which alone should tell you something.
"He's also already feeling the pain in his campaign coffers and in polls of New Jersey voters — and rightly so," added Angelo. "Congressman Lance isn't perfect, but to invoke his name in the midst of this controversy is nothing short of a contrived smear — and common-sense voters in New Jersey can see that."