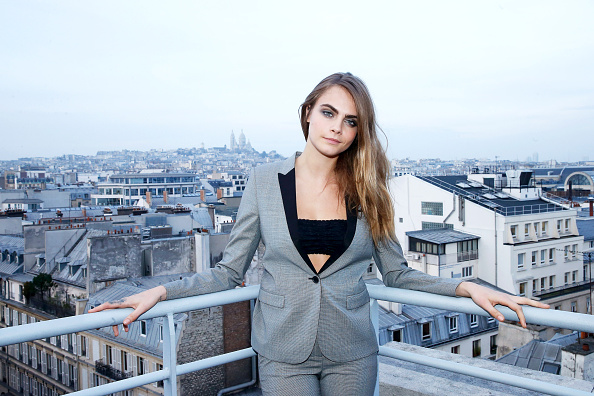 Paper Towns will inevitably send flocks of nostalgic millennials to theaters this Friday, all with a loyal dedication to the legacy that is John Green's young adult fiction.
What Mr. Green's army of loyal followers has raised some concern about, however, is the casting of British model Cara Delevingne as the film's female (and American) protagonist, Margo Roth Spiegelman. Some would say Ms. Delevingne, having served as Vogue's cover model, the face of Burberry and a Victoria's Secret Angel, hardly seems the small town, girl next door she is meant to portray.
Nevertheless, the film's crew insists that the casting decision was in no way a result of Ms. Delevingne's previous connections in the business. Jake Schreier, the film's director, told the Times that Ms. Delevingne aced her audition with co-star Nat Wolff, most of which consisted of improvising a messy love scene. Both Ms. Delevingne and Mr. Wolff reportedly finished the audition scene in tears, and she was granted the part.
That candid youthfulness is part of what has always made Ms. Delevingne so intriguing. She has a bit of Margo in her, but a bit of U.K. glam as well. Her credentials span from Dolce & Gobanna runway shows to H&M campagins: She asserts herself as both an emblem of high-end fashion, and the girl next door. With nearly 15 million Instagram followers and a resume that puts most women her age immediately to shame, she has become quite the style icon when it comes to finding a middle ground between the elite and the every day. Yes, she is a celebrity, but she still seems to live in the messy, complicated world of the less noteworthy population.
Each and every Paper Towns press event has served as a testament to the fact that, while the British beauty continues to expand her career beyond modeling, she still remains a trend-setter for women from all walks of life.
Ms. Delevingne showed off her chemistry with co-star Nat Wolff at a Paper Towns special screening in L.A. clad in a belted white blazer with a gold-detailed pencil skirt and red-stilettos laced to mid-calf, all from Alexandre Vauthier:
At the L.A. YouTube-sponsored Q&A for the new film, the leading lady wore a head-to toe-black outfit from Saint Laurent by Hedi Slimane, with shoes by Sophia Webster. She managed to keep the typical color-less get up interesting, adding a little leather and a brave sheen of bronzed orange eye shadow to the mix:
In Madrid, Ms. Delevingne sported a matching set of classic black-and-white checkers by Vatinka, and a simple pair of ankle-strapped heels by Casadei. The outfit was every bit as charmingly child-like as it was high-end, topped off perfectly with cherry-red lipstick.
In Berlin, Ms. Delevingne wore incredible shades of burgundy and gold from Mary Katrantzou, showing off her legs. Between her classic black Louboutins and her modern houndstooth skirt, she appeared every bit as poised as she did in all of her many shoots.