As anyone who has observed Jennifer Lawrence on a red carpet will tell you, staring glassy-eyed into a camera and delivery perfectly uncontroversial, publicist-prepared answers is out. Quirkiness is in.
But as anyone who has observed Ms. Lawrence on a red carpet will also tell you, the push to reject female stereotypes often results in equally-damaging performances of clumsiness. Are we really expected to believe Ms. Lawrence can't walk 10 steps without falling spectacularly? It's cool that she's not your average A-lister, but the klutzy act is the same as playing ditzy. It's not refreshing.
Instead of the damsel-in-distress, "woe is me, I can barely walk in heels!" act, what is refreshing is genuine personality. Which brings us to Cara Delivingne, the model-turned-actress currently making the worldwide rounds in promotion of her new movie, Paper Towns.
Ms. Delevingne has long been known for her seemingly-effortless coolness and charming, fun-loving personality. She won our hearts again on a recent appearance on the Spanish TV show El Hormiguero, where—besides repping Paper Towns—she enthusiastically engaged in activities such as kissing puppets, playing the drums, and plunging her arm into a tank of fish—all, as far as we know, without tumbling to the floor like a helpless fawn.
Here she is with the aforementioned fish tank: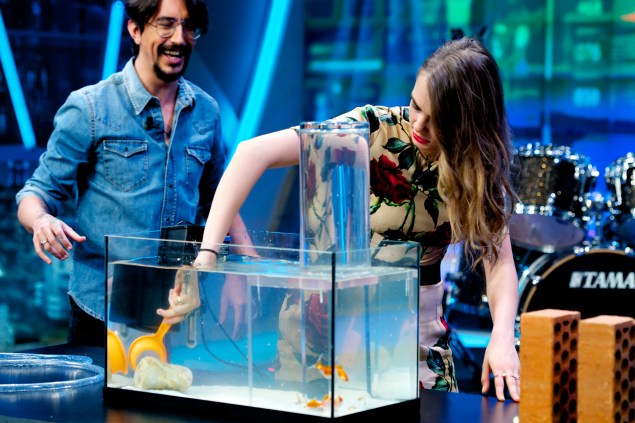 Caressing host Pablo Motos's face: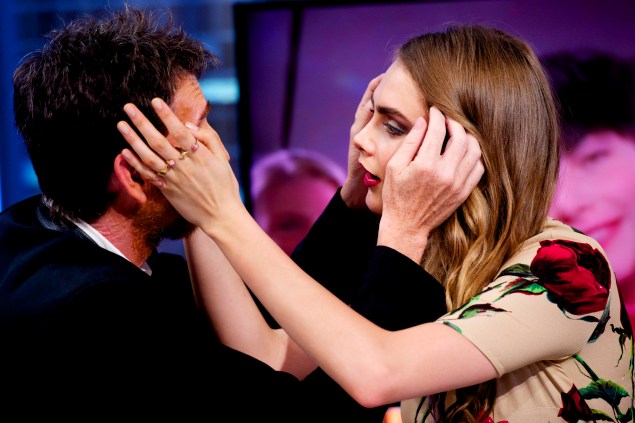 Playing the drums…
… and the guitar:
She showed off her tats:
Finally, she shared a kiss with this distinctly terrifying purple puppet: