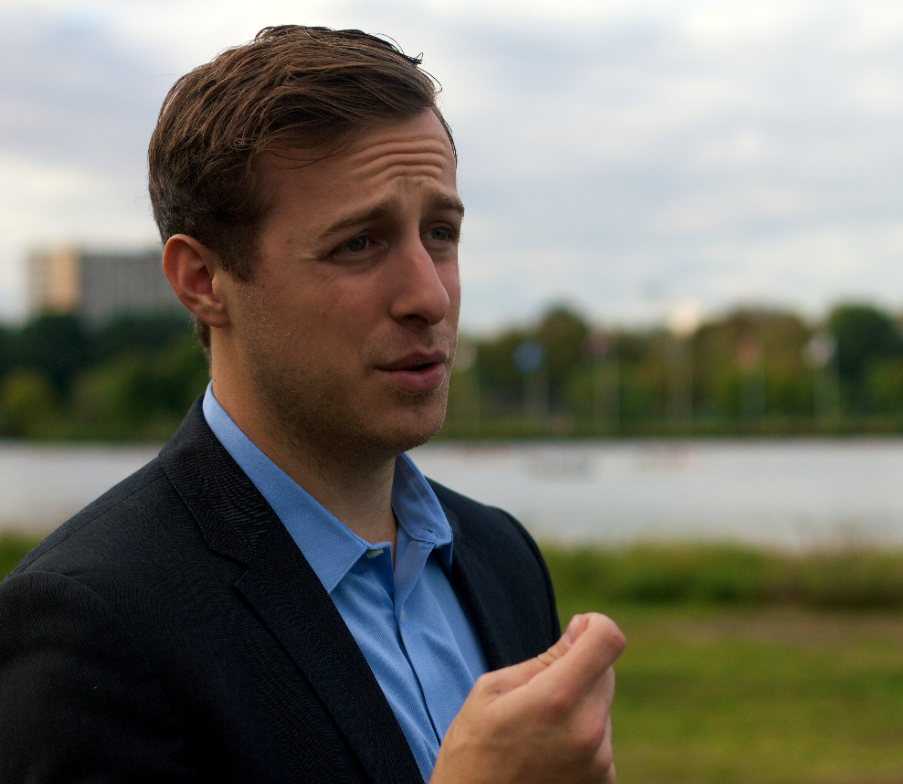 Alex Law of Collingswood, who's challenging incumbent U.S. Rep. Donald Norcross (D-1) in the 2016 Democratic Primary, backs progressive Senator Bernie Sanders (D-VT) for president, he told PolitickerNJ.
"If I were voting today, I'd vote for Bernie, so in that sense, yes I am backing him," Law said in a Facebook message. "The election is a long way away still, but I've been very happy with what Bernie has been speaking about, as well as, the affect it has had on Hilary in pulling her closer towards progressive values."
Almost the entire pantheon of New Jersey Democratic elected officials support Clinton for President in 2016, including Norcross. The former Secretary of State has a 19-point lead over Sanders in Iowa, 52-33, in the latest Quinnipiac poll. He's doing better in New Hampshire. Sanders picked up 31 percent of the vote among likely Granite State Democratic primary voters, compared with 41 percent for Clinton, in a Suffolk University poll released last month.
"I'm glad to be the voice of progressive reason in NJ," said Law, a former strategy consultant with IBM's Global Business Services until leaving the position to run for office. "He is talking about the kind of reform that our party desperately needs. Things like student loan reform, income inequality, drug reform, wall street reform, tax reform. Hillary to some extent has talked about these issues, but not as deeply or passionately as Bernie has. Most troubling to me about Hillary is that I have absolutely no confidence she would ever do anything to address campaign finance reform.
"It's inspiring to me that with less money, on the strength of his ideas, he is pulling in crowds over 10,000 people to listen to him speak this early in the campaign," Law said of Sanders. "It gives me hope that we can continue the progress that was made over the last few weeks with healthcare and marriage equality having been affirmed."
Sanders to date has no visible infrastructure in New Jersey, which by all appearances has been on Clinton lockdown. One supporter of Sanders, however, has started a Facebook page and wants to get more involved. "New Jersey for Bernie Sanders 2016 has a Facebook group and a Facebook page and are building our numbers at pretty good rate," said longtime progressive organizer Bertin Lefkovic. "We are starting to create county groups and pages so that we can have an organizational infrastructure similar to what was organized behind Howard Dean in 2003-4 with the goal of having at least one meeting in every county on the July 29 national meeting date."
The team that Lefkovic and Mike Beson put together on behalf of Howard Dean in 2003-4 was all-volunteer and able to land early endorsements from people like U.S. Rep. Frank Pallone, Assemblyman Reed Gusciora, Assemblyman John Wisniewski, Assemblywoman Linda Stender, Assemblyman Pat Diegnan, and Senator Loretta Weinberg and Ronald C. Rice and eventually the backing of then-Governor Jim McGreevey and most of the state's Democratic establishment.