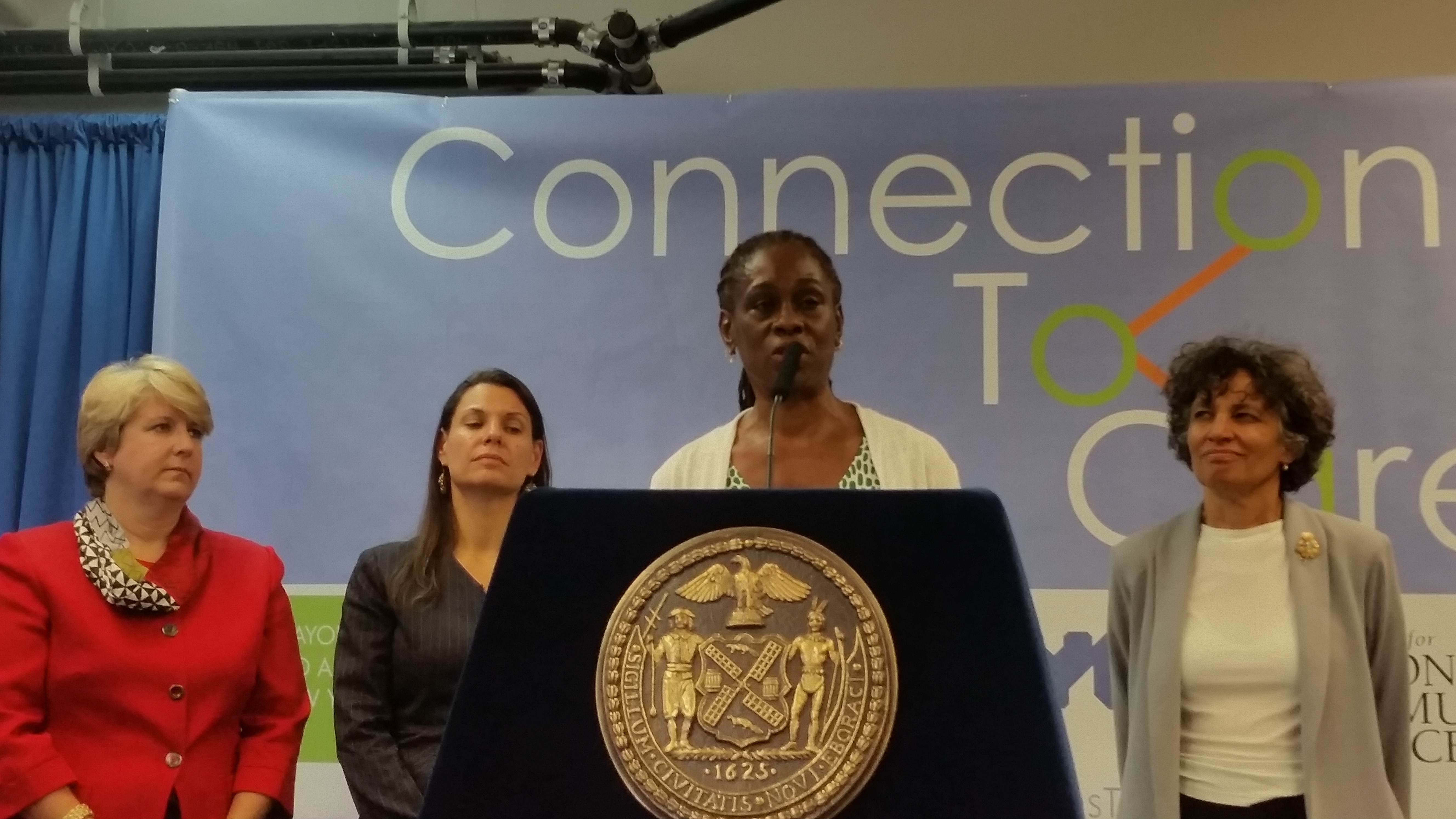 Announcing a $30 million mental health initiative this afternoon, Chirlane McCray opened up about her parents' struggles with depression, telling reporters that they were "sad a lot."
"I didn't have that word, you know, 'depression,' I really didn't know what that meant when I was a kid and I just thought they were sad. They were sad a lot," Ms. McCray, Mayor Bill de Blasio's wife, said. "They were very sad. My father would often not talk for long periods of time … that recognition of what they were probably suffering from came to me, again, as I worked on this issue."
Ms. McCray, who has discussed her daughter's battles with depression and substance abuse, said she feels "very uncomfortable when there's an elephant in the room and no one's talking about it" and said she experiences this "over and over and over again at all stages of my life."
"I felt like this was the time to take it on," she added.
Ms. McCray and several city officials, including Gabrielle Fialkoff, a senior adviser to the mayor, and Health Commissioner Mary Bassett, appeared at The Door, a Manhattan organization that helps troubled youth, to announce that the city had entered into a $30 million public-private partnership to improve mental health services. The partnership will back the implementation of the new Connections to Care program, which seeks to partner community organizations with mental health providers to train non-specialists in techniques to aid individuals fighting mental illness.
The Mayor's Fund to Advance New York City, the city's fundraising arm that is led by Ms. McCray, was awarded a five-year grant of an initial $6 million from the Social Innovation Fund of the federal Corporation for National and Community Service. The fund will be eligible for an additional $4 million in funding for the fourth and fifth years. The grant will be matched by an additional $20 million from the private sector. A study will also be funded to examine the impact of Connections to Care.
The partnership, city officials said, will help non-mental health workers to identify and to help heal depression, anxiety, substance abuse and other mental health problems. Ms. McCray said request for proposals will be issued in the fall, providers will be selected in the winter and "ready to go" by spring of next year.
Mr. de Blasio has already allocated more than $100 million for mental health initiatives in the city budget. Ms. McCray said she hoped treating mental illness would one day be simple as addressing a common cold.
"There are things [my father] would say that I can never forget like 'you have your health, you have everything.' I agree with my father about that but now I have to add another line," she said. "If you have your health, you have everything and there is no health without mental health."