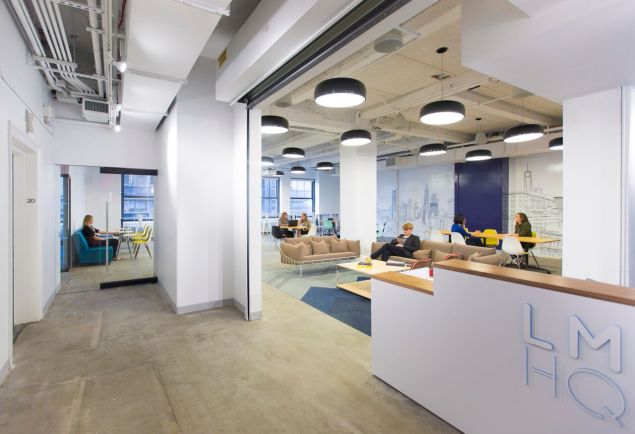 Creative companies that call downtown home just got a new work space.
Lower Manhattan Headquarters (LMHQ) opened today in a 12,500-square-foot space at 150 Broadway as a place where the neighborhood's 800 tech, media, advertising and information companies can gather for work and play.
The space was backed by a state grant from post 9/11 funding that was set aside for 21st century communication and promoting innovation in lower Manhattan. Operational costs are covered by The Downtown Alliance, and Microsoft equipped the entire space with the technology members need to plug in.
"The idea behind this space is to give people a third space, a community, a clubhouse, a place where people can bump into each other, collaborate and innovate. It's also a place where people can work outside of their offices and a place to play as well," Daria Siegel, director of the space, told the Observer.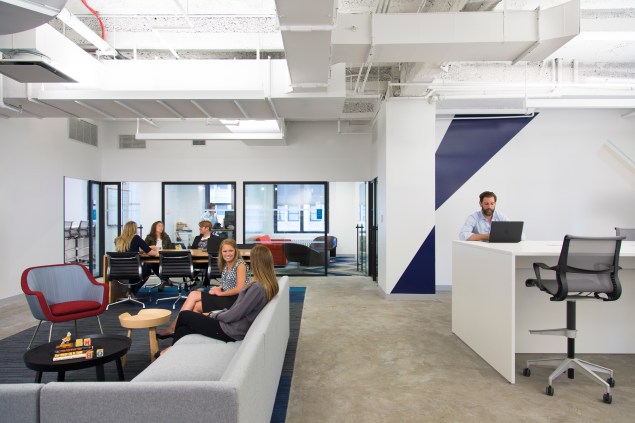 LMHQ is not a coworking space where one would have a permanent work desk and business address. Instead, it's meant to be a place where downtown workers drop in to grab a cup of coffee (or beer, which will always be flowing on tap) or have a meeting somewhere more conducive than a coffee shop. The space sports open work areas, phone rooms, meeting rooms and a large classroom. There's also a main area that can be configured for events for 140 people.
"There's nothing like this down here," Ms. Siegel said. "We really wanted to respond to a need we were hearing from our community, which is that these creative companies are booming downtown, but they're looking for opportunities to interact and meet one another."The hub's main focus, though, is on industry events and diverse programming, which will include everything from morning meditation to dj dance parties at night. The space will host NY Tech meetup events as well as training sessions, workshops and discussions with partnering groups like New York Technology Council and TheLi.st, a women's entrepreneurship organization.
LMHQ will operate on a membership basis with fees running at $1,920 for individuals and $8,000 for companies annually. (Corporate memberships are good for five designated employees). David Rose of AREA, Control Group and Pace University are a few of the first corporate members.
Drop-in memberships are available for $30 per day as well, allowing out-of-town visitors (or even those from Uptown, Brooklyn or New Jersey) to make LMHQ their workspace for a day and make connections in downtown Manhattan.
"Innovation can often stem from strategic alliances and incidental connections," Scott Anderson, LMHQ founding partner at Control Group, said. "LMHQ was designed to foster these relationships by bringing together Lower Manhattan's top talent, entrepreneurs and companies into a new type of social business environment."