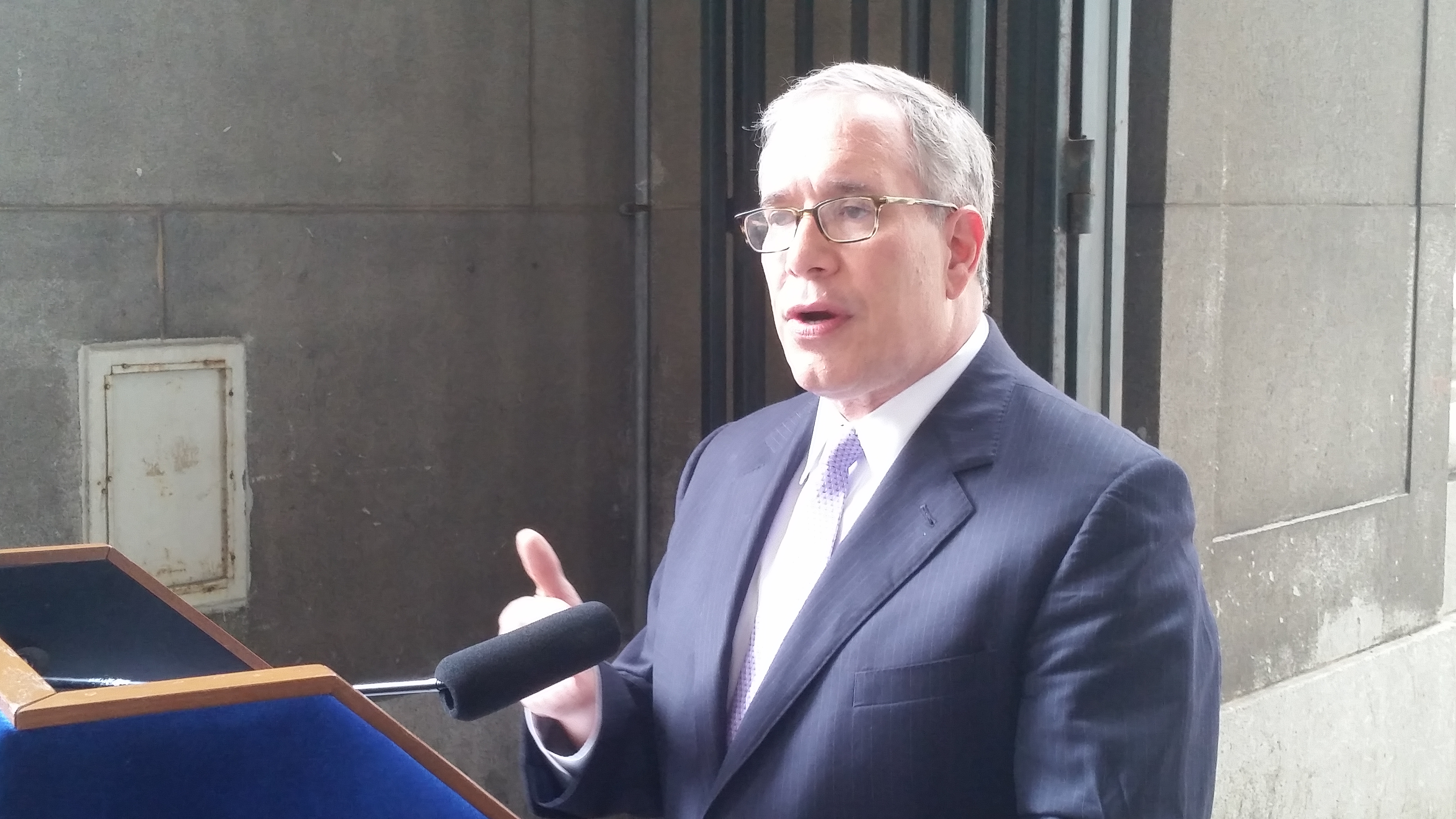 Comptroller Scott Stringer, a fellow Democrat and occasional critic of Mayor Bill de Blasio, ripped into the mayor's attempt to cap the growth of the ride-sharing industry, telling reporters this afternoon that it "makes no sense."
Mr. Stringer argued that Mr. de Blasio appeared to be unfairly singling out Uber, the booming e-hail company, and shouldn't be pushing for a bill to slow Uber's expansion before a study is commissioned to examine whether their fleet is contributing to congestion in the city.
"It makes no sense to arbitrarily cap Uber and other for-hire vehicle companies before we study the impact of congestion on the streets of New York," he said outside his 1 Centre Street offices, just across the street from City Hall.
"With technology comes challenges but we cannot for a moment arbitrarily cap innovation and cap ingenuity for the sake of same old, same old. It's time to think and be smarter when it comes to building our economic footprint around the city," he added.
He later called Mr. de Blasio's proposal "backwards," arguing other factors could be driving congestion, including trucking. "You can't cap one part of this industry and then have a study that then studies whether you should cap the industry. It's kind of backwards, right? First you do the study, then you hear the recommendations and then you act."
Mr. Stringer joined another prominent Manhattan Democrat, Congresswoman Carolyn Maloney, in opposing Mr. de Blasio in his increasingly high profile war with Uber. Mr. de Blasio is supporting a pair of bills, also backed by Council Speaker Melissa Mark-Viverito, that would only allow Uber and similar cab-apps like Lyft to bring 201 new cars onto the road in the next year–a steep drop-off from Uber's planned addition of 10,000 new vehicles. Another bill would commission a study to determine the ride-sharing industry's impact on growing congestion.
Mr. de Blasio and his City Council allies believe more regulations should be imposed on Uber and other e-hail apps, especially after the company refused to commit to setting limits on its expanding fleet. The liberal mayor has also knocked the company, which has earned plenty of praise from Republicans, for its lax workplace protections.
But Uber, which is being advised by ex-Obama campaign manager David Plouffe, is pushing back aggressively, accusing the mayor of killing jobs that would have gone to minorities and low income New Yorkers. Mr. Plouffe has pointed out that the yellow taxi industry, an Uber competitor, showered tens of thousands of dollars on Mr. de Blasio's campaigns.
Mr. Stringer declined to attack Mr. de Blasio for being too beholden to the taxi industry. He said he met with Mr. Plouffe yesterday and pointed out ways Uber could help the city, like paying a surcharge to the Metropolitan Transportation Authority and sharing trip data with the city. He strained to show that he was not favoring Uber over yellow cabs, though he said cabs never came up to his Washington Heights neighborhood when he was growing up in the 1960s and 70s.
Capping Uber, he said, is simply a "knee-jerk" response.
"I think there are legitimate concerns and criticisms of Uber. I also think many of the concerns and criticisms of Uber could be related to the yellow taxi industry," Mr. Stringer said. "So the question is, 'how do we elevate … for-hire companies?' That's what we should be looking at."
A vote on the City Council bills could come as soon as this week. A de Blasio spokesman, Wiley Norvell, said the city doesn't have the "luxury" of waiting.
"We don't have the luxury of deferring action. Without it, we'd face for-hire companies adding nearly as many new cars in the next six months as there are taxicabs in all of New York City," Mr. Norvell said. "With the rush of new cars growing so rapidly—2,000 each month–we need to take a brief pause before growing further so we can make sure that there are rules and protections in place for everyone."
Updated with comment from Mr. de Blasio's office.