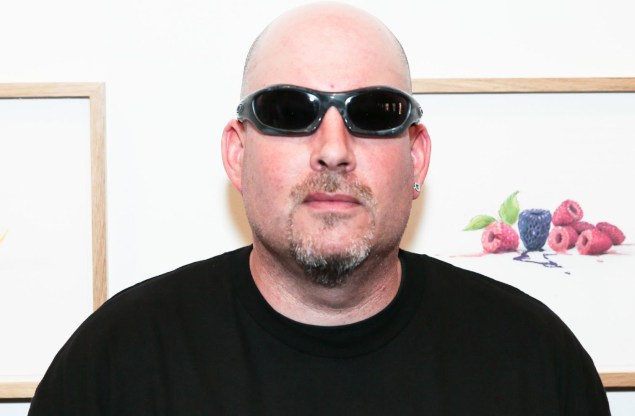 CES is widely considered one the best "Wildstyle" graffiti artists to have ever picked up a spray can, but Thursday night he offered up a suite of intimate drawings of food for an exhibition titled That's My Name Talking, inaugurating entrepreneur Adam Shopkorn's new three-headed monster of a venue, Fort Gansevoort, at 5 Ninth Avenue in the Meatpacking District.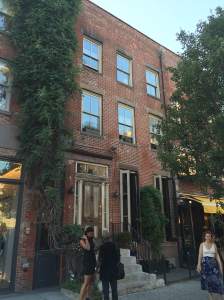 The exhibition, which took up the top two stories of the Greek revival row house, wasn't particularly reminiscent of the bombastic vandalism that made CES an internationally famous name, but instead felt more academic and taciturn.
Mr. Shopkorn has counted himself a CES fan for over 20 years, so tapping the artist for this inaugural event was only natural.
"I was fascinated by the proliferation of his work and began to notice it everywhere [around the city]," said Mr. Shopkorn. "I recently saw this series of drawings and I fell in love with a body of work I had not known CES was making."
Located in the heart of the Meatpacking District, Mr. Shopkorn's new space has the clear feel of a gallery, but it's also going to be a collection of shops that will peddle wares from florists, jewelry designers, rare book dealers, record dealers, coffee makers, bakers and also a makeshift take-out window for admittedly delicious barbecue. Look out Chelsea Market—you're about to have a high-end, curated competitor.
The "cultural hub," as it's being billed, is situated in a gorgeous home that dates to 1849 and overlooks a cobblestone plaza—sure to give you a real estate wet dream. It's also conveniently located just a stone's throw away from another cultural hub, the gleaming new Whitney Museum.
Speaking of the Whitney, its venerable director Adam D. Weinberg showed up early, as did the museum's chief curator and director, Donna de Salvo. Mr. Weinberg was all smiles. Local artists Todd Eberle and Alexis Rockman also dropped by to pay their respects.
But this wasn't solely an art world event. The fashion world was represented by designer Nicole Miller, all-around art and fashion talent Maripol, and other successful NYC couturiers. Fashion insider, model, writer and actress Jessica Joffe looked stunning in all white as did Belgian model Anouck Lepère.
The natty crowd was chock full of aristocratic sons and daughters, many of whom retired to the building's back garden to consume rosé and roasted pig flesh, skillfully served up mini-burger style by hunky DJ/chef Franco V.
As the sun set and the throng grew, you couldn't help but feel as if Mr. Shopkorn had achieved what he'd set out to do with his enigmatic brain baby: a mashup of the high-end and low brow. We'll look forward to watching it grow.