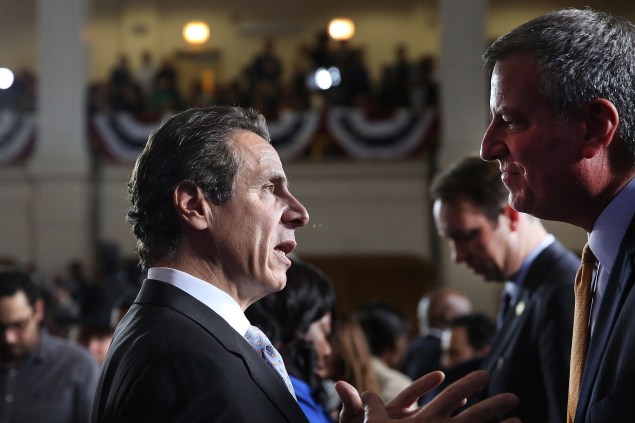 Gov. Andrew Cuomo told reporters today he has not spoken to Mayor Bill de Blasio since the liberal Democrat accused him in an interview with NY1 last month of deliberately undermining his agenda in Albany for cheap political gain—and declined to answer if he would seem to make piece with the mayor when they cross paths tonight at the Bronx Democratic Party diner this evening.
Talking to the press after an unrelated event in the Bronx, Mr. Cuomo, a fellow Democrat, said only his aides had been in contact with City Hall since Mr. de Blasio sat down with NY1 in June to describe how he had been "disappointed at every turn" in his efforts to work with the governor on legislative priorities like making mayoral control of schools permanent and working to preserve and build more affordable housing. The mayor accused the governor of attacking his plan to reform the controversial 421a tax credit purely for the sake of cynical political one-upmanship, and claimed Mr. Cuomo collaborated with the Republican-run State Senate against him and the Democrat-dominated Assembly—resulting in mayoral control of schools ultimately getting renewed for just one year.
"I have not, I have not, I have not, I know our teams are talking, our staff are talking, I haven't seen him since his comments," said Mr. Cuomo, recalling how the two worked together at the federal Department of Housing and Urban Development during the Clinton administration, and once claimed to be friends. "I know him 30 years."
After the mayor's NY1 interview, Mr. Cuomo denied Mr. de Blasio's claims that he was on a "vendetta" and seeking "revenge" against political rivals, but instead asserted he had to cooperate with the State Senate in order to get legislation passed.
Mr. Cuomo refused to say whether he would make any personal overtures to his fellow Democrat at tonight's Bronx County event. He did say, however, that he would not allow their conflict to impact their shared constituents.
"I represent the people of the State of New York, I represent the people of the City of New York, so does he, and we'll do our jobs, and that's that," he said.