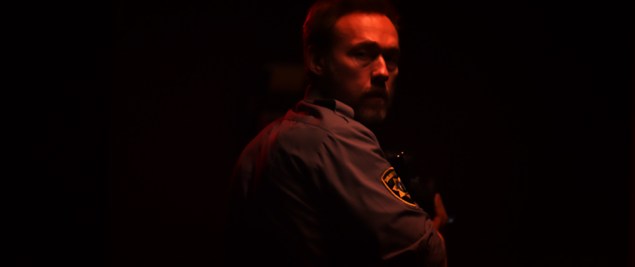 I'd journey to the drive-ins of Newark to see a good horror flick. I haven't seen any worth that kind of effort in a long time, but a creepy descent into madness called Dark Was the Night is better than most.
---

DARK WAS THE NIGHT ★★
(2/4 stars)

Written by: Tyler Hisel
Directed by: Jack Heller
Starring: Steve Agee, Nick Damici and Kevin Durand
Running time: 90 min.

---
Heading a cast of unknowns, Lukas Haas is the kid who, at 8 years old, made a splash co-starring with Harrison Ford as an Amish boy who sees a murder committed in a Philadelphia train station in Peter Weir's critically acclaimed film Witness. Despite more than 50 movies since then, he is best remembered for that role, and his subsequent acting career has never achieved the same success. But he's all grown up now, acquitting himself nicely as a young cop named Donny who leaves the noise and stress of New York behind after surviving a criminal attack that killed his partner to seek peace of mind in the Hamptons.
Peace? Tranquility? In the Hamptons? That's just one of the things wrong with this movie. Another is the title, Dark Was the Night. I mean, what else is the night supposed to be? Anyway, in his new job as a deputy sheriff, he finds out fast.
In the dead of winter, people are being attacked and savagely ripped apart near a village called Maiden Woods. The man everyone turns to for protection and a solution to these heinous slaughters is Sheriff Shields (Kevin Durand), who is having marital troubles and trying to raise a son and cope with a menace that is terrifying the town after dark, leaving a string of bloody claw prints and the corpses of people and pets behind. Is it the work of a mischievous prankster? Is it a monster left over from Jurassic Park? Bigfoot? The legend goes that there's something in the woods that strings its victims up in the trees. Now the fable is coming true. "I think we might be dealing with something that's not easily explained," says the sheriff, getting the film's biggest laugh.
The jokes end there. Lots of creepy scenes in the woods with the sound of falling limbs, followed by something hair-raising that leaves deer hunters and deer alike dangling from branches. To make matters worse, there's a big blizzard on the way. Calling everybody "boss" like he's been watching too many cable re-runs of NCIS, deputy Donny discovers the three-pointed hoof marks left behind by the spirit are, according to American folklore, the foot prints of the Devil.
What's left of the town huddles together in the church to wait out the storm. The Creature arrives. If it was really the Devil on the loose it's doubtful he would be hanging out in a church. Never mind. Directed by Jack Heller and written by Tyler Hisel, the B-movie tension comes in waiting to see what happens next. When The Thing finally appears, it's a Halloween delight (we've seen those fangs before!) but not as scary as it should have been. The mass of clattering, snarling dragon teeth and dinosaur scales is supposed to be Satan, but this is the Hamptons, so how can they tell?