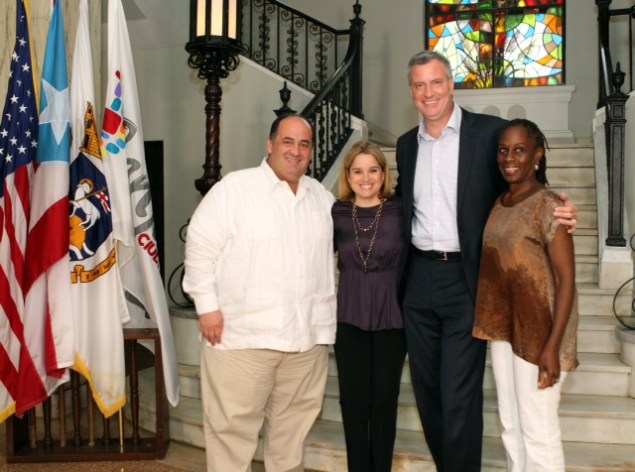 Mayor Bill de Blasio today rallied with a host of activists and politicians to demand Congress pass a bill permitting financially flailing Puerto Rico to declare bankruptcy to escape its credit crisis.
The mayor highlighted the city's large and historic Puerto Rican population in calling for the the passage of the Puerto Rico Chapter 9 Uniformity Act, which would grant the territory the same powers to manage its deficits as a state—allowing it to restructure the $70 billion the island and its municipalities owe to lenders. Mr. de Blasio blamed federal policy, which curtails the commonwealth's trade, inhibits its ability to collect taxes and limits its aid from Washington, for the problem and insisted the government has an obligation to ameliorate the damage done.
"They are saddled with a debt they cannot pay. They are unable—by law, unable to file for bankruptcy. And they are at the mercy of their creditors. This is an unacceptable situation. It's a Catch-22 if we've ever seen one," he said on the steps of City Hall. "If the federal government doesn't step in, it will be abandoning three-and-a-half million Americans who are only asking for fairness at this moment."
Currently, federal law only allows cities, public authorities and agencies to file for Chapter 9 bankruptcy if they have the approval of a larger state government. Since Puerto Rico is not a state, it cannot authorize any of its arms of government to restructure at present.
At the moment, Puerto Rico's lenders are insisting on drastic government cutbacks that the local leaders say the territory's fragile economy cannot afford, and many residents are fleeing to the U.S. mainland. Standing beside Puerto Rican officials like Council Speaker Melissa Mark-Viverito, Bronx State Senator Gustavo Rivera and Bronx Assemblyman Marcos Crespo, Mr. de Blasio argued it would be un-American to let the island continue to writhe through its fiscal pains.
"We have come here today as Americans, we have come here today as New Yorkers to stand up for Puerto Rico, to stand up for our brothers and sisters—people who we care about so deeply because we feel such a strong personal tie, all of us, to the island of Puerto Rico and its people," he said, noting that the government has allowed cities, companies and counties to declare bankruptcy in the past. "It's a tradition that we believe in as Americans. It's certainly a tradition we believe in as New Yorkers. And we know that if Puerto Rico is allowed to fail, it will hurt this entire nation and be a tremendous injustice to the people of Puerto Rico."
Updated to clarify about the working of Chapter 9 bankruptcy.