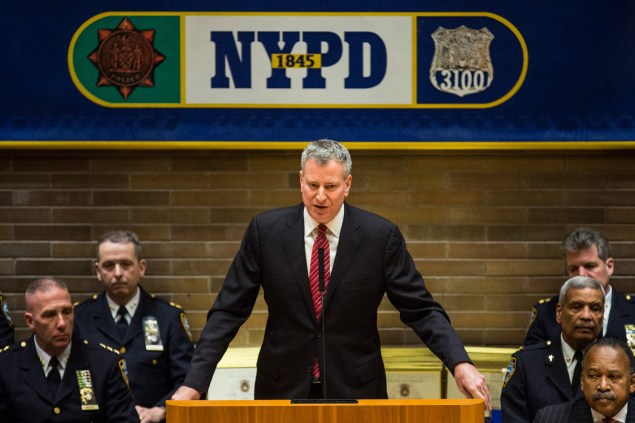 Mayor Bill de Blasio avoided answering questions today about his recent declaration at memorial service for Eric Garner, a black man killed by a cop, that "all lives matter" and "blue lives matter"—phrases law enforcement advocates have used to counter the police reform movement's "black lives matter" rallying cry.
Speaking to the press after an event celebrating the NYPD's "Summer All Out" anti-crime initiative, the mayor ducked a question from the Observer about why he used the two slogans at the Staten Island chapel last night, and about why his restrained commentary differed so greatly from his emotional reaction at the same church last December after a grand jury declined to indict an officer involved in the Garner homicide.
"I think we need to talk about where we're going, and so I'm not really interested, respectfully, in retrospective questions. Right now we are doing everything to move this city forward," he said. "I think what we're talking about here is the work that's being done to bring police and community together to move us together."
Mr. de Blasio's uttered the two statements alongside "black lives matter" at Mount Sinai United Christian Church in an apparent effort to emphasize the need for reconciliation between minorities and the NYPD ahead of the one year anniversary of Garner's killing on Friday. He also seemed to equate Garner's death with the subsequent assassination of Officers Rafael Ramos and Wenjian Liu, whose murderer stated on social media that he hoped to "put wings on pigs" to avenge police killings of black men.
"I want to use a phrase that we did not hear as much in all the discourse, but we should say it because it's evident tonight: all lives matter. All lives matter," he said as the mostly black congregation repeated it with him and broke into applause. "And because we are grappling with the challenging past, it's also important to say again a phrase that should be self-evident, it should not need to be said. But until we make more progress, we will say it again: black lives matter."
"Also, we should say, 'blue lives matter,'" he continued, referring to the NYPD.
The police reform movement usually rejects the statements "all lives matter" and "blue lives matter" as attempts to downplay what it views as a problem specific to black people.
Garner was caught on videotape shouting "I can't breathe" with Officer Daniel Pantaleo on top of him with an arm around his neck. Mr. Pantaleo and several of his colleagues were attempting to apprehend him on the suspicion that he was again selling tax-free cigarettes on a Staten Island street corner.
After the grand jury decision not to charge Mr. Pantaleo with wrongdoing, Mr. de Blasio spoke at Mount Sinai about warning his biracial son Dante of the "dangers" he might face in interacting with law enforcement. Police union leaders seized on the remarks, further straining their fraught relationship with the mayor.
Earlier this week, the Garner family agreed to a $5.9 million settlement from the city over his killing, but have stated their intention to participate in protests planned for Friday.
Ross Barkan contributed reporting to this story.