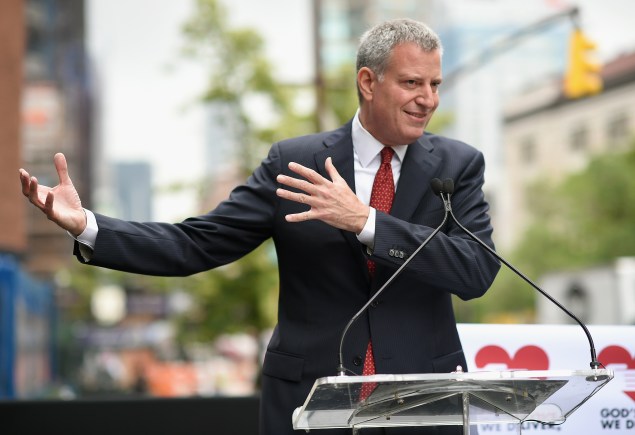 A cat (or a Cuomo) doesn't have Bill de Blasio's tongue–and he likes it that way.
The liberal mayor told reporters today that he was proud to call out Gov. Andrew Cuomo and Albany last week over their failure to deliver on his priorities–and likened himself once again to Fiorello La Guardia, the legendary mayor of New York in the 1930s and 40s.
"My most illustrious predecessor Fiorello La Guardia didn't bite his tongue. I think he called them as he saw 'em. I think he was the greatest mayor we ever had and it's my job to speak truth as I see it," Mr. de Blasio said at an unrelated press conference in Brooklyn. (Mr. Cuomo said on Tuesday he often bites his tongue during conflicts.)
Rebuking Mr. Cuomo for implying that the mayor doesn't understand the struggle of working with a Republican State Senate, Mr. de Blasio, a fellow Democrat, insisted he can "work with anyone." "I can work with conservatives, I can work with Republicans. I was just in Washington a few weeks ago. I sat down with [Oklahoma] Senator [James] Inhofe to talk about the transportation bill, one of the most conservative Republican members of the U.S. Senate."
"We actually saw eye-to-eye on a lot of the issues around the transportation bill and we're gonna try to work in common cause," he added.
After ranting last week that Mr. Cuomo, a more centrist Democrat, had "disappointed" him "at every turn" following a legislative session that saw many of the mayor's priorities, including a permanent extension of mayoral control, fail, Mr. de Blasio toned down his rhetoric today–though he still had plenty of harsh words for Albany.
"When Albany doesn't listen to what the people in this city need and doesn't act, I will fight," he said. "What I'm not comfortable with is business as usual in Albany because too often that has left the people of New York City out of the equation."
He wouldn't guess how his more aggressive stance would affect his future negotiations with Mr. Cuomo and the State Legislature.
"I don't spend a lot of time trying to figure out other people's interpretations," he said. "I think it had to be said and I think it's important to make clear to the people of this city who are depending on me to produce for them what's really going on in Albany, what's really going on in Washington."