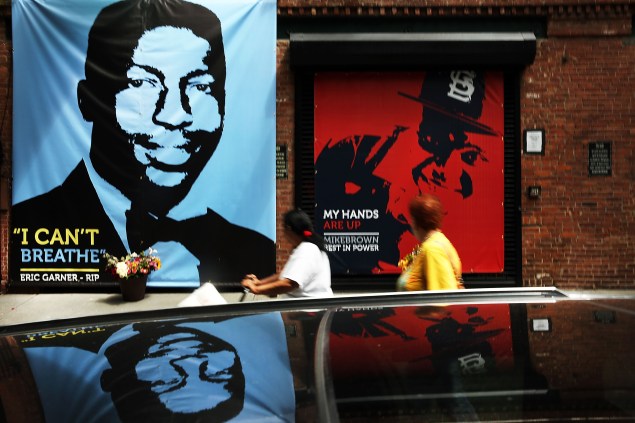 Mayor Bill de Blasio said today that the alleged killing of black Staten Islander Eric Garner by a white NYPD officer is weighing on him as the one-year anniversary of the event approaches, but argued his administration has taken great strides toward police reform.
Addressing the press in the Bronx at an unrelated event, the mayor highlighted what he saw as advances in his police reform agenda, including strict restrictions on the use of the controversial stop-and-frisk tactic, new instruction to improve interactions between police and civilians and plans for a pilot program in which cops will wear body cameras.
Garner died last July 17 and a grand jury later voted not to indict a police officer, Daniel Pantaleo, in his death.
"Obviously the anniversary is on my mind, I think it's on the mind of many New Yorkers, and we mourn the death of Eric Garner, and I think the important thing is to stay focused on the work of reform," he said. "I think we've come a long way even in the last year bringing police and community closer together."
Mr. de Blasio used the occasion to highlight both relatively low crime rates and his new "neighborhood policing" initiative unveiled last month, which will have cops regularly patrolling the same beat and spending a third of their shifts networking with community leaders. The plan allocates money for the hiring and training of 1,300 new cops, which NYPD Commissioner Bill Bratton and Council Speaker Melissa Mark-Viverito long called for.
"I think that the new vision that Commissioner Bratton has put forward, that Speaker Mark-Viverito and the Council and I agreed to, and agreed to put resources behind, is going to really open up a new era of neighborhood policing in this city that's going to draw people closer," he said. "What I think's going to happen in the next few years here is community residents will get to know their officers personally and vice versa, and it's going to be something very different and much better than we've seen in the past."
"So a lot has changed in the past year, but I'm particularly hopeful about where we're going," he said.
However, when asked about a series of tabloid stories about public urination, Mr. de Blasio again affirmed "I believe in quality of life policing"—which includes arresting people for low-level offenses like selling tax-free loose cigarettes, as happened to Garner several times in life. Police said they suspected Garner of dealing "loosies" at the time of the fatal encounter, though they found no tobacco products on his body.
Garner's death and Mr. Pantaleo's subsequent non-indictment led to weeks of massive street protests, and activists plan large demonstrations for Friday.