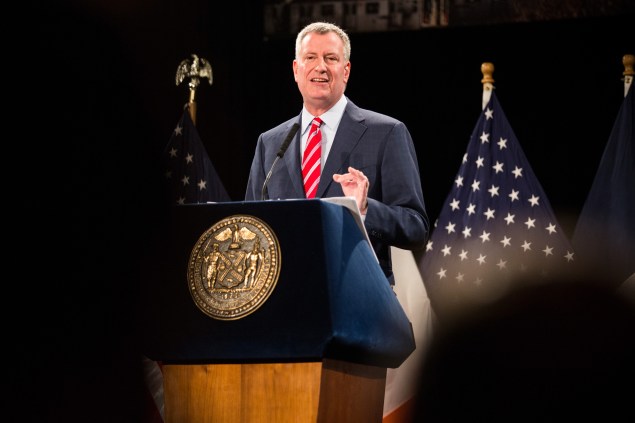 Mayor Bill de Blasio today told reporters he would not be taking leaders of the e-hail company Uber (UBER) up on their offer to debate his proposal to cap their ability to add more cars while the city studies the impact of new cabs on traffic congestion.
Addressing the press after an unrelated event in Brooklyn, Mr. de Blasio dismissed the challenge to a live-streamed face-off with Uber general manager Josh Mohrer as a bad faith effort to preserve the company's lavish profits. The bill in the City Council, which could come up for a vote as early as Thursday, would only allow Uber and similar cab-apps like Lyft to bring 201 new cars onto the road in the next year—a steep drop-off from Uber's planned addition of 10,000 new vehicles.
"I do not debate with heads of private companies over their own self-interest," Mr. de Blasio said. "Let's be clear: Uber is a multi-billion dollar corporation, and they're acting like one. They are looking out for their corporate bottom line. They're putting their profits over all other considerations."
The mayor emphasized that his bill would not take any current e-hail vehicles out of service or keep them from growing at all, only check their exponential expansion. The bill deals strictly with traffic congestion, but Mr. de Blasio's criticisms of the company primarily have revolved around its possibilities for mistreatment of riders and drivers, as he argues no protections exist for either. He indicated a whole host of regulations could be in order.
"There are a lot of unintended consequences we're starting to see, congestion and pollution. There are real issues in terms of accessibility for folks who are disabled. There are a lot of open questions here that have to be addressed. The logical thing for government to do is to say 'we have to have some rules here, and some regulation," he said. "The rights of consumers are now in doubt, the rights of workers are in doubt. There's all sorts of unintended consequences here. And government regulation hasn't caught up with the reality. So I think it's important that we do so."
But for all his concerns for workers, Mr. de Blasio indicated he has no intention of returning campaign donations from taxi medallion kingpin Gene Freidman, whom Attorney General Eric Schneiderman has sued for overcharging drivers. Mr. Freidman and other holders of Taxi and Limousine Commission-issued yellow cab medallions have seen the value of the once-coveted permits plunge as Uber and Lyft have expanded. Uber has argued it's those and similar donations from the taxi industry—and not traffic concerns—that are driving Mr. de Blasio's desire to cap e-hail businesses.
"I don't know the status of that case, so I'd have to know a lot more about that," he said.
Council Speaker Melissa Mark-Viverito, who has spoken favorably of the bill though not outright endorsed it, stressed that the bill would not target Uber or Lyft specifically but would limit expansion of traditional livery car services as well. She promised the bill would go "through the process," even as she again praised the merits of doing a study.
"I think that's a thoughtful thing to do as a city, as municipality, as legislators. There are things that sometimes merge and surge and we have to find out what the impact is on the infrastructure of the city," she said.
She also sought to argue the bill is not a cap—since livery bases would be allowed small growth—and insisted it limited only new vehicles, not new drivers.
"It's not a cap, let's be clear, it is a pause and it does not impact the current vehicles on the road and this legislation in no way impacts the amount of drivers," Ms. Mark-Viverito said. "So drivers can come into the system."
Asked how new drivers could come aboard the company if new cars couldn't, Ms. Mark-Viverito suggested sharing.
"Cars can be shared, right, there's different options, I'm not here to resolve it," she said.
Jillian Jorgensen contributed reporting.