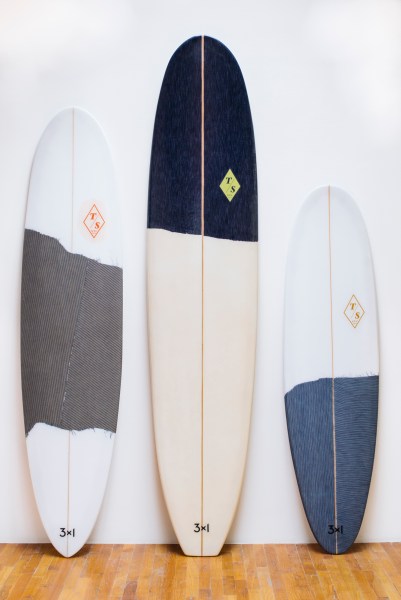 Hitting the waves is a Hamptons tradition, but for some, doing so is an opportunity to show off designer duds, whether that includes a high-end bikini or a flashy surfboard. Token Surfboards, a New York City-based surf brand, teamed up with Hamptons newcomer 3×1 Denim, located in Southampton, to create an exclusive collection of denim-inlaid surfboards that are guaranteed to make you the most stylish surfer in the sea.
3×1 is best-known for its custom-made jeans, and true to fashion, they will be letting shoppers customize their creations by choosing the dimension and denim color for each board. Surfing connoisseurs will notice that the boards are only made with a single-fin, a tribute to the area's long-held surfing culture. "The Eastern End of Long Island has a rich long boarding history and we wanted to tap into those roots," Token founder Christian Boalt explained.
The boards have a rugged and vintage look, with the denim detailing cut into asymmetrical shapes and showing artfully ragged edges. Each surfboard is made in Token's Brooklyn workshop and is hand-shaped before being covered with a lightweight luxury denim and topped with fiberglass and a gloss coat.
"To showcase the denim we wanted to highlight its 'fabricness,' cutting it into organic shapes [and] letting the edges fray," Mr. Boalt said.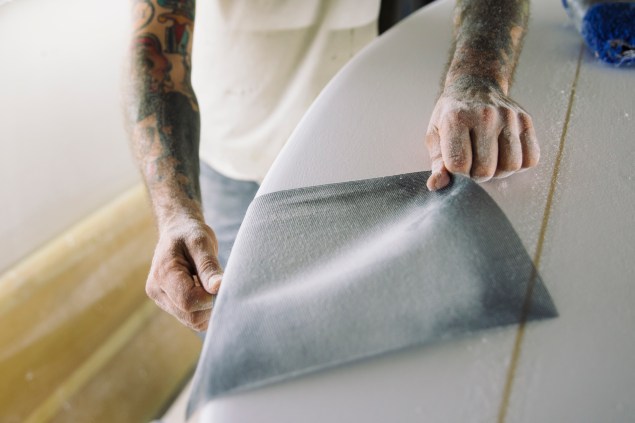 The custom-made boards will take anywhere from six to eight weeks to be made, but for those who want to hit the surf now, pre-made boards will also be available. As a nice finishing touch, each board will come with a denim bag.
Whether being toted around the island's beaches or displayed at home as a stand-alone piece of art, one of these beautiful boards is sure to be your favorite summer splurge – especially if they match your jeans.