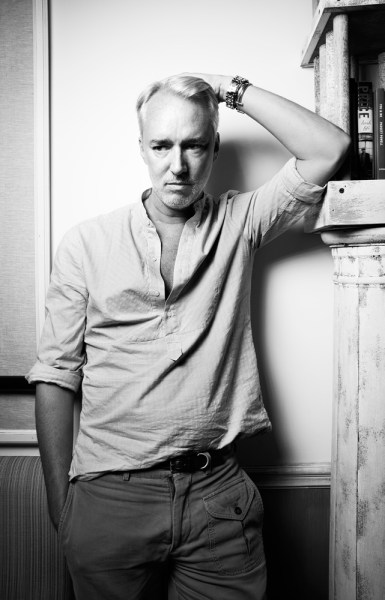 "You're catching me at a good time for this conversation," Michael Bastian admitted, from a sidewalk table at Claudette in Greenwich Village. "Everyday in the office is like a big therapy session for me."
The designer, whose preppy and pulled-together look is complimented by a signature silver coif and an e-cigarette, does not come across as an overtly emotional person. And he is not. But the prospect of adding a women's collection to his nine-year-old menswear range is understandably worrying, even to Mr. Bastian, who is no stranger to making calculated-yet-risky moves. Before making his debut as a designer, he was the men's fashion director at Bergdorf Goodman. It was there that he visualized what his next step had to be.
"At Bergdorf's, if we couldn't find the items we wanted in the market, we'd make them for our private label. The Holy Grail was a simple navy cashmere crewneck sweater that fit exactly the way you wanted, not too long and not too baggy. I couldn't find it and I got so frustrated that I said, 'I'm just going to do this.'" In addition to that simple sweater, Mr. Bastian crafted the perfect chino in his inaugural—and eponymous—collection. He figured if he was looking for the best possible option in those simple styles, others were, too. He plans to carry over that same ethos into his women's wear launch.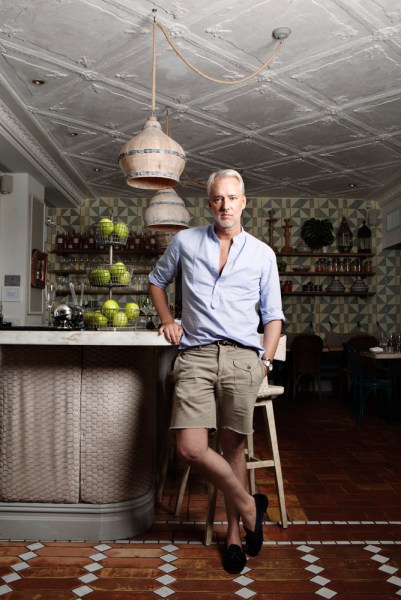 Along the existing Michael Bastian topography, where loyal customers and boyish charm abound, how does this women's customer fit in? The one-time CFDA Award winner likes to refer to the Bastian girl as the college friend to his original customer. "It is not a romantic relationship," he described. "It's one of those boy-girl best friend things and it's definitely not sexual." As an example, he brings up John F. Kennedy Jr. and CNN's Christiane Amanpour, who were roommates in the '80s, back when he attended Brown and she attended University of Rhode Island. Mr. Bastian saw them once at a dinner party and their close bond was a memorable souvenir from the evening.
With just 29 pieces, Mr. Bastian is slowly easing himself into this uncharted feminine category. Using the same factories and fabrics that he uses for his men's line, he was able to cut out a great portion of the uncertainty in the situation. That is not to say it did not exist; while the designer is his own fit model for menswear, trial and error was used to achieve the women's silhouettes he desired. That was in addition to figuring out the correct proportion necessary to outfit a feminine frame, while still maintaining the slouchy integrity of the designs. Naturally he did borrow some pieces from the boys, including a pair of chinos, as they hang on the hip just so and look great when rolled up with a little cuff.
In addition to correcting this sizing snafu, the designer had to figure out what demand was out there in the market. So when Mr. Bastian stumbled upon Emily Meyer, the founder of a relatively unknown bespoke brand, on Instagram, he knew he needed to pick her brain and figure out her secret to dressing women. The San Francisco-based designer dished about her best-selling items: that navy blazer everyone asks for and the power of a truly feminine tuxedo. In exchange, she got a ticket to Mr. Bastian's show, and a new friend.
Ms. Meyer is not the only person Mr. Bastian has befriended on social media: "On Instagram, I'm having dialogues with customers from all over the place. They'll ask, 'Where can I get that one pant you made?' " Which will lead to the designer personally hunting down those trousers. He runs all his own accounts, not only because it is a fun activity, but because it is a way for him to form a relationship with the guys who keep his brand going.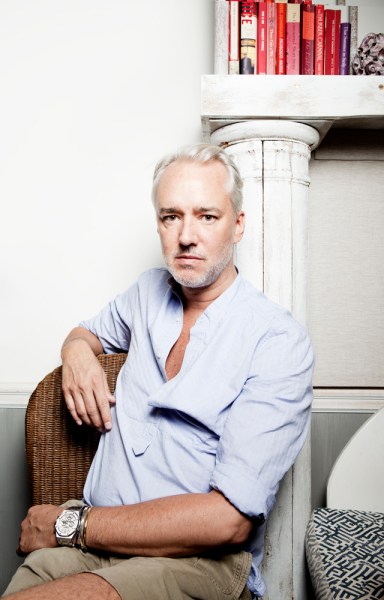 Mr. Bastian is interested in more than just the deep-pocketed customer who buys his product full-price; he really admires that 20-something kid who dreams of affording a piece of Michael Bastian one day. "People complain about my prices, but there's a reason for that number and it's because of the factories and the materials I use. When I was 20, I would want the stuff that I'm selling now and I would be saving for it, until it went on sale." He then remembered that cream-colored Marc Jacobs sweater he lusted over in the '90s. Mr. Bastian visited the cashmere sweater over and over until he could afford it; it was marked down three times. "I wore the hell out of that sweater," he reminisced.
In today's volatile retail environment, where major American brands including Banana Republic and Gap are floundering, Mr. Bastian has a refreshingly divergent approach. "I never thought we would be the biggest brand," he admitted. "I just thought maybe for a handful of people we'd be their go-to brand." And he's very careful to point out that he does not produce a preppy label, meaning you'll never see a sleeveless polo or a high-wasted pleated golf skort brandishing his name. "If you're not Givenchy, people consider you to be preppy. It's very black and white," he admitted.
With his women's wear launch aside, the next thing on the designer's list is expansion to China. This is finally an option, after Mr. Bastian finally won the right to use his name there following a five-year legal battle with a trademark hijacker. This is the first time the Chinese Trademark Review and Adjudication Board ruled in favor of a non-Chinese entity. Celebrities including Michael Jackson and Britney Spears have yet to succeed at reclaiming their name in China.
Also on the horizon is the plan to open his very first flagship, but there is no exact date for when that will come to fruition. As Mr. Bastian noted, it costs "literally a million dollars" to get a store up and running in New York. In the meantime, his e-commerce shop, which first welcomed shoppers this past February, has allowed his loyal customers to buy the pieces that weren't picked up by his current stockists, including Barneys, Jeffrey and Mr. Porter. His successful investment in e-tail broke even after just one season, which brings him one step closer to the dream of that brick and mortar shop.
"You know what this feels like?" Mr. Bastian asked, as he once again reflected on his debut in the women's market. "This whole experience feels like a reality show and this is the season finale. So you're going to have to tune into the next season to see what happens."