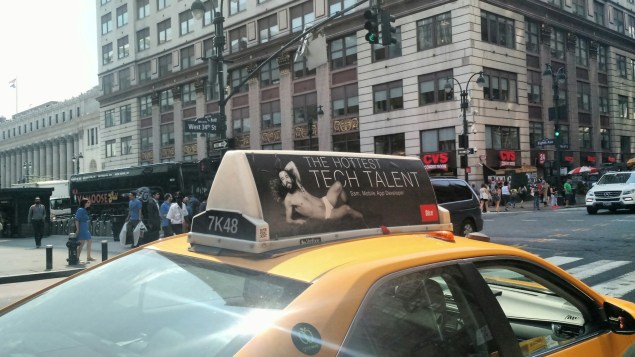 The other day walking through Manhattan, I saw the ad above on a New York taxi cab. Later that same day, I saw another one, featuring a shirtless Python developer wearing a snake (hilarious). Dice.com is a career website that also provides analytics to employers.
Seriously, Dice.com—stop it with the sexification of the tech industry. Everything compelling doesn't have to be sultry. Coding is simply work. It's work that happens to be generating a lot of interest in the world right now, but that doesn't mean we need to see these guys in their underwear.
I get it. Headhunters want to lure more people into this industry in hopes that more rock stars will surface. This reporter has always been skeptical of the STEM career crisis, and IEEE did some excellent reporting on how this STEM crisis drumbeat has been going on a long time even as technically trained people leave the industry. My suspicion has always been that there isn't a shortage of engineers. There's a shortage of rockstar engineers.
And that's what this campaign is going for. It wants to surface the men and women who don't just know how to code, but really crush it. The ones who solve the big problems and do it fast. This campaign gives coders that superstar look, because that's who they want to convince big tech clients that they can find.
Seriously, though: God bless Sam and his tighty whiteys, but if Sam's node gets a person's attention that doesn't mean he or she will have any aptitude for Node.js.
if Sam's node gets a person's attention that doesn't mean he or she will have any aptitude for Node.js.
Here's why people should be into engineering: it's creative, it's dynamic and you can make rent with some cash to spare. Pick the right company and you might even get that boat money. Good stuff, if that's your thing.
But not everything has to be "sexy" to be cool. Additionally, as companies like Etsy and Kickstarter go to great lengths to make their engineering departments feel less like boys' clubs, this whole campaign sends a weird message. I don't want to try to speak for the women of the world here, but I have a feeling that any form of objectification of those in their field is going to make them uneasy as they enter departments where they are still outnumbered.
Lady coder, Mattermark cofounder and CEO, Danielle Morrill, noticed the campaign back in January and showed in a tweet that she sees the same problematic parrallel.
I understand that it's hard to visualize software in an ad campaign. Personifying some of the people behind the work makes sense and it helps to get past the awkward geek stereotype, but what about giving people some kind of image that both seems great but also gives regular people something they can relate to? Such as having an awesome time, feeling triumphant with your team and makin' them Benjamins.
Really, anything but Sam and his bulge.
If you're not with me here, and you just want more Sam, though, here you go:
[protected-iframe id="8406066f82fc69bcb54ba6e1d82b6bac-35584880-79214703″ info="https://www.youtube.com/embed/9sKNJDM0-ts" width="560″ height="315″ frameborder="0″ allowfullscreen=""]