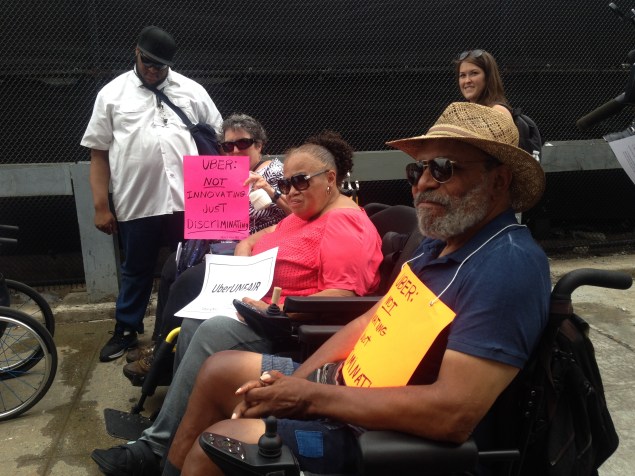 More than a dozen wheelchair and seeing-eye-dog users rallied in the steamy weather today outside e-hail app Uber's Manhattan offices, complaining that the company's drivers do not have cars that can accommodate disabled passengers—and accusing the tech firm of discrimination.
Just a little more than a week after the billion-dollar California-based company triumphed over Mayor Bill de Blasio's attempt to cap the number of new for-hire cars on the road, members of the Taxis for All Campaign protested what they said was a lack of Uber vehicles that have the space and ramps needed to take on wheelchairs and other mobility equipment. They noted that the company is being sued in its home state for alleged violations of the anti-discrimination Americans with Disabilities Act.
"We can't get a ride. Nobody in a wheelchair can get a ride with Uber," Brooklyn resident Jean Ryan said, recalling an Uber driver who refused to take her aboard. "As soon as he saw the wheelchair, he took off.
Uber drivers are legally independent contractors, not employees—though the company skims 20 percent from their fares—and many use their personal vehicles to transport passengers.
Bill Perry of Manhattan, who told the Observer he has used a wheelchair since being wounded in the Vietnam War, argued that the largely unregulated Uber is unfair to the traditional yellow cab industry, to drivers and to people with disabilities.
"If disabled people aren't getting a fair shake, nobody can get a fair shake," he said, though he admitted he personally does not use cabs often. "I would certainly like people in the same boat I'm in to have the same service and a fair shake."
The Taxis for All Campaign sparred with the city's regulator Taxi and Limousine Commission for more ADA compliant yellow cabs for years, ultimately winning the promise that 50 percent of the traditional taxis would be accessible to the disabled by 2020. The demonstrators today said they feel they must fight the same battle over again now with Uber.
"At least with the yellow cabs, we had some headway after all the years of campaigning. But with the Uber, we'll just have to do the same," said Milagros Franco, who works for the Brooklyn Center for the Independence of the Disabled. "They have no accessible vehicles. They're a multi-million dollar company and they have the nerve to come out with cars that are not accessible. It's insulting."
Uber did not immediately respond to requests for comment.