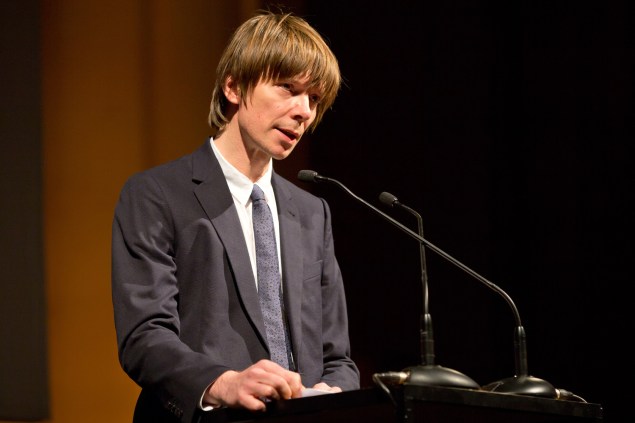 With Greece's debt crisis still in full swing, and its state-funded museums and cultural programs struggling with funding shortages, it seems logical to wonder just how Documenta, the forthcoming mega art show that will split its time between the country and its antagonist, Germany, will go forward, exactly. Yesterday, the exhibition's director made it clear: the show must go on. In fact, he said, the show may be more interesting, given the conflicts between the countries.
Documenta is one of the longest-running and most important, international contemporary art exhibitions, next to the Venice Biennale, showcasing often large-scale commissioned projects by major artists. It's been around since the 1950s, and comes around only once every five years. Think of it as the Summer Olympics of the art world.
Now, those Olympics are set to be hosted by two countries that have been at one another's throats for years, as the Greek debt crisis and the future of the country in the European Union have tested Germany's financial patience.
Despite the recently brokered deal to bail out Greece, tension, violence and protest continue.
Wednesday, German news outlet Deutsche Welle spoke with Documenta's director Adam Szymckyk about the decision to go forward with the 2017 exhibition, which will be split between Kassel, Germany and Athens, Greece.
"Despite the chaotic and dramatic situation we are still in Athens and we intend to stay, learning from whatever comes," he told the international news agency. "It certainly creates a very strong political context for the project."
However, he hopes the crisis won't be the entire focus of the show.
"When I submitted my proposal, things in Greece had already taken their course. We knew that something was going to happen. And it's happening now. But … we don't want to illustrate the crisis. We believe that the real image of the crisis doesn't exist and it perhaps should not be imposed. We just try to exist in this state of crisis, every single day—in Germany and in Greece."
Greek artist Stefanos Tsivopoulos, who represented his country in the 55th Venice Biennale in 2013, also addressed how Documenta may or may not respond to the crisis, in a July 3 interview for ArtSlant. He told Bea De Sousa:
"Documenta's relevance for Greece depends a lot on whether we as local community can take advantage of it. If Documenta 14's motto is "Learning from Athens," we Greeks should also claim our right in 'learning from documenta.' Perhaps as a society we need a Documenta now more than ever."
Mr. Szymckyk said Documenta organizers will begin commissioning works before the end of the year, although no participating artists for Documenta 14 have yet been confirmed.
The show opens in Athens in April 2017 and on June 17, 2017 in Kassel, where it runs until September 17.