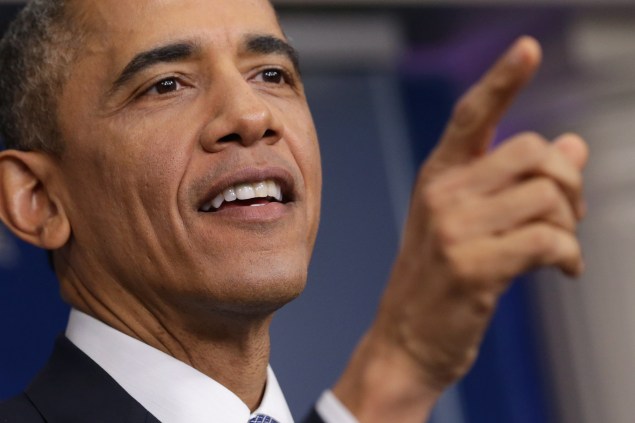 Within days, the United States will be concluding its Iranian nuclear deal. Those of us who have watched the negotiations up close are deeply troubled by the Obama Administration's willingness to make a deal almost universally condemned as catastrophic to Israel's security and a threat to nuclear proliferation throughout the Middle East.
But perhaps the most troubling thing about the negotiations is that President Obama has not once demanded that Iran cease its public promises to murder the six million Jews of Israel. Can the leader of the free world really welcome back into the community of nations a government that repeatedly pledges its commitment to the annihilation of Israel and its Jews? Will the 44th President of the United States confer legitimacy on a government that promises a second holocaust?
Perhaps we Jews have become so inured to threats against our people that we are no longer shocked by just how shocking this all is. But aside from the disappointment of President Obama not objecting even once to Ayatollah Ali Khameini's tweet that "there is no solution for Israel other than annihilation," or even "moderate" President Rouhani's comment that "the Zionist regime has been a wound on the body of the Islamic world for years and the wound should be removed,"  there is a larger question. Why does none of this sicken our President?
Hatred is itself hated, as if it serves no purpose, even in the confrontation with evil.
Does President Obama hate evil? Is he repulsed by these repeated Iranian pledges of million of Jews incinerated, presumably in a nuclear fire?
I have long believed that one of the prerequisites of great and global leadership is a hatred of evil.
Abraham Lincoln had no hesitation declaring his hatred for the abomination of slavery. In 1854 in Peoria he said, "I cannot but hate slavery. I hate it because of the monstrous injustice of slavery itself." Churchill said openly that "I hate no man but Hitler." And because he hated the beast he inspired a nation to fight him. The French, who did not hate Hitler, mostly collaborated with him and instead sent Jews to the gas chambers.
Hatred is itself hated, as if it serves no purpose, even in the confrontation with evil. Judaism, however, begs to differ. King Solomon says clearly in  Proverbs: "The fear of the Lord is to hate evil." King David says of the wicked in Psalms: "I have hated them with a deep loathing. They are as enemies to me."
Let my Christian brothers speak of loving one's enemies. Let my Catholic friends tell me to turn the other cheek. When it comes to governments that hang gays from cranes, stone women to death, and shoot peaceful protesters through the heart, I must reject  New Testament teachings and embrace the moral obligation to resist evil doers.
Ayatollah Ali Khameini is the number one terrorist in the world. He delights in seeing his merchants of death blow up innocent people. Yet our government treats with him despite his repeated declarations that no military sites will be open to IAEA inspections.
This is not a deal. It is a farce. This is not an agreement. It is an act of desperation.
An Ayatollah who can publicly hang a gay, Muslim man from a construction rig simply because of his sexual orientation is a monster pure and simple. They may once, as with all human beings, have been created in the image of God. But they have since erased every last vestige of God's image from their countenance. They have ceased to be our human brothers, have forever forfeited our kinship, and have earned our enmity instead.
Loving the victims of such barbaric crimes may generate compassion for their suffering. Still, it is not enough. We must also hate the perpetrators in order to stop their orgy of murder.
This is what has been missing in the West until now.
There have been so many excuses for terrorism and a lack of moral clarity as to why terrorists do what they do, especially when it involves the murder of Jews. Suicide bombers in Israel have been excused as being motivated by Israeli checkpoints and the lack of an economic future. Hamas terror rockets, aimed at Israeli cities, are dismissed as resulting from a naval blockade.
We could easily say the same thing of the Charlie Hebdo cartoonists who were murdered in cold blood in Paris. Who can blame the Islamic terrorists for feeling incensed at the constant attacks against their prophet by scoundrels with a pen? Indeed, White House spokesman Jay Carney said two years ago that while the cartoonists had every right to freedom of expression, they ought to exercise judgment as to whether this incitement was prudent. This kind of muddled moral thinking is dangerous and is exactly why the West has not summoned the iron determination needed to defeat terrorism.
Forgetting how to hate can be just as damaging as forgetting how to love.
So let me be clear: I am repulsed by the government of Iran which is hell-bent on acquiring nuclear weapons and which is committed to the annihilation of Israel. I loathe them. You should too. I believe those who do not hate men who brutalize women and have their male sons throw giant rocks at their heads until they are dead have a broken moral compass.
When it comes to the slaughter of innocents we must brook no excuse, allow no rationalization, accept no form of justification. Murder is always wrong. Period.
Forgetting how to hate can be just as damaging as forgetting how to love. I realize that immersed as we are in a Christian culture that exhorts us to "turn the other cheek," this can sound quite absurd. Little do we remember, it seems, the Talmudic aphorism that those who are kind to the cruel end up being cruel to the kind.
Indeed, exhortations to hate all manner of evil abound in the Bible. Hatred is a valid emotion – an appropriate response – when directed at the truly evil: those who have gone beyond the pale of human decency by committing acts which unweave the basic fabric of civilized living.
Amid my deep and abiding respect for the Christian faith I state unequivocally that to love the terrorist who flies a civilian plane into a civilian building or a white supremacist who murders nine African-Americans at prayer in Church in South Carolina is not just misguided but immoral. To love evil is itself evil and constitutes a passive form of complicity. Indeed, to show kindness to unrepentant murderers is to violate the victims again.
The purpose of our hatred is not revenge but the preservation of justice. I wholeheartedly embrace the example of Simon Wiesenthal, one of the most inspirational men of the 20th century, who devoted his life to the pursuit of justice by not allowing Nazi murderers go to their graves in peace. Only if we hate evil passionately will we summon the determination to fight it fervently. Odd and uncomfortable as it may seem, hatred has its place.
One of the most frequent themes of my writings is how we – a generation with a 50 percent divorce rate – have forgotten how to love. But when it comes to the war on terror, our biggest impediment might just be that we have forgotten how to hate.
The author, whom Newsweek and The Washington Post call "the most famous rabbi in America," is the founder of This World: The Values Network, the world's leading organization defending Israel in world media. He is the author of Judaism for Everyone and 30 other books, including his most recent, Kosher Lust. Follow him on Twitter @RabbiShmuley.