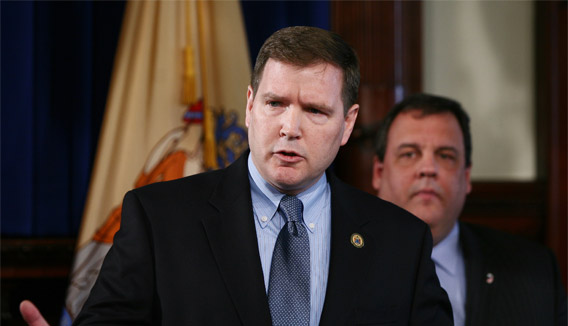 Movement conservative state Senator Mike Doherty (R-23) this afternoon stepped into an argument between Assemblyman Jack Ciattarelli (R-16) and Jersey City Mayor Steven Fulop, siding with fellow Republican Ciattarelli against the Democratic mayor on the issue of tax abatements and school funding, and extending the argument to a critique of Fulop's methods.
Doherty has long championed reassessing the schools funding formula to relieve rural and suburban taxpayers of having to foot the bulk of a bill for an Abbott School District in Jersey City, a municipality anchored by a Gold Coast a river removed from New York City.
"If you throw in pre-school, 70% of the school budget in Jersey City is funded by taxpayers across the state," said Doherty. "When you point that out to Mayor Fulop all he answers with are ad hominem attacks. In the past he has called me a Christie troll and said it was creepy that I would look at a house he was buying that was on NJ.com."
The house in question was one the mayor was purchasing for $739,000, or one seventh of its value on the books in a city that has not had a revaluation since the 1980s.
"This pattern of ad hominem attacks is a little infantile," Doherty said. "He's saying if it's good for Jersey City, then screw everyone else. That would be fine if taxpayers weren't funding the schools."
Although irritated by Fulop's answer to the criticism, Doherty said he doesn't blame him so much as Republican Governor Chris Christie. "This issue should have been confronted by Governor Christie," said the Warren-based Senator. "This is the classic opportunity for Chris Christie to step in, but unfortunately it's not a top priority. Everyone's supposed to play by the same set of rules and Jersey City is not. In Jersey City, the per capita income is higher than one of my towns – Hackettstown – but Jersey City gets 70% of its school budget paid for by New Jersey taxpayers while Hackettstown gets 16%."
Doherty pointed out that Jersey City has a per capita income of $30,490 per 2010 census. JC receives $485,970,438 (including pre-K) from state for its schools and spends a total of $680,134,496.  State contributes 71.45% of the total spending as state aid. The senator represents Hackettstown, which has a per capita income of $29,433 per 2010 census. Hackettstown receives $5,101,229 from the state for its schools and spends a total of $31,473,395.  State contributes 16.2% of the total spending as state aid.
"This is why tax abatements are a problem," he said. "JC doesn't list the abated properties on its rolls and thus gets more school aid because it is 'poor.'"
JC tax abatements total $2 Billion. State Comptroller Matt Boxer said the total lost each year is $120 million plus another $30 million for the county.
"All these Wall Street people are living in Jersey City," Doherty said. "If Steve Fulop wants to run for governor he needs to get out of Jersey City and see how the rest of us live. He needs to step up his game. He lives in a Democrat fishbowl and he's allowed to get away with this mentality but he needs to consider that there are people struggling to pay the tax bill outside of Jersey City and they're really pissed off. For the life of me I don't know why Christie doesn't go after him."
The Republican senator said if a suburban mayor refused to do a reevaluation that person might even be removed from office.
But "Fulop never wants that litigation to end. He never wants to do the reevaluation. This is part of his scheme to continue to do this litigation, and for the Christie Administration to allow this to go on – it's simply unacceptable because none of my towns can do that. I'm not going to blame Fulop for taking advantage but he was getting over. Christie was elected to handle this but he has done nothing to fix these problems. Christie doesn't care, and this is why we're frustrated with Governor Christie, who facilitates massive tax breaks and massive tax abatement deals. As for Fulop, who immediately always take it to the lowest common denominator, if he's going to come out to rural and suburban areas, he needs to address this problem rather than sling mud."