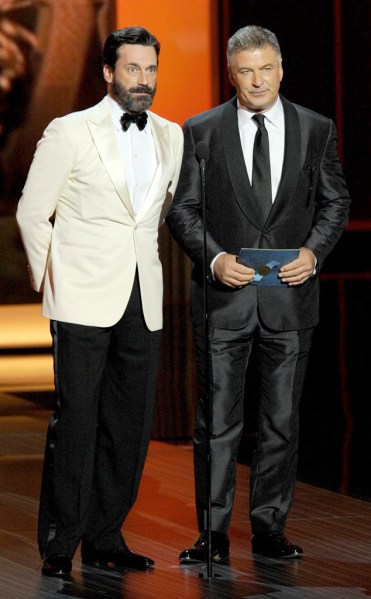 If you haven't caught on by now, I'm somewhat of a TV enthusiast. And I think it's a shame that my favorite characters have to be limited to just their own realities. That is, why should the characters I've grown to know and love be isolated? I want to see some interactions—that's right. I'm talking mashup television. Here are the pair ups that I would love to see on air.
Jack Donaghy (30 Rock) and Don Draper (Mad Men)
This one is easy. It's so natural. They're both workaholics with a proclivity towards beautiful women and scotch. Both hate their mothers, and have some pretty crippling daddy issues. As for the plot, I'd like to see the two come together as detectives, creating a brand new agency (Donaghy–Draper) that fights crime—but succumbs to alcoholism, probably. All other characters are cast specifically for their high–pitched voices, as executives worried that two of the most gravelly–voiced actors in the business working together might be off–putting to the sensitive ears of the ever coveted 18-24 aged viewers.
Doctor Who (Doctor Who) and Charlie Kelly (It's Always Sunny in Philadelphia)
Doctor Who is our favorite time travelling alien–human. Charlie Kelly is our favorite rat hunter and bar sweeper. As we all know (or, as some of us know), the Doctor constantly travels with a human companion to keep him company. Usually, the Doctor selects a beautiful, wily British woman to aid him in his various space adventures. But, plot twist, Charlie Kelly hops aboard Doctor Who's TARDIS after mistaking it for a dumpster that he would like to take a nap in. Eventually, Charlie becomes the Doctor's next assistant, aiding him against extraterrestrial enemies by showing little to no regard for his body's safety or health. Charlie is eventually kicked off the TARDIS after huffing paint in another dimension.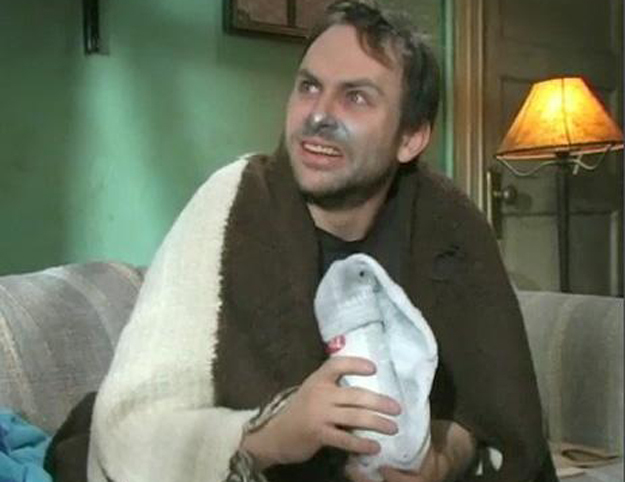 April Ludgate (Parks and Recreation) and Guy Fieri (Diners, Drive–Ins and Dives)
I would like to keep the integrity of Diners, Drive–Ins and Dives in this mashup. However, Aubrey Plaza (in character as April) travels with Mr. Fieri to various American food establishments. They both wear Mr. Fieri's signature red flames shirt, but April wears it ironically. The show gets cancelled after Ms. Plaza breaks character by trying to stab Mr. Fieri with a double stuffed deep fried mozzarella stick with chocolate dipping sauce, and a Frito garnish.
George Michael Bluth (Arrested Development) and Jesse Pinkman (Breaking Bad)
Aw, you didn't think I would for a buddy comedy, did you! In this mashup, George Michael and Jesse have been best friends since childhood. As they enter high school, they realize they're maybe just a little too different. George Michael's struggling with Algebra 2, while Jesse gets into a nasty bit of trouble after getting caught selling the janitor weed. Things really come to a head when Jesse gets Ann, George Micahel's beloved girlfriend, addicted to meth. A cautionary tale for all ages!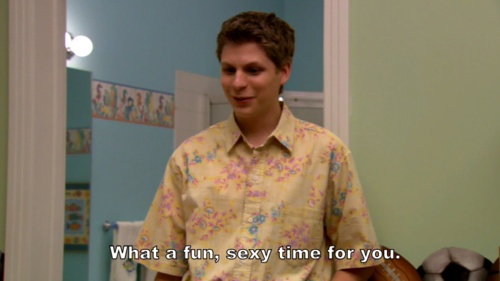 Jessica Day (New Girl) and Tate Langdon (American Horror Story: Murder House)
And now, finally, a romance. Two star–crossed lovers, trying to defeat the odds. She's a goofball who's maybe just a little afraid of commitment. He's dead. However, that won't stop them from trying to make it work. When Tate finally moves in with Jess, her roommates protest. Mostly because he's a ghost and also a serial killer and is basically just a serial killer ghost—but also he really just refuses to take the garbage out based on what was a very clear rotation schedule.