Alexa Chung can't see. Standing on the rooftop of a studio in Brooklyn while posing for an Observer photographer, glare from the midday sun is obscuring her vision. Minutes later she has convinced the makeup artist to hand over her white Prada shades, adding a mod compliment to her corduroy flares and waistcoat.
No less than 20 minutes later, the makeup artist is standing in her socks, still sans glasses, having also lost her '70s-style booties (again, Prada) to the slender Brit. As it turns out, this is a regular occurrence on set for the multi-hyphenate. But somehow, these demands come off as charming and cheeky, rather than demanding and fit for a Page Six diva.
Not long after Ms. Chung graciously returned her borrowed accessories, she took a seat on an ottoman in the aforementioned Brooklyn studio, to explain the not-so-glossy part of being known as an "it" girl and her latest project with AG. "Someone tweeted me the other day and asked, 'Why does Alexa Chung write so many column inches? What does she do? I don't get it.' And they listed five jobs that I do. They don't have a problem with a journalist, an interviewer, or a model. But because I'm all of them, it's a problem."
From the first time she was dubbed the "i" word, Ms. Chung took offense with her given title. "I used to have a voice because I was interviewing people and writing, but as soon as I got swept up in the fashion world, I was just a pretty girl at a party wearing a pretty dress. [In those circumstances] you're not worth anything other than the outfit on your back."
Pointing out that these comments were sexist and had the power to strip her of her identity, Ms. Chung has not let them affect her diverse career. Getting her start as a model at the age of 16, she segued onto the television screen in 2006, snagging a gig on the music-focused British show Popworld. A handful of stints hosting talk shows in the U.K. followed, until she moved to New York in April 2009 to star in MTV's It's On with Alexa Chung. That show was canceled a few months later, a fact that has since turned into a joking matter: "It was really funny when they fucking fired me for having an attitude, because the show was so popular that everyone got intimidated."
Since then she's designed a collection for Madewell, had a handbag named after her at Mulberry, released a book titled It, produced an eyeliner and mascara range with Eyeko, created an ongoing nail polish collaboration with Nails Inc. and starred in many ads for the French handbag line Longchamp.
"I have very much appreciated Alexa's style and irreverent take on behaving since before I started Man Repeller," local style star and blogger Leandra Medine admitted. "When I started to get into blogs, I remember thinking, 'This girl is so awesome.'" Ms. Medine shared these hints of a girl crush from the AG boutique in Soho, where Ms. Chung was promoting yet another project: Her second collaboration with the denim brand.
***
To paint a clearer picture of the downtown evening, swarms of young fans filled the store, trying on faded denim jeans and suede skirts and nervously requesting selfies with the leggy Brit. Most of the 20-somethings present sported "it" items of their own, whether that was a Mansur Gavriel bucket bag or a pointy pair of Valentino Rockstud heels. It was clear that these girls were not only at the store to purchase cropped jeans, denim jumpsuits and knit turtlenecks, but rather, to soak up some of Ms. Chung's je ne sais quoi, or whatever the English equivalent of that is.
Her first partnership with AG, which debuted in January of this year, was influenced by Ms. Chung's hunt for the "perfect" vintage jean that she couldn't find in thrift stores, resulting in denim styles sans stretch and a button-up circle skirt that catapulted to the top of fashionable must-have lists across the web. For the second collection, press materials noted that girl gangs were her main influence.
"People want an easy sound bite," she admitted, noting that her vision of rebel youths and juvenile delinquents was manufactured for marketing purposes. "If I sat here and told you exactly what went through my mind when I was making [the collection], it would involve relationships and cinema trips and road trips." She even concocted a plan (which was never seen to completion) to bring those girl gangs to life, via a Mad Max-esque video of "girls racing through the desert, scratching up cars and being rebellious on motorbikes, horses, skateboards."
Before jumping to conclusions about this AG denim range, just know that it is not one of those faux collections where the celebrity collaborator sits back while the others do the work. Yes, Ms. Chung may have shown up to her first design meeting at AG's Los Angeles headquarters with last-minute designs scratched out on a Chateau Marmont napkin, but she was fully ingrained in the design process from start to finish. She also had a selfish reason for wanting to partner with AG: "I was really impressed by their business, [including] collaborations they had done before and the way they source their denim. Starting a fashion line is something I want to do and I thought this was an opportunity to get a free education."
Which is exactly what she received. Ms. Chung was hands-on with everything, save for sewing samples, sourcing fabrics and going to sales meetings. She made mood boards, sketched designs and even redesigned labels and tags for the collection that bore her name. According to Samuel Ku, AG's creative director and president, both ranges were a complete success, with a few items selling out in mere minutes.
It turns out dedicated fans are not the only ones who want a piece of the Chung pie; other clothing lines were interested, too. Mr. Ku recalled posting a picture on social media of Ms. Chung in one of her designs: "There was one brand, which Alexa warned us about, which 100 percent created the same thing we did. It was interesting to see how fast that happened, but it also proved how many brands and designers take note of what she's doing."
'I respect people that find writing easy because I have focus problems. I'll spend five days eating cereal and YouTubing and two hours writing the article.'—Alexa Chung
Editors have taken notice as well. The Daily Telegraph's deputy editor and director of lifestyle, Jane Bruton, offered up a glowing review of Ms. Chung in an email to the Observer: "She is super bright, famously self-deprecating and always has an intelligent take on the world. When I was [editor-in-chief at] Grazia she was the most searched personality on our website. I think [it is] because she has such a unique, quirky, very British sense of style, it helps that she also looks utterly amazing in anything she puts on."
This collaboration aside, Ms. Chung is constantly dreaming up clothing that she would like to create. In fact, just the day before our interview she had visions of a silver shirt and a yellow floor-length off-the-shoulder dress. "Every day I think of designs, but I don't write them down and I forget," she confessed. "If only I had an office."
***
When she does secure an office space and decides to launch her own line, the frequent muse has an iPhone stocked with the numbers of today's top designers, who would be more than willing to dole out advice. At the moment, Ms. Chung is putting that list of notable friends to use for a documentary project with Vogue UK. The purpose of the film is to offer an insider's look at the current state of fashion. It follows Ms. Chung to interviews with designers including Balmain's Olivier Rousteing and Chloé's Clare Waight Keller. She also visits Next Management, the modeling agency that represents her; WGSN, the trend forecasting agency; and a certified fashion psychologist.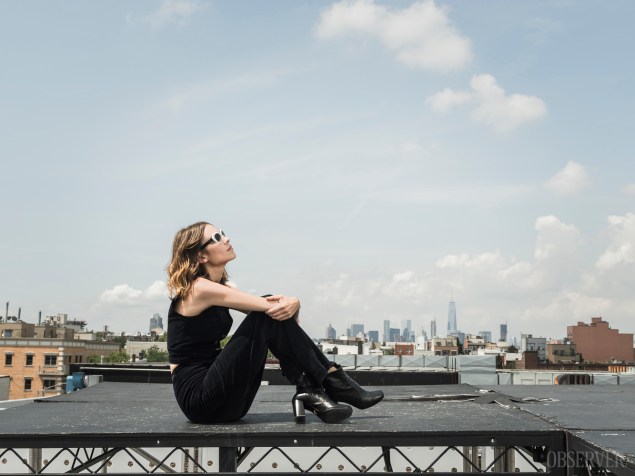 Ms. Chung has had a long-term relationship with Vogue UK, and not just as a three-time cover girl; she joined the Condé Nast title as a contributing editor in 2009. Since then she has written a cover story on Kate Upton and interviewed Christopher Kane and Karl Lagerfeld. But still, she prefers creating videos. "I respect people that find writing easy because I have focus problems," she declared. "I'll spend five days eating cereal and YouTubing and two hours writing the article."
With designing, writing, hosting, collaborating and modeling under her belt, it's understandable why Ms. Chung feels a hint of resentment for her "it" girl handle. Will she change her ways? Buckle down and remove herself from fashion altogether? No, she's just going to crack more jokes and keep living her lusted-after life.
"I feel like I'm gradually maturing," she answered, when asked to describe what her future holds. "I'm not as interested in staying out 'til five and trying to get up for work. Plus, I take vitamins."