Downtown Los Angeles is a sprawling collection of disparate neighborhoods but the restaurant scene is among the most compelling in the United States right now. Venice and Silver Lake might be cooler but they're not this delicious. When former French Laundry chef de cuisine Timothy Hollingsworth unveils Otium this fall, he will shine an even brighter light on the area's diverse dining landscape. If you're curious, consider checking out the Los Angeles Food & Wine festival returning to Downtown August 27-30.
Patina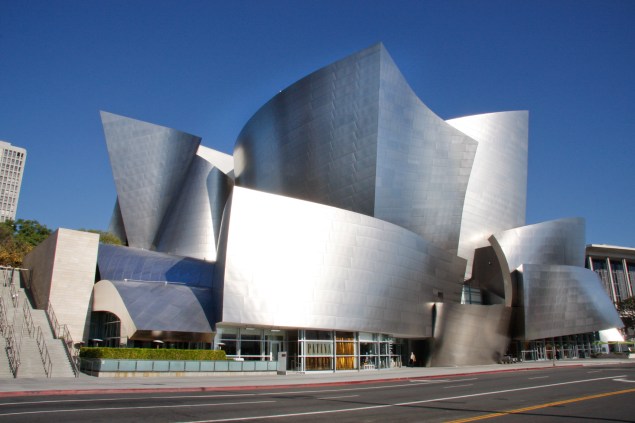 Joachim Splichal's restaurant in the glorious Frank Gehry-designed Walt Disney Concert Hall is an L.A. institution. Lately Patina has evolved into a tasting-menu-only stronghold. New executive chef Paul Lee (a veteran of Le Cirque in Las Vegas) is a master of old-school French technique and bold, fresh Asian flavors. Dungeness crab is served with cucumber, coriander, Vietnamese fish sauce, cardamom and green mango sorbet. A lime dessert is a triumph of flavor and texture with a combo of peanut, ginger, Thai chili foam and kafir lime. Even if you're just here for a pre-show dinner, the most refined performance of your night might just be on your plate.
Orsa & Winston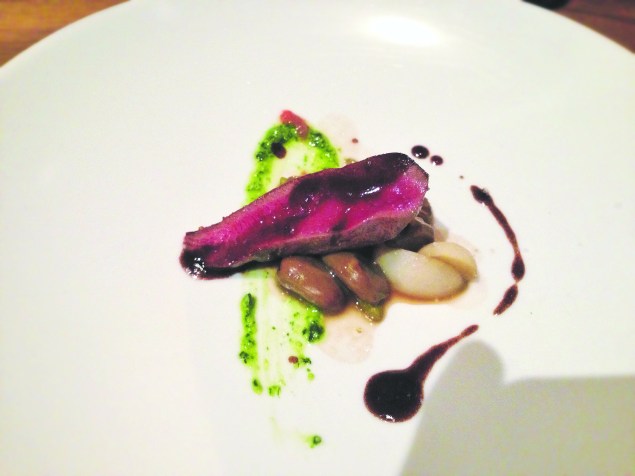 Chef Josef Centeno is the king of the Old Bank District with Bäco Mercat, Bar Amá and Ledlow. Orsa & Winston serves tasting menus that deftly merge Japanese and Italian influences. Buckwheat spaghettini with Dungeness crab, bottarga and kumquat gastrique is a noodle dish unlike any other. You can have a wonderful meal at any of Centeno's places, whether you're enjoying his vegetables and sandwich/gyro hybrids at Bäco Mercat, gorging on chips and queso at Bar Amá, or going to Ledlow for fried chicken Mondays. But can you say omakase? Then Orsa & Winston is the place.
Bestia
Imagine the hottest restaurant in New York existing on some weird block in Gowanus, with town cars idling outside waiting for cool clientele, and you'll get the idea of Bestia. You can come for the scene; the cocktails or the table-wait, too. But the real reason you should make the journey, of course, is chef Ori Menashe's world-class charcuterie and soulful Italian cooking. Mr. Menashe, who was named a Food & Wine magazine Best New Chef this year, is a masterful butcher who makes his own spicy n'duja for pizza, and a pasta wizard whose spaghetti with uni and squid ink bottarga is heavenly. Bonus: Mr. Menashe, who was born in L.A. but grew up in Israel, is working on a Middle Eastern restaurant nearby in the Arts District.
B.S. Taqueria
The more casual of Mexican-American chef Ray Garcia's two new Downtown restaurants (Broken Spanish is the other) is on this list largely for one big reason: The tremendous Thursday night pata verde, a crackling pork shank dripping in green sauce, is L.A.'s greatest large-format dish. But you can visit whenever for lunch or dinner to try the heirloom corn tortillas and Mr. Garcia's creative and fantastic riffs on tacos, like one with clams and lardo, and another with bologna.
Simbal
Chef Shawn Pham, who cooked in some of L.A.'s top restaurants and went to Vietnam for four years before opening up his new Little Tokyo restaurant, has a way with tofu. He serves it fresh and cold with raw tuna, ponzu, sesame and scallions or crispy with spicy tomato sauce. Like The Spice Table before it, Simbal is Southeast Asian bliss that feels very much L.A. Mr. Pham knows how to bring the funk with a lovely fermented-tofu-marinated duck and a seasoned rice with chili jam, salted duck egg, bonito flakes and crispy garlic. Don't ignore the dim sum carts.
Faith & Flower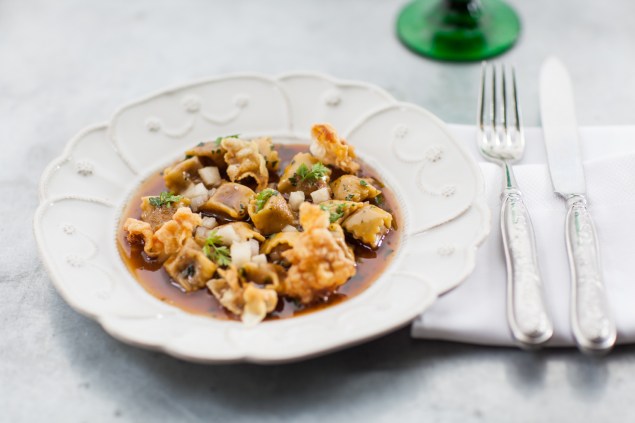 With a grand dining room and some of the city's most inspired cooking (like a mash-up of pho and foie gras) and most satisfying cocktails (the milk punch lives up to all the hype), Faith & Flower crackles with energy. It helps that proprietor David Bernahl, who also runs the Los Angeles Food & Wine festival, is as gregarious as human beings are made. Faith & Flower no doubt works as a place for raw oysters and rib eyes, but you'll want chef Michael Hung's deviled jidori eggs with kimchee as well as the oxtail agnolotti with bone marrow butter and stone fruit conserva.
Redbird
This ultra-elegant new restaurant in the old Cathedral of Saint Vibiana's rectory building is as high society as Downtown L.A. gets, without elaborate tasting menus. California cuisine heavyweight Neal Fraser's modern American food and Julian Cox's blast-from-the-past cocktails make for a powerful pairing, and the courtyard dining room is dazzling day and night. Mr. Fraser's Santa Barbara uni (sea urchin) with North Sea shrimp, nori and wasabi "snow" is beautifully composed and a joy to eat. For those really looking to dine like a boss, there's the large-format Veal Fraser with a 24-ounce veal chop, veal cheeks cooked for 24 hours and Burgundy snails.
Chaya
New executive chef Joji Inoue's carefully crafted menu has  turned this power-lunch mainstay into one of the city's top places to ball out on exquisite seafood, day or night. The ever-changing whole-fish menu, sashimi-grade selections that can be served raw or cooked in various styles, has recently included grouper and threeline grunt from Japan's Kyushu region. There's also a Kaisen Bar with cold seafood selections like Maine lobster, Santa Barbara uni and Alaskan king crab. This is the best of both worlds.