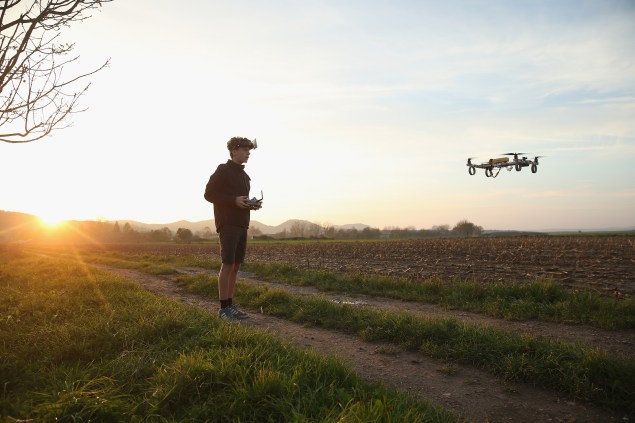 Are drones putting blue collar jobs at risk?
The increasing problem of technology automating humans' jobs is a topic the Observer has covered time and time again. From autonomous driving systems taking over for truck and taxi drivers to the increasing number of fully functional automatic bank tellers, it's a problem raising concern among many.
The latest blue-collar workers fearing digital replacement are farmhands. The enormous financial savings farmers could see by using drones are making the technological switch more and more attractive, and it's only a matter of time before it hits all farms nationwide.
It turns out that agriculture is shaping up to be one of the biggest markets for drones. The Association for Unmanned Vehicle Systems International says agriculture could account for 80 percent of all commercial drone use, according to U.S. News.
Drones' uses on farms are practically limitless. For one, they're game changers for transmitting detailed data about crops back to the farmers. 3D images of plants, thermal readings and other information can be collected and relayed back to the farmers with drones in only minutes or hours—a process that usually takes days and is incredibly limited regarding what data can be collected. Drones can also easily direct farmers to problem areas and even help them to decrease the amount of water and chemicals needed in certain areas.
In a recent PBS Newshour segment, the network talked to farmers and found they're ready to embrace the technology.
"I see it very similar to how I saw the computer when it first started. It was a no-brainer," Bobby Hutchison, a Missouri farmer, told PBS.
After years of being restricted by the FAA, agricultural use of drones is finally beginning to take off. More than 50 exemptions for farm-related drone operations have been approved so far this year. Even more are underway, and companies with those exemptions reported growth in their businesses as a result of the technological advancement.
AgEagle, a company that sells unmanned aerial vehicles and the software to operate them, took its first orders last year. Bret Chilcott of the company told PBS they now have a backlog of several hundred orders and that the technology has transformed the market during that short time.
Most farmers still cannot legally fly drones, but the FAA is currently reforming these regulations.